News and Events
Medical Students Highlight Compassionate Care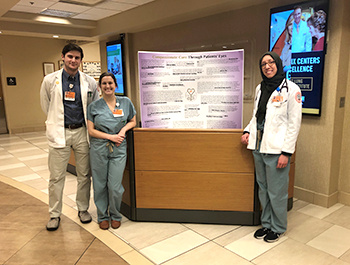 During "Gold and Humanism Honor Society Solidarity Week" February 11-15, medical students at the University of Tennessee Graduate School of Medicine joined students across the UT Health Science Center system and nationwide to highlight the importance of compassionate care.
Prior to Solidarity Week, medical students asked patients to share their experiences receiving compassionate care in a health care setting. As part of this initiative, Noor Alshibli, a fourth-year student in Knoxville, collected patient responses. Results from the survey were displayed in the main lobby of The University of Tennessee Medical Center by Alshibli and third-year students Trent Stethen and Victoria Godwin. View the compassionate care stories (.pdf).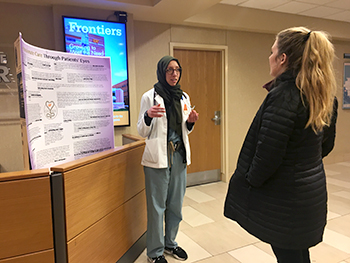 Alshibli said participant feedback was very positive, noting that small gestures of kindness go a long way. UTGSM offers a full third- and fourth-year medical student curriculum to UTHSC College of Medicine students after they complete their first and second years of medical school in Memphis. Learn more about UTGSM medical student programs.
Pictured (top, from left): Trent Stethen, Victoria Godwin, Noor Alshibli
Pictured (bottom): Noor Alshibli talks to a visitor
Posted March 1, 2019
Top
---
The University of Tennessee Graduate School of Medicine
1924 Alcoa Highway
Knoxville, Tennessee 37920 | 865-305-9290
Copyright © 2019