The Department of Medicine
William B. Smith, MD
Professor
Division of Cardiology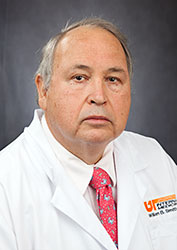 Education
Medical School
Universidad Autonoma de Guadalajara
Residency
Internal Medicine, University of Tennessee Medical Center
Fellowship
Cardiology, Tulane University Medical Center and Affiliated Hospitals, New Orleans, LA
Nephrology, Vanderbilt University, Nashville, TN
Certifications
American Board of Internal Medicine
American Board of Internal Medicine - Cardiovascular Disease
American Board of Internal Medicine - Nephrology
Current Publications
Smith WB, Hall J, Berg JK, Kazimir M, Yamamoto A, Walker S, Lee CA, Shen Z, Wilson DM, Zhou D, Gillen M, Marbury TC.
Effect of renal impairment on the pharmacokinetics and pharmacodynamics of verinurad, a selective uric acid reabsorption inhibitor. Clinical Drug Investigation. 2018 Jun 11. [Epub ahead of print]
Sulkowski MS, Feld JJ, Lawitz E, Felizarta F, Corregidor AM, Khalid O, Ghalib R, Smith WB, Van Eygen V, Luo D, Vijgen L, Gamil M, Kakuda TN, Ouwerkerk-Mahadevan S, Van Remoortere P, Beumont M.
Efficacy and safety of 6 or 8 weeks of simeprevir, daclatasvir, sofosbuvir for HCV genotype 1 infection. Journal of Viral Hepatitis. 2017 Dec 23. [Epub ahead of print]
Smith WB, Gibson S, Newman GE, Hendon KS, Askelson M, Zhao J, Hantash J, Flanagan B, Larkin JW, Usvyat LA, Thadhani RI, Maddux FW.
The dynamics of the metabolism of acetate and bicarbonate associated with use of hemodialysates in the ABChD trial: A phase IV, prospective, single center, single blind, randomized, cross-over, two week investigation. BMC Nephrology. 2017 Aug 29;18(1):273.
Steinman GL , Smith WB , Westrick ML , Greenberg HE.
Hot button protocol and operational issues between sponsors and sites in clinical pharmacology studies: A moderated forum session. Therapeutic Innovation and Regulatory Science. 2017 May;51(3):298-302.
Rodriguez-Torres M, Glass S, Hill J, Freilich B, Hassman D, Di Bisceglie AM, Taylor JG, Kirby BJ, Dvory-Sobol H, Yang JC, An D, Stamm LM, Brainard DM, Kim S, Krefetz D, Smith W, Marbury T, Lawitz E.
GS-9857 in patients with chronic hepatitis C virus genotype 1-4 infection: a randomized, double-blind, dose-ranging phase 1 study. Journal of Viral Hepatitis. 2016 Aug;23(8):614-22. Epub 2016 Mar 9.
Smith W, Wan H, Much D, Robinson AG, Martin P.
Clinical benefit of midodrine hydrochloride in symptomatic orthostatic hypotension: A phase 4, double-blind, placebo-controlled, randomized, tilt-table study. Clinical Autonomic Research. 2016 Aug;26(4):269-77. Epub 2016 Jul 2.
Frenck RW Jr, Fiquet A, Gurtman A, van Cleeff M, Davis M, Rubino J, Smith W, Sundaraiyer V, Sidhu M, Emini EA, Gruber WC, Scott DA, Schmoele-Thoma B.
Immunogenicity and safety of a second administration of 13-valent pneumococcal conjugate vaccine 5 years after initial vaccination in adults 50 years and older. Vaccine. 2016 Jun 24;34(30):3454-62. Epub 2016 May 5.
Adkison KK, Gan J, Elko-Simms L, Gardner S, Dumont E, Jones LS, Saunders J, Marbury T, Smith W, Berg J, Galloway C, Stump PJ.
Pharmacokinetics of hepatitis C virus NS5A inhibitor JNJ-56914845 (GSK2336805) in subjects with hepatic impairment. Journal of Clinical Pharmacology . 2015 Sep;55(9):1042-50. Epub 2015 May 25.
Top