The Department of Medicine
Randall Trudell , MD
Assistant Professor
Division of Neurology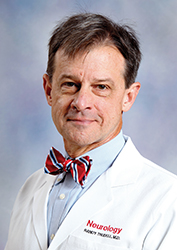 Research Focus
Dr. Trudell is interested in the role of the microbiome in chronic diseases including Alzheimer's, Parkinson's, ALS (Lou Gehrig's Disease) and spondyloarthropathies. These data could lead to new insights into how our microbiome influences the immune system and whether immunomodulatory medications may work best for these conditions.
Education
Medical School
University of Rochester School of Medicine, Rochester, New York, 1979
Residency
Neurology, Strong Memorial Hospital, Rochester, NY, 1983
Fellowship
Neuromuscular Disease, Strong Memorial Hospital, Rochester, NY, 1985
Professional Affiliations
American Academy of Neurology
Current Publications
Zivadinov R, Bergsland N, Korn JR, Dwyer MG, Khan N, Medin J, Price JC, Weinstock-Guttman B, Silva D, Ramasamy DP, Carl E, Hunter S, Scott T, Pandey K, Fox E, Katz A, Silversteen J, Kaplan J, Maa E, Simnad V, Shin R, Newman S, Kinkel P, Green B, Calkwood .
Feasibility of brain atrophy measurement in clinical routine without prior standardization of the MRI protocol: Results from MS-MRIUS, a longitudinal observational, multicenter real-world Outcome study in patients with relapsing-remitting MS. American Journal of Neuroradiology. 2018 Feb;39(2):289-295. Epub 2017 Nov 23.
Top