The Department of Medicine
Mahmoud Shorman, MD
Associate Professor
Chief, Division of Infectious Diseases
Division of Infectious Diseases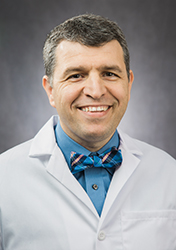 Education
Medical School
Jordan University of Science and Technology, Irbid, Jordan, 1996
Residency
Internal Medicine Residency Training Program, New York Medical College/Metropolitan Hospital Center, New York, NY, 2000
Rotation in transplant infectious diseases at Vanderbilt University, Nashville, TN, 2001
Fellowship
Infectious Diseases Fellowship Training Program, East Tennessee State University, Johnson City, TN, 2002
Certifications
American Board of Internal Medicine, 2000 - present
American Board of Internal Medicine - Infectious Diseases 2002 - present
Infection Control, 2007- present
Professional Affiliations
Fellow of the Infectious Diseases Society of America
Society for Healthcare Epidemiology of America
Current Publications
Lorson WC, Heidel RE, Shorman MA.
Microbial epidemiology of infectious endocarditis in the intravenous drug abuse population: A retrospective study. Infectious Diseases and Therapy. 2019 Jan 23. [Epub ahead of print]
Jackson LE, Shorman M.
A case of bilateral nocardia francinia adrenal abscesses in an intravenous drug-using splenectomized patient with tricuspid endocarditis. Open Forum Infectious Diseases. 2018 Jul 1;5(7):ofy141. eCollection 2018 Jul.
Aljindan RY, Hussein NE, Khoudair HA, Shaikh AY, Hassan HA, Alabdulqader NA, Shorman MA, Abdalhamid BA.
First description of plasmid mediated quinolone resistance genes in salmonella isolates from Saudi hospitals. Saudi Medical Journal. 2018 Jul;39(7):685-689.
Shorman M, Evans D, Gibson C, Perfect J.
Cases of disseminated cryptococcosis in intravenous drug abusers without HIV infection: A new risk factor? Medical Mycology Case Reports. 2016 Dec 2;14:17-19. eCollection 2016 Dec.
Current Presentations
Lorson W, Das A, Heidel R, Shorman M. Microbial epidemiology of infectious endocarditis in the intravenous drug abuse population: A retrospective study in East Tennessee. Presented at IDWeek; 2018 Oct 3-7; San Francisco, CA.
Lorson W, Das A, Heidel R, Shorman M. Factors that increase the likelihood of inpatient mortality in the endocarditis patient; A retrospective study. Presented at American College of Physicians Tennessee Chapter Annual Scientific Meeting; 2018 Oct 26-27; Chattanooga, TN.
Top