The Department of Medicine
Benjamin Shepple, MD
Clinical Assistant Professor
Division of Cardiology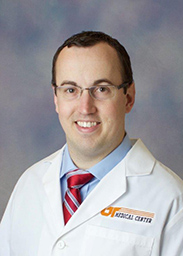 Research Focus
Dr. Shepple's interest is in next generation cardiac imaging. UTMC is the world's lead enroller in the Aurora clinical trial, a phase-3 evaluation of the radiotracer Flurpiridaz (18F) during PET myocardial perfusion imaging for the detection of hemodynamically significant coronary artery disease as compared to SPECT myocardial perfusion imaging and invasive coronary angiography. Among PET radiotracers, Flurpiridaz has a number of advantageous properties including a longer half-life, better linearity with myocardial blood flow, and reduced positron range. It is the expectation that these properties will result in clinical images with improved accuracy in the non-invasive assessment of coronary artery disease. Further, Flurpiridaz PET imaging exposes patients to significantly less radiation as compared to stand SPECT imaging.
Education
Undergraduate
Taylor University, Upland, IN, 2001-2005

Medical School
Indiana University School of Medicine, Indianapolis, IN, 2005-2009

Residency
University of Virginia, Charlottesville, VA, 2009-2012

Fellowship
University of Virginia, Charlottesville, VA, Cardiovascular Medicine Fellowship, 2012-2015
Chief Cardiology Fellow, 2014-2015
Certifications
American Board of Internal Medicine, 2012
American Board of Internal Medicine - Cardiovascular Disease, Eligible 2015
Current Publications
Holbert J, Shepple B, Rogers B, Hirsh J.
The proof is in the appendage: A case report of a fenestrated membrane overlying the left atrial appendage. Echocardiography (Mount Kisco, N.Y.). 2020 Oct 18. [Epub ahead of print]
Current Presentations
Coombes T, Holbert J, Shepple B. CODE KOUNIS: A case of coronary artery vasospasm secondary to contrast. Presented at *69th Annual Scientific Session of the American College of Cardiology Together with World Congress of Cardiology; 2020 Mar 28-30; Chicago, IL.
Top