The Department of Medicine
Radhakrishnan Ramchandren, MD
Professor
Chief, Division of Hematology/Oncology
Division of Hematology and Oncology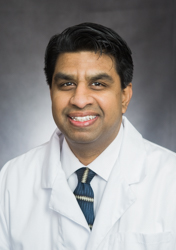 Research Focus
Dr. Ramchandren's major research interest involves the identification and development of novel agents for the treatment of Hodgkin's and Non-Hodgkin's lymphoma. In addition, a series of correlative and biomarker-based projects are being designed to identify which patients benefit from novel cancer therapeutics.
Education
Medical School
Ross University School of Medicine, Dominica, 2001
Residency
Internal Medicine-Drexel University College of Medicine-Hahnemann University, Philadelphia, PA, 2004
Fellowship
Hematology-Oncology-St. John Health-Providence Hospital, Southfield, MI, 2008
Certifications
American Board of Internal Medicine, 2006
American Board of Internal Medicine - Medical Oncology, 2008
American Board of Internal Medicine - Hematology, 2009
Professional Affiliations
American Society of Hematology
American Society of Clinical Oncology
American College of Physicians
Current Publications
Carreau NA, Armand P, Merryman RW, Advani RH, Spinner MA, Herrera AF, Ramchandren R, Hamid MS, Assouline S, Santiago R, Wagner-Johnston N, Paul S, Svoboda J, Bair SM, Barta SK, Nathan S, Karmali R, Torka P, David K, Lansigan F, Persky D, Godfrey J, Chavez.
Checkpoint blockade treatment sensitises relapsed/refractory non-Hodgkin lymphoma to subsequent therapy. British Journal of Haematology. 2020 May 19. [Epub ahead of print]
Straus DJ, Dlugosz-Danecka M, Alekseev S, Illes A, Picardi M, Lech-Maranda E, Feldman T, Smolewski P, Savage KJ, Bartlett NL, Walewski J, Ramchandren R, Zinzani PL, Hutchings M, Connors JM, Radford J, Munoz J, Kim WS, Advani R, Ansell SM, Younes A, Miao H.
Brentuximab vedotin with chemotherapy for Stage III/IV classical Hodgkin lymphoma: 3-year update of the ECHELON-1 study. Blood. 2020 Jan 16. [Epub ahead of print]
Landsburg DJ, Ayers EC, Bond DA, Maddocks KJ, Karmali R, Behdad A, Curry M, Wagner-Johnston ND, Modi D, Ramchandren R, Assouline SE, Faramand R, Chavez JC, Torka P, Mier Hicks A, Medeiros LJ, Li S.
Poor outcomes for double-hit lymphoma patients treated with curative-intent second-line immunochemotherapy following failure of intensive front-line immunochemotherapy. British Journal of Haematology. 2019 Dec 5. [Epub ahead of print]
Wall JS, Stuckey A, Martin EB, Richey T, Williams A, Wooliver DC, Macy S, Foster JS, Whittle B, Geldrich R, Powell M, Fu Y, Powell D, Osborne D, Heidel RE, Marine B, Besozzi M, Ramchandren R, Lands RH, Kennel SJ.
Preliminary phase 1 data on the safety and efficacy of a novel PET radiotracer, 124I-p5+14, for imaging systemic amyloidosis. Blood. 2019 Nov;134(Supplement_1):3034-3034.
Muqbil I, Chaker M, Aboukameel A, Mohammad RM, Azmi AS, Ramchandren R.
Pre-clinical anti-tumor activity of Bruton's Tyrosine Kinase inhibitor in Hodgkin's Lymphoma cellular and subcutaneous tumor model. Heliyon. 2019 Aug 31;5(8):e02290. eCollection 2019 Aug.
Xu ML, Gabali A, Hsi ED, Fedoriw Y, Vij K, Salama ME, Ramchandren R, O'Malley D, Wick MR, Battistella M, Gru AA.
Practical approaches on CD30 detection and reporting in lymphoma diagnosis. The American Journal of Surgical Pathology. 2019 Sep 26. [Epub ahead of print]
Ramchandren R, Domingo-Domenech E, Rueda A, Trneny M, Feldman TA, Lee HJ, Provencio M, Sillaber C, Cohen JB, Savage KJ, Willenbacher W, Ligon AH, Ouyang J, Redd R, Rodig SJ, Shipp MA, Sacchi M, Sumbul A, Armand P, Ansell SM.
Nivolumab for newly diagnosed advanced-stage classic hodgkin lymphoma: Safety and efficacy in the Phase II CheckMate 205 study. Journal of Clinical Oncology. 2019 Aug 10;37(23):1997-2007. Epub 2019 May 21.
Current Presentations
Ramchandren R. Phase 2 results of the iR2 regimen (Ibrutinib, Lenalidomide, and Rituximab) in patients with relapsed/refractory (R/R) Non-Germinal Center B cell–like (Non-GCB) Diffuse Large B-Cell Lymphoma (DLBCL). Presented at 61st American Society of Hematology Annual Meeting and Exposition; 2019 Dec 7-10; Orlando, FL.
Top