The Department of Medicine
Radhakrishnan Ramchandren, MD
Professor
Chief, Division of Hematology/Oncology
Division of Hematology and Oncology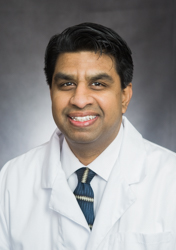 Research Focus
Dr. Ramchandren's major research interest involves the identification and development of novel agents for the treatment of Hodgkin's and Non-Hodgkin's lymphoma. In addition, a series of correlative and biomarker-based projects are being designed to identify which patients benefit from novel cancer therapeutics.
Education
Medical School
Ross University School of Medicine, Dominica, 2001
Residency
Internal Medicine-Drexel University College of Medicine-Hahnemann University, Philadelphia, PA, 2004
Fellowship
Hematology-Oncology-St. John Health-Providence Hospital, Southfield, MI, 2008
Certifications
American Board of Internal Medicine, 2006
American Board of Internal Medicine - Medical Oncology, 2008
American Board of Internal Medicine - Hematology, 2009
Professional Affiliations
American Society of Hematology
American Society of Clinical Oncology
American College of Physicians
Current Publications
Muqbil I, Chaker M, Aboukameel A, Mohammad RM, Azmi AS, Ramchandren R.
Pre-clinical anti-tumor activity of Bruton's Tyrosine Kinase inhibitor in Hodgkin's Lymphoma cellular and subcutaneous tumor model. Heliyon. 2019 Aug 31;5(8):e02290. eCollection 2019 Aug.
Xu ML, Gabali A, Hsi ED, Fedoriw Y, Vij K, Salama ME, Ramchandren R, O'Malley D, Wick MR, Battistella M, Gru AA.
Practical approaches on CD30 detection and reporting in lymphoma diagnosis. The American Journal of Surgical Pathology. 2019 Sep 26. [Epub ahead of print]
Ramchandren R, Domingo-Domenech E, Rueda A, Trneny M, Feldman TA, Lee HJ, Provencio M, Sillaber C, Cohen JB, Savage KJ, Willenbacher W, Ligon AH, Ouyang J, Redd R, Rodig SJ, Shipp MA, Sacchi M, Sumbul A, Armand P, Ansell SM.
Nivolumab for newly diagnosed advanced-stage classic hodgkin lymphoma: Safety and efficacy in the Phase II CheckMate 205 study. Journal of Clinical Oncology. 2019 Aug 10;37(23):1997-2007. Epub 2019 May 21.
Top