The Department of Medicine
Joseph N. Peeden, MD
Clinical Assistant Professor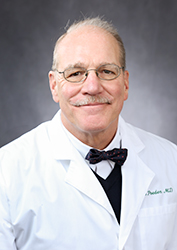 Clinical Focus
Pediatrics, Clinical Genetics
Education
Residency
Pediatrics, University of Tennessee Health Science Center, Memphis, LeBonheur Children's Hospital
Fellowship
Clinical Genetics, University of Tennessee Health Science Center, Memphis, Tennessee
Certifications
American Board of Pediatrics
American Board of Medical Genetics
Current Publications
Peeden JN, Booher R, Pardue B.
Congenital mydriasis in the multisystemic smooth muscle disorder: A harbinger of progressive vasculopathy, expanding the phenotype of the ACTA2 R179C mutation. Neonatal Intensive Care. 2019;32(2):36-37.
Van Dijck A, Vulto-van Silfhout AT, Cappuyns E, van der Werf IM, Mancini GM, Tzschach A, Bernier R, Gozes I, Eichler EE, Romano C, Lindstrand A, Nordgren A, Kvarnung M, Kleefstra T, de Vries BBA, Kury S, Rosenfeld JA, Meuwissen ME, Vandeweyer G, Kooy RF, .
Clinical presentation of a complex neurodevelopmental disorder caused by mutations in ADNP. Biological Psychiatry. 2019 Feb 15;85(4):287-297. Epub 2018 Mar 15.
Helbig I, Lopez-Hernandez T, Shor O, Galer P, Ganesan S, Pendziwiat M, Rademacher A, Ellis CA, Humpfer N, Schwarz N, Seiffert S, Peeden J, Shen J, Sterbova K, Hammer TB, Moller RS, Shinde DN, Tang S, Smith L, Poduri A, Krause R, Benninger F, Helbig KL, Haucke V, Weber YG.
A recurrent missense variant in AP2M1 impairs clathrin-mediated endocytosis and causes developmental and epileptic encephalopathy. American Journal of Human Genetics. 2019 May 2. [Epub ahead of print]
Hussain I, Patni N, Ueda M, Sorkina E, Valerio CM, Cochran E, Brown RJ, Peeden J, Tikhonovich Y, Tiulpakov A, Stender SRS, Klouda E, Tayeh MK, Innis J, Meyer A, Lal P, Godoy-Matos AF, Teles MG, Adams-Huet B, Rader DJ, Hegele RA, Oral EA, Garg A.
A novel generalized lipodystrophy-associated progeroid syndrome due to recurrent heterozygous LMNA p.T10I mutation. The Journal of Clinical Endocrinology and Metabolism. 2018 Mar 1;103(3):1005-1014.
Brouillard P, Dupont L, Helaers R, Coulie R, Tiller GE, Peeden J, Colige A, Vikkula M.
Loss of ADAMTS3 activity causes Hennekam lymphangiectasia-lymphedema syndrome 3. Human Molecular Genetics. 2017 Nov 1;26(21):4095-4104.
Gozes I, Patterson MC, Van Dijck A, Kooy RF, Peeden JN, Eichenberger JA, Zawacki-Downing A, Bedrosian-Sermone S.
The eight and a half year journey of undiagnosed AD: Gene sequencing and funding of advanced genetic testing has led to hope and new beginnings. Frontiers in Endocrinology. 2017 May 19;8:107. eCollection 2017.
Top