The Department of Medicine
Annette M. Mendola, PhD
Assistant Professor
Chief, Division of Clinical Ethics
Division of Clinical Ethics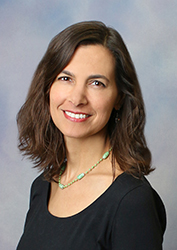 Education
Graduate School
MA in Philosophy, concentration in Medical Ethics, University of Tennessee, Knoxville
Postgraduate School
PhD in Philosophy, concentration in Medical Ethics, University of Tennessee, Knoxville
Professional Affiliations
American Society for Bioethics and Humanities
Association for Practical and Professional Ethics
Current Publications
Stone W, Mixer SJ, Mendola A.
Culturally acceptable advance care planning and advance directives for persons experiencing homelessness. Journal of Hospice and Palliative Nursing. 2019 Mar 5. [Epub ahead of print]
Mendola A, Gibson RL.
Addiction, 12-step programs, and evidentiary standards for ethically and clinically sound treatment recommendations: What should clinicians do? AMA Journal of Ethics. 2016 Jun 1;18(6):646-655.
Current Presentations
Mendola AM. What part of "No" don't you understand? Presented at The International Conference on Clinical Ethics Consultation; 2018 Jun 21-23; Oxford, UK.
Mendola AM, Jurchak, M. Building moral community using ethics case rounds. Presented at Academy for Professionalism in Health Care; 2018 Apr 26-28; Baltimore, MD.
Mendola AM. Advance care planning for mental health. Presented at National Alliance on Mental Illness - Tennessee Convention; 2016 Sep 29-30; Nashville, TN.
Top
---
The University of Tennessee Graduate School of Medicine
1924 Alcoa Highway
Knoxville, Tennessee 37920 | 865-305-9290
Copyright © 2019