The Department of Medicine
Ilse J. Anderson, MD
Assistant Professor
Chief, Division of Genetics
Division of Medical Genetics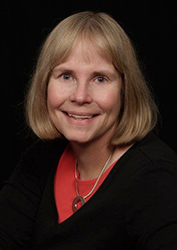 Clinical Focus
Medical Genetics, Pediatric and adult onset genetic disorders
Education
Medical School
New York Medical College, Valhalla, NY
Residency
Pediatrics, University of Connecticut School of Medicine, Farmington, CT
Fellowship
Human Genetics, University of Connecticut School of Medicine, Farmington, CT
Certifications
Medical Genetics
Current Publications
Lindsay F, Anderson I, Wentzensen IM, Suhrbier D, Stevens CA.
Genetic evaluation including exome sequencing of two patients with Gomez-Lopez-Hernandez syndrome: Case reports and review of the literature. American Journal of Medical Genetics Part A. 2020 Jan 31. [Epub ahead of print]
Torti E, Keren B, Palmer EE, Zhu Z, Afenjar A, Anderson IJ, Andrews MV, Atkinson C, Au M, Berry SA, Bowling KM, Boyle J, Buratti J, Cathey SS, Charles P, Cogne B, Courtin T, Escobar LF, Finley SL, Graham JM Jr, Grange DK, Heron D, Hewson S, Hiatt SM, Hibb.
Variants in TCF20 in neurodevelopmental disability: Description of 27 new patients and review of literature. Genetics in Medicine. 2019 Feb 11. [Epub ahead of print]
Jansen S, van der Werf IM, Innes AM, Afenjar A, Agrawal PB, Anderson IJ, Atwal PS, van Binsbergen E, van den Boogaard MJ, Castiglia L, Coban-Akdemir ZH, van Dijck A, Doummar D, van Eerde AM, van Essen AJ, van Gassen KL, Guillen Sacoto MJ, van Haelst MM, Iossifov I, Jackson JL, Judd E, Kaiwar C, Keren B, Klee EW, Klein Wassink-Ruiter JS, Meuwissen ME, Monaghan KG, de Munnik SA, Nava C, Ockeloen CW, Pettinato R, Racher H, Rinne T, Romano C, Sanders VR, Schnur RE, Smeets EJ, Stegmann APA, Stray-Pedersen A, Sweetser DA, Terhal PA, Tveten K, VanNoy GE, de Vries PF, Waxler JL, Willing M, Pfundt R, Veltman JA, Kooy RF, Vissers LELM, de Vries BBA.
De novo variants in FBXO11 cause a syndromic form of intellectual disability with behavioral problems and dysmorphisms. European Journal of Human Genetics. 2019 Jan 24. [Epub ahead of print]
Snijders Blok L, Rousseau J, Twist J, Ehresmann S, Takaku M, Venselaar H, Rodan LH, Nowak CB, Douglas J, Swoboda KJ, Steeves MA, Sahai I, Stumpel CTRM, Stegmann APA, Wheeler P, Willing M, Fiala E, Kochhar A, Gibson WT, Cohen ASA, Agbahovbe R, Innes AM, Au.
CHD3 helicase domain mutations cause a neurodevelopmental syndrome with macrocephaly and impaired speech and language. Nature Communications. 2018 Nov 5;9(1):4619.
Towler OW, Shore EM, Xu M, Bamford A, Anderson I, Pignolo RJ, Kaplan FS.
The congenital great toe malformation of fibrodysplasia ossificans progressiva? - A close call. European Journal of Medical Genetics. 2017 Jul;60(7):399-402. Epub 2017 May 1.
Top