Continuing Education and Professional Development
The University of Tennessee Graduate School of Medicine
Department of General Dentistry, Division of Forensics
University of Tennessee Medical Center
Present
Clandestine Grave Recovery for the Forensic Dentist
November 13 - 14, 2020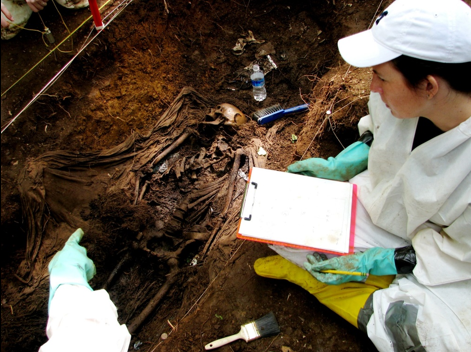 November 13 - 14, 2020 (Course Dates Updated 6/1/2020)
University of Tennessee Medical Center
Knoxville, Tennessee

Thank you for your interest in the UTGSM course Forensic Dentistry: Clandestine Grave Recovery For the Forensic Dentist Course to be held at the University of Tennessee Medical Center, Knoxville, Tennessee.

Conference Attire
We encourage you to be comfortable as we spend two days at this quality education experience. Business casual attire and a light sweater or jacket are suggested.

Parking
Parking is available at The University of Tennessee Medical Center for a fee of $3.00 per day.
(Registration is complete only when payment is received.)
Once payment is received, a seat will be reserved for you at this education conference, and you will receive registration confirmation by email from the UT Conference Center.
University of Tennessee Employees
The University of Tennessee Conferences and Non-Credit Programs is responsible for processing all registration fees for this event. NOTE: University of Tennessee employees must check out with the invoice option and submit a department account number to Conferences@utk.edu to pay registration fees. Please do not use a procurement card for your registration fee.
Weather Policy
If inclement weather forces the cancellation of the educational activity, refunds of conference registration fees will be made to all registered attendees. Refunds cannot be made to individual registrants due to weather-related transportation issues. All registered attendees will be notified of weather cancellation via an email from UT Conferences up to one day before the conference. Please also check the conference website, for weather updates.
Confirmations
Electronic confirmations and receipts are emailed once your payment has been fully processed. If you have any questions about this website, please contact UT Conferences at (865) 974-0280.

IMPORTANT

A unique email address will be required for each participant in order to issue continuing education credit. Please do not enter the same email address for multiple registrants. If you do not use a unique email address you will not receive:
Email with link to presentations and directions to the conference location
Email with the link to claim credit
Please Add Us as Safe Sender
Please add utmck.edu, attendeeinteractive.com, and conferences@utk.edu as safe senders so that you can receive confirmation emails and information regarding claiming credit. Also, please check your spam folder if you do not receive emails from us in a timely manner.