Moments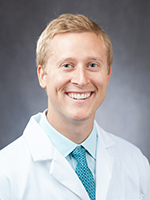 Anesthesiology Resident Accepted to ASA Policy Research Rotation
The American Society of Anesthesiology (ASA) notified Patrick McFarland, MD, Anesthesiology Chief Resident, that he was accepted to the ASA Policy Research Rotation in Political Affairs in Washington DC during March 2018. The selection process was very competitive and the awardee was selected by the ASA Committee on Governmental Affairs. According to its website, the ASA Advocacy Division hosts the ASA Anesthesiology Policy Research Rotation in Political Affairs, a four-week rotation in Washington, D.C., designed to allow resident physicians to experience the political, legislative, and regulatory factors that affect the delivery of patient care. During the rotation, the resident will achieve comprehensive understanding of health care politics and policy, gain first-hand experience of a political environment, assist in day-to-day activities in ASA's Advocacy Division, attend lobby events sponsored by ASA, create specific research projects and explore and report on new law and policy changes affecting the profession of anesthesiology. During the rotation the resident will be supervised by ASA's Director of Congressional and Political Affairs.
---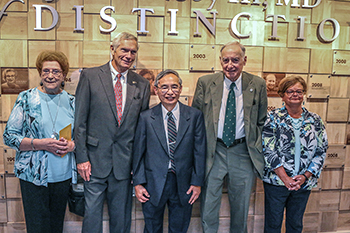 Retired Faculty Added to Wall of Distinction
Three retired faculty physicians who made a significant impact to the UT Graduate School of Medicine and The Univeristy of Tennessee Medical Center were among five people honored with placement on the John W. "Jack" Lacey Wall of Distinction. Former faculty honored at a ceremony were
Howard C. Filston, MD, Surgery, 1990-2000: Nationally recognized as a pediatric surgeon, Dr. Filston also taught and mentored residents and students and helped develop palliative care at the medical center.
Kimball I. Maull, MD, Surgery, 1983-1992: Dr. Maull established the trauma system that is now recognized as the region's only Level I Trauma Center. He also transformed the Department of Surgery, laying the groundwork for the creation of the transplant, vascular surgery, oncologic surgery and urology programs. He is also former chair of the department.
Vichien Lorch, Obstetrics and Gynecology, 1980-2012: Dr. Lorch is considered a pioneer in neonatology. His vision and leadership saw an expansion and modernization of the neonatal intensive care unit to include private rooms for critically ill babies and their parents.
Read more about all of the honorees in the Knoxville News Sentinel.
---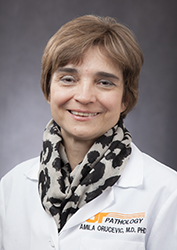 Dr. Orucevic Named as Finalist for YWCA Tribute to Women
Amila Orucevic, MD, PhD, Associate Professor of Pathology, was named as a finalist for the 2017 YWCA Tribute to Women awards. Dr. Orucevic is one of just four East Tennessee women named as a finalist in the Technology, Research & Innovation category.
Dr. Orucevic was nominated for the award because of her outstanding contribution professionally to medicine and research, as well as her tireless efforts to help educate, develop and mentor students throughout the region. Dr. Orucevic has contributed dozens of published scientific articles to enhance the knowledge base of physicians, researchers and students throughout the world regarding pathology and the management of breast cancer patients. She also has shared her research by leading seminars and giving presentations at local, national, and international conferences and venues.
View all finalists in the Knoxville News Sentinel.
---
Joseph Fuhr, PhD, former Assistant Dean of the UT Health Science Center College of Medicine, Knoxville, recently passed away. Dr. Fuhr conducted research and taught for UT from 1971 until he retired in 2003 as Professor. Dr. Fuhr was considered a pioneer in hematology, publishing more than 45 peer-reviewed articles in international medical journals. His research focus was on blood-borne diseases. In addition to Assistant Dean and Professor, Dr. Fuhr was Director of Academic Resources and played a major role in the growth and building of Preston Medical Library. Read his obituary.
---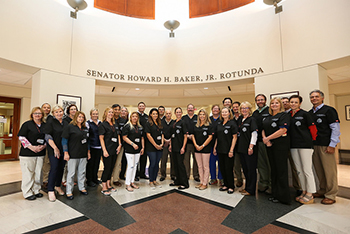 Dentists Learn Forensics in Knoxville
About 25 dentists nationwide participated in the week-long 2017 Forensic Odontology National Conference: All That Remains. The course gave dental professionals exposure to current forensic dentistry methods and provided hands-on training for individual and mass-disaster casualty identification in death investigations. The conference used real-life settings and helps dentists meet some of the prerequisites for certification as a forensic odontologist. Dentists with specialized training in forensics often use their skills to aid first responders following mass disasters such as 9/11, Hurricane Katrina, and more recently, the 2016 Great Smoky Mountain wildfires.
See news coverage via WBIR and view photos via Flickr.
A Forensic Odontology All That Remains Mini-Residency I: Identification course is being offered to dentists December 7-8 in Knoxville. Learn more and register.
---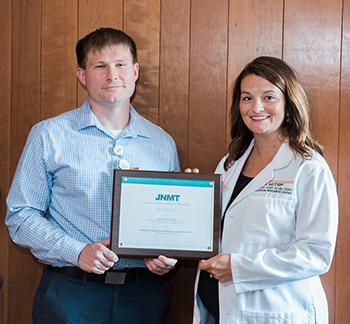 MITRP Awarded at Conferences
Shelley Acuff, Clinical Research Leader, and Dustin Osborne, PhD, Director of the Molecular Imaging and Translational Research Program, received an award for the best continuing education article, Clinical Workflow Considerations for Implementation of Continuous-Bed-Motion PET/CT, published in the Journal of Nuclear Medicine and Technology for the 2016 calendar year, which was accepted at the annual Society of Nuclear Medicine in Molecular Imaging (SNMMI) Technologist Section Business Meeting. Acuff and Alan Stuckey, Preclinical Lab Manager, also received a $1,000 travel award to the 2017 SNMMI in Colorado for their original research accepted to this conference. This is the fifth year in a row Acuff and Stuckey have won this award.
---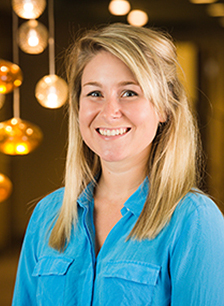 Kelsey Leonard Named Assistant Director of Health Information Center
Kelsey Leonard, MSIS, has been named assistant director of the Health Information Center. Leonard, who has served as a health information services librarian since 2014, is an assistant professor with the University of Tennessee Graduate School of Medicine and is a member of the Academy of Health Information Professionals (AHIP). In her role as health information services librarian, she has helped establish and implement policies and procedures for the successful operation of the Health Information Center. Leonard's work specializing in health literacy and patient education has led to numerous papers and presentations and continues to have an impact on The University of Tennessee Medical Center's patient education material. Her work will continue to focus on the Health Information Center's patient and community centered services and resources. Leonard's responsibilities will supplement Martha Earl's leadership as assistant director of Preston Medical Library. Since becoming assistant director in 2008, Earl has ensured that University of Tennessee Medical Center team members and area physicians have an academic medical library that provides them with the highest quality of services and resources.
---
Dr. Stevens PMERF Grant Benefits Preston Medical Library's Vascular Surgery Collection
Since the mid-1960's the Physician's Medical Education and Research Foundation (PMERF) has made a significant impact on medical education and research in our community. Thanks to a generous donation from PMERF, Preston Medical Library has been able to facilitate the foundation's mission by improving our Vascular Surgery eBook collection. Included in this collection are texts such as Rutherford's Vascular Surgery (8th ed., 2014), Vascular Medicine: Therapy and Practice (2nd ed., 2014), and Vascular and Endovascular Surgery: A Comprehensive Review (8th ed., 2013). With this donation the library has also been able to purchase a number of print titles for vascular surgery. Special acknowledgement and thanks go to Scott Stevens, MD, Professor or Surgery, for initiating the PMERF funding of the 18 new Vascular Surgery titles. The library's entire selection of vascular surgery eBooks can be accessed by searching "vascular surgery" in the eBooks search box on the library's home page. To learn more about PMERF visit their page on The University of Tennessee Medical Center site. If you would like to schedule a Custom Consultation session to review the new holdings and how to access them, please call 865-305-9525.
---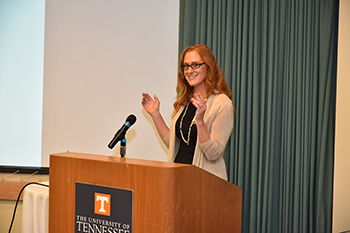 Hodges Discusses Dr. Towers's Research Success at UT Conference
Kandi Hodges participated in a Show and Tell session at the first annual CommuniCon, a conference for University of Tennessee communications professionals. She showcased research by Craig Towers, MD, showing that pregnant women can detox safely from opioids while pregnant and deliver healthy babies. Dr. Towers's research was not only featured on CNN but also resulted in updated guidelines from the American Congress of Obstetricians and Gynecologists. The Show and Tell format was PechaKucha, a presentation style in which 20 slides are shown for 20 seconds each.
---
Each year, through a review process, faculty are promoted from Instructor to Assistant Professor, from Assistant Professor to Associate Professor, and from Associate Professor to Professor. These year, promotions were awarded to
Assistant Professor
Michael McNally, MD, Surgery
Associate Professor
Mark Casillas Jr., MD, Surgery
Craig Combs, MD, Anesthesiology
Andrew Ferrell, MD, Radiology
Eric Heidel, MD, PhD, Surgery
Julie Jeter, MD, Family Medicine
Andrew Russ, MD, Surgery
Dana Taylor, MD, Surgery
Professor
James McLoughlin, MD, Surgery
Stephen Kennel, PhD, Medicine
---
Jonathan Boone, MD, Assistant Professor, Obstetrics and Gynecology
Marc Campbell, DO, Assistant Professor, Surgery
Jennifer Castelbuono, MD, Instructor, Surgery
Priya Gyani, MD, Clinical Assistant Professor, Medicine
Daniel Knight, DDS, Clinical Instructor, Dentistry
Bruce Leforce, MD, Clinical Assistant Professor, Medicine
Janet Lubas, MD, Assistant Professor, Medicine
Janelle Moulder, MD, Assistant Professor, Obstetrics and Gynecology
David Perkel, MD, Clinical Assistant Professor, Medicine
Nathan Smith, MD, Clinical Assistant Professor, Medicine
Francisco Soto, MD, Associate Professor, Medicine
Dennis VanDorp, MD, Instructor, Surgery


New Staff
Alexis Dozier, Medical Administrative Assistant, Family Medicine
Taylor Harris, Research Technician, Surgery
Gabriella Rimmer, Research Assistant, Anesthesiology
Top