Continuing Education and Professional Development
The University of Tennessee Graduate School of Medicine
Department of General Dentistry Division of Forensic Odontology and Human Identification
Present
Forensic Odontology
All that Remains Mini-Residency I: Identification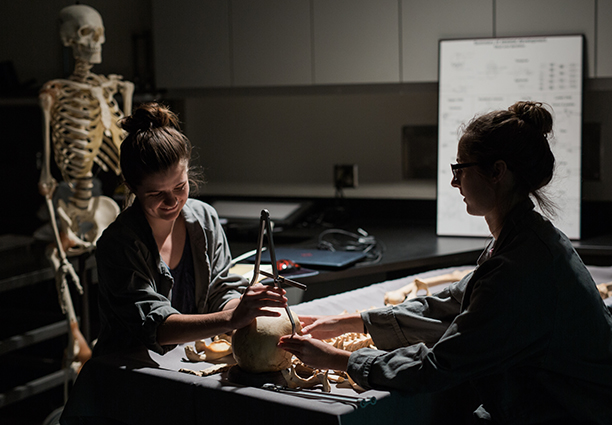 December 7-8, 2017
University of Tennessee Medical Center
Knoxville, Tennessee

Course Overview
This 10-hour lecture/laboratory class introduces forensic odontology and reveals the role of the dentist in positive identification procedures in death investigations. Participants will gain exposure to cranio-dental remains from victims of thermal, ballistic, blunt and sharp force trauma as well as an introduction and practice in comparative antemortem-postmortem radiograph methods. Upon successfully completing this course, a dentist from a smaller county where a licensed medical examiner does not reside, can have more confidence to step in and assist should a situation arise.
This particular course fulfills the need in the forensic community for qualified dentists to perform human identification services in the Medical Examiner system. The American Board of Forensic Odontology in the American Academy of Forensic Sciences are charged with education and training to meet this need.
Target Audience
General dentists and dental professionals
Course Objectives
At the conclusion of this program, the participant should be able to:
Discuss the theory and apply the methods required for individual and mass disaster casualty identification in medico-legal death investigations
Participate in the dental identification process, perform antemortem and postmortem charting and the radiographic capture and comparison techniques
Aid in the identification of disaster victims using the team -DMORT approach and applicable software
Registration Fees
Early Registration (through November 10, 2017)
Dentists $350
Dental Professionals $250
Registration (through November 24, 2017)
Dentists $375
Dental Professionals $275
Late Registration (through December 1, 2017)
Dentists $400
Dental Professionals $300
---
Education Credit

These 10 hours are accepted by the Tennessee Board of Dentistry for re-licensure credit. Participants licensed outside of Tennessee should check with their licensing board. The teaching format for this activity is lecture/didactic and hands-on. AGD's Continuing Education Subject Codes for the activity are 145, 012, 017, 731 and 738.