Moments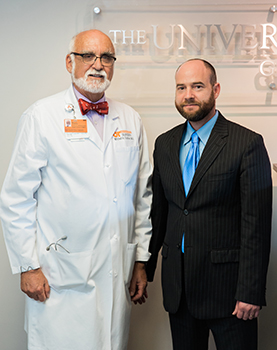 Research Hosts Visiting Professor from Israel
Alon Nevet, MD, PhD, Assistant Director General, Pediatrician and Pediatric Emergency Medicine Specialist for the State of Israel Ministry of Health Hillel Yaffe Medical Center, visited the UT Graduate School of Medicine at The University of Tennessee Medical Center as well as East Tennessee Children's Hospital as a Visiting Professor on May 1. Dr. Nevet has researched, created protocols and advised on medical issues facing Clalit Health Services' online pediatric service. He specialized in emergency medicine and pediatrics in Schneider Children's Medical Center of Israel. During his medical studies in the Hebrew University of Jerusalem, Alon worked as a teaching assistant and researcher, and graduated with a Ph.D in neurobiology in addition to the MD degree.
---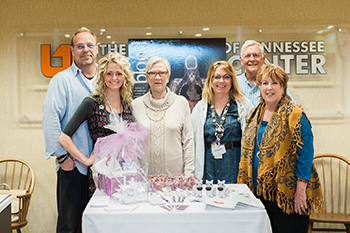 Amyloidosis Awareness Raised on Rare Disease Day
A team of Amyloidosis researchers raised awareness for amyloidosis during Rare Disease Day. Emily Martin, PhD, Assistant Professor, Tina Richey, Research Associate, and Charlotte Haffner, director of the Amyloidosis Foundation, led the effort and Jonathan Wall, PhD, Stephen Kennel, PhD, and Sallie Macy, who are part of the Amyloidosis and Cancer Theranostics Program, also participated. The success of the team in raising awareness for the disease among visitors and physicians at The University of Tennessee Medical Center was featured in the Amyloidosis Foundation's Spring 2017 newsletter. On Rare Disease Day, millions of patients and their families around the world share their stories to promote awareness of the challenges, hopes and needs of those living with rare diseases. The next Rare Disease Day is February 28, 2018.
---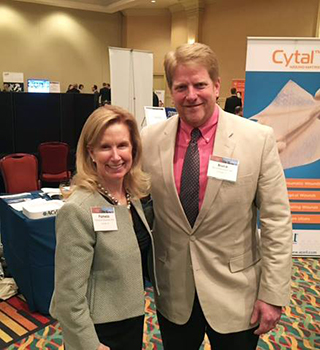 Surgery Faculty Attend Regional Conference
Surgery Chair Bruce Ramshaw, MD, and Professor of Surgery and Associate Dean for Faculty Development Pameal Rowland, PhD, attended the 2017 Annual Scientific Meeting of the Southeastern Surgical Congress. The Southeastern Surgical Congress was founded to provide opportunities for surgeons and surgeons in training to come together for educational, scientific, and social purposes to promote and advance the study and practice of surgery.
---
Dr. Lozzio Is Featured UTRF Inventor
Carmen Lozzio, MD, retired Professor of Medicine and geneticist, was featured in the UT Research Foundation's Inventor Spotlight for her distinguished career in genetics research, including an extensive study of the K-562 cell line, which she began studying at The University of Tennessee Medical Center in 1970. Although retired, Dr. Lozzio, who still actively collaborates in UTGSM research, has created a cell therapy that has potential use among many types of cancers. She credits the collaborative atmosphere and talented faculty and staff at the University and at Oak Ridge National Laboratory with making her research contributions possible. Learn more by reading the UTRF Inventor Spotlight.
---
Thomas David, DDS, Clinical Assistant Professor, General Dentistry
David Gallegos, MD, Clinical Assistant Professor, Surgery
Top