Martin Earns Prestigious Amyloidosis Grant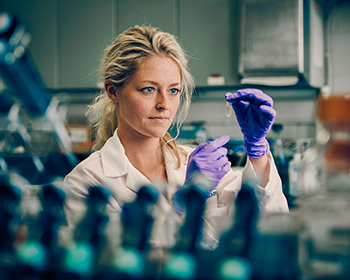 The Amyloidosis Foundation awarded Emily Martin, PhD, Assistant Professor of Medicine, a $50,000 junior research grant for her project to evaluate a novel test for identifying patients who have multiple myeloma, or a similar disease, who are at risk of developing light chain (LC) amyloidosis. The grant is known as the Donald C. Brockman Memorial Research Grant. This award is given in memory of one of the co-founders of the Amyloidosis Foundation who passed away in 2004 after being diagnosed with amyloidosis.
Early detection of amyloidosis is key to improved survival, but the rarer forms are difficult to diagnose early because they are often unrecognized and the patients have a vast range of seemingly unrelated symptoms. Brockman's disease progressed from a different initial diagnosis, but once his amyloid was detected, it was too late. His story inspired the focus for Dr. Martin's project. She hopes her research may be able to make a difference for these patients by enabling them to be diagnosed and treated earlier. Dr. Martin is working to address the need for early diagnosis of this harmful disease. Her research project will assess a novel test for identifying patients who have multiple myeloma, or a similar disease, who are at risk of developing light chain (LC) amyloidosis.
Dr. Martin will study LC proteins, isolated from patients' urine, for their ability to make amyloid fibers, also called fibrils. Her study is based on previous work in the Amyloidosis and Cancer Theranostics Laboratory. She believes this is a simple test that will identify LC proteins that have a tendency to form amyloid deposits before symptoms appear.
Dr. Martin has been studying amyloidosis for nearly 10 years. She first came to the medical center as a student volunteer to work with a team of researchers studying the disease. Her job was to analyze images which appealed to her interests in both science and art.
"I became hooked on research," Dr. Martin said. "Once I graduated, I went to graduate school without hesitation, and the focal point of my thesis was imaging amyloidosis. Being part of a group of researchers who have a passion for studying this rare, devastating disease makes my work feel like less of a job and more like a journey to make a difference. We all share the common goal of finding a way to help patients, and my passion has only grown in the two years since joining the faculty here."
In addition to her research, Dr. Martin brainstormed other ways to make an impact on patients who have already been diagnosed with the disease. Despite having a world-renowned amyloidosis program at the medical center, Dr. Martin noticed the lack of patient support in the Knoxville area. She decided to attend a patient support group at Duke University to see if that was something she should try to establish in Knoxville.
Dr. Martin said "Until that day, I had never actually met a patient with this horrible disease. When I was able to physically speak to and listen to those afflicted by the disease I have spent years studying, I was incredibly inspired."
With the help of Charlotte Haffner, director of the Amyloidosis Foundation, and the Amyloidosis and Cancer Theranostics laboratory team, Martin held the first Knoxville-area support group in 2016, bringing in internationally renowned speakers in amyloidosis research to try to give hope to patients. The first meeting was such a success that another support group meeting followed just four months later. Martin says she plans to keep the support group going. A third meeting was held in April, and the next 2017 meetings are tentatively planned for August 12 and October 28.
---
UT Graduate School of Medicine Celebrates Match Day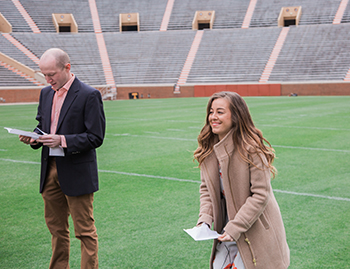 The National Residency Matching Program's "Match Day" was held Friday, March 17, and the University of Tennessee Graduate School of Medicine celebrated a 100% fill of all of its residency positions among its 11 residency programs.
UT College of Medicine students who rotated at the UT Graduate School of Medicine had the opportunity to celebrate Match Day at Neyland Stadium to see which residency programs they had matched with. Thirteen students participated, running to the 50-yard line to open their letters. See more Match Day photos on Flickr.
Participating students matched with:
UT Graduate School of Medicine
UT Chattanooga
UT Health Science Center
University of Kentucky Medical Center
Trident Medical Center (Charleston, South Carolina)
University of Louisville School of Medicine
St. Vincent Hospital (Worchester, Massachusetts)
Barnes Jewish Hospital (St. Louis, Missouri)
Medical College of Georgia (St. Augusta, Georgia)
George Washington University (Washington D.C.)
Palmetto Health Richland (Columbia, South Carolina)
Madigan Army Medical Center (Tacoma, Washington)
Top