Moments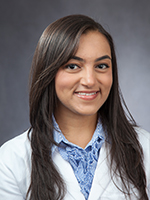 Resident Dr. Reem Hussein Wins Scholarship to Quality Improvement Forum
Reem Hussein, MD, Internal Medicine Resident and Co-Chair of the Resident Patient Safety Subcommittee, has been awarded a Kaiser Permanente Community Benefit Scholarship to cover tuition for the Institute for Healthcare Improvement's (IHI) 28th National Forum on Quality Improvement in Health Care that will be held in Orlando, Florida, December 4-7. According to IHI, it is a leading innovator in health and health care improvement worldwide. Recognized as an innovator, convener, trustworthy partner, and driver of results, IHI says its the first place to turn for expertise, help and encouragement for anyone, anywhere who wants to change health and health care profoundly for the better. Kaiser Permanente's mission is to provide high-quality, affordable health care services and to improve the health of its members in the nine states it serves, in addition to the District of Columbia.
---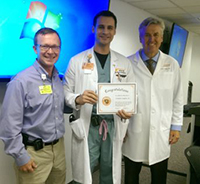 Resident Dr. Waggoner Receives Good Catch Honors
As part of the ongoing efforts to enhance our patient safety culture, The University of Tennessee Medical has a Good Catch Program, encouraging the identification of potential system errors or problems before they reach the patient. The program recognizes team members for identifying and reporting these issues, leading to safer practices. In September, Internal Medicine Resident Christopher Waggoner, DO, was honored for a Good Catch.
---
James Bienvenu, MD, Instructor, Surgery
M. Ryan Buckley, MD, Assistant Professor, Surgery
Shanta Chamberlin, MD, Associate Professor, Family Medicine
Sherard Chiu, MD, Instructor, Surgery
Ronald Hamrick, MD, Assistant Professor, Medicine
John Lacy, MD, Instructor, Surgery
Heather Moss, MD, Assistant Professor, Obstetrics and Gynecology
Carrie Polin, MD, Assistant Professor, Anesthesiology
Michael Polin, MD, Instructor, Obstetrics and Gynecology
Pamela Rowland, PhD, Associate Dean and Professor, Surgery
Mahmoud Shorman, MD, Associate Professor, Medicine
New Staff
Whitney Bean, Nurse Practitioner, Obstetrics and Gynecology
Stefanie Bowen, Coordinator, Radiology
Jennifer Ferris, Coordinator, Medicine
Kimberly Givens, Manager, Medicine
Tiffany Norton, Medical Administrative Assistant, Family Medicine
Chelsey Smith, Medical Administrative Assistant, Family Medicine
Tina Thomas, Surgery Coordinator, Oral and Maxillofacial Surgery
Chelsea Wyrick, LPN, Obstetrics and Gynecology
Top