Dr. Dougherty Exemplifies a Health Care Hero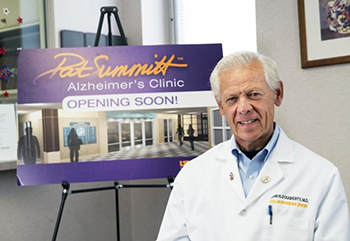 John Dougherty, MD, Associate Professor of Medicine's Division of Neurology, was named a 2016 Health Care Hero by the Knoxville Business Journal for Innovation in the medical field. Dr. Dougherty has dedicated his life to battling neurological disorders, including more than 30 years of treating patients at The University of Tennessee Medical Center. He's been a leader in their treatment and in providing family caregiver support for those facing Alzheimer's disease and other memory disorders. As stated in the Knoxville News Sentinel article on Dr. Dougherty's recognition, "When it comes to the war on Alzheimer's, Knoxville is a battleground and Dr. John H. Dougherty Jr. is a general."
Dr. Dougherty has cared for more than 30,000 patients during his career. He was fundamental in the creation of the Cole Neuroscience Center, the only Neurology sub-specialty center of its kind in the region. He helped establish the Brain and Spine Institute, a Center of Excellence at the medical center, where he is medical director, and Dr. Dougherty is currently helping to launch the Pat Summitt Alzheimer's Clinic.
While Alzheimer's disease does not have a cure, Dr. Dougherty has found early detection is key to more effective treatment for Alzheimer's disease and other forms of cognitive impairment. He, with a team, create a self-assessment known as CST - computerized self test - to help identify cognitive issues at an early stage.
Read more about Dr. Dougherty's award and career in the Knoxville News Sentinel.
---
Research Finds Hepatitis C Spreads Via Shared Straws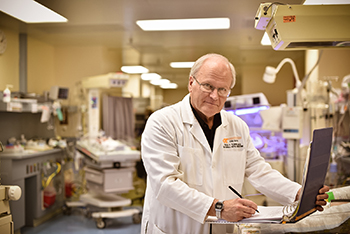 Craig Towers, MD, Professor of Obstetrics and Gynecology in the Division of Maternal-Fetal Medicine, has found evidence that the sharing of snorting utensils, such as straws, when abusing illicit drugs can transmit Hepatitis C (HCV) and other blood-borne viruses like HIV from person to person.

The results of this research have been published in Obstetrics & Gynecology, the official publication of the American College of Obstetricians & Gynecologists and are also available via PubMed.

"This is a worldwide issue that needs to be addressed," said Dr. Towers.

"The idea that 'if you snort, don't share straws' needs to be communicated around the globe as the use of snorting straws for drug-use is a common practice, especially for those that prefer that method over intravenous drug use," said Dr. Towers.

According to Dr. Towers, the national impact of the study is of particular interest as the most common chronic blood-borne infection in the United States is HCV. Since his study was conducted on women living in the greater Eastern Tennessee region, the study supports previous stats proving the overwhelming existence of an "opioid epidemic," especially in Appalachia.

"Previous reports have shown a 364% increase in HCV infections from 2006 to 2012 in the central Appalachian region," said Dr. Towers. "The main concern is the transmission of any blood-borne virus, but a huge potential impact of the sharing of snorting utensils is the threat of transmitting HIV, which is more serious than HCV. If HIV were to enter the blood pool of this population, an increase in this serious infection might also develop."

In the 16-month study (March of 2014 through June of 2016), Dr. Towers' goal was to evaluate possible modes of HCV acquisition in HCV-infected pregnant patients in Eastern Tennessee through known common routes such as intravenous drug usage, blood transfusion, organ transplant, sexual contact, and tattoos, as well as possible straw transmission. Therefore, an anonymous survey was distributed to 189 women who had tested positive for HCV post-routine blood testing at Dr. Towers' obstetrics clinic at the medical center.

"Because of the high rates of HCV-infections we've seen, HCV testing has become part of the routine prenatal screening at High Risk Obstetrical Consultants," said Dr. Towers.

Dr. Towers explains this group of pregnant women was specifically chosen for the study because pregnancy provides a population that is often more motivated for healthcare intervention due to the potential effects on the unborn child.

According to Dr. Towers, of the study's 189 participants, 133 participants (70%) did not have any idea when they had become infected with HCV and 127 (67%) were first told they had HCV following the prenatal lab work that was obtained during routine prenatal care. Additionally, of the women surveyed, 164 (92%) reported sharing snorting straws.

"Nearly all participants reported that opiates were the primary drug that was snorted," said Dr. Towers. "In addition, the opiates used intravenously and snorted in the Appalachian region are crushed prescription drugs, which is evidence of the neonatal abstinence syndrome (NAS) epidemic that also exists in our region and has been the basis of some of my previous research studies."

Dr. Towers concludes that the sharing of snorting straws in the process of snorting opiates or any other drugs may be an additional risk factor for becoming infected with HCV and other blood-borne infections.

"This risk needs to be communicated to the public and the healthcare community," said Dr. Towers.

Dr. Towers says the next phase of his research will study the risk of HCV being transmitted to babies during birth.



---
REACT Clinic Serves Patients After Hospital Discharge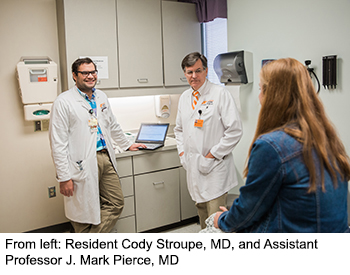 UT Internal Medicine Patient Care Center has launched a program known as REACT Clinic to serve patients recently discharged from The University of Tennessee Medical Center to help patients transition from hospital care back to their primary care physicians.
An estimated 35 million patients were discharged after admission to the hospital in the United States alone in 2010. Amongst the Medicare population, approximately 20% of patients were readmitted within 30 days. This huge frequency of readmissions prompted the launch of multiple nationwide initiatives to investigate and improve hospital discharge processes. Department of Medicine responded to this need with the creation of the Rapid Evaluation and Care Transition (REACT) Clinic.
REACT Clinic provides hospital follow-up appointments for patients recently discharged from The University of Tennessee Medical Center. Named by Jack Lacey, MD, then-Chief Medical Officer, the REACT Clinic launched in July 2015 in an effort to bridge care between the inpatient and outpatient settings. The primary goals are to clarify medication changes and discharge instructions, check repeat labs, and transition patients back to their primary care providers.
Timely hospital follow-up is a crucial aspect to patient care. Hospitalizations far too often inadvertently inundate patients with new diagnoses, unfamiliar terminology, and multiple medication changes. Discharge instructions can be extensive and overwhelm patients. Despite the best efforts of the team that discharges the patients, patients find themselves faced with a plethora of questions after they leave the hospital.
REACT Clinic serves as an opportunity for these patients to voice their questions and concerns. While hospitalizations resolve acute issues, healing is not limited to physical ailments. Experienced residents comb through patients electronic medical records in order to provide patients with clarity and understanding about their illness and medications.
Patients are not the only ones who benefit from REACT. Dr. Juli Williams, Director of the UT Internal Medicine Resident Clinic, said, "REACT Clinic is a wonderful educational experience for our residents and provides the community with an invaluable resource. The efforts of all participants in the REACT Clinic will hopefully result in a decrease in the frequency of readmissions to the hospital."
Patients are contacted within two days of hospital discharge and have a follow-up appointment within 7-14 days. Experienced internists supervise these third-year residents in the clinic.
---
International College of Dentists Elects Dr. O. Lee Wilson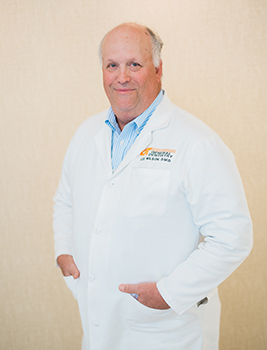 The International College of Dentists, the world's oldest and largest honor society for dentists, invited O. Lee Wilson, DMD, Associate Professor and Chair, Dentistry, into its fellowship. He was inducted at the ICD USA Section Convocation held in Denver, Colorado in October.
Dr. Wilson was nominated to the prestigious fellowship by Joseph Rainey, DDS, Instructor of General Dentistry, with a supporting nomination from John W. Hudson, DDS, Professor of Oral and Maxillofacial Surgery. Dr. Wilson established University General Dentists in 1998 and provided leadership to the Department of General Dentistry as its first Chair when it formed in 2011 out of a division within Oral and Maxillofacial Surgery. He was awarded a Fellowship in the Academy of General Dentistry in 1994; was inducted into the American College of Dentists in 2002; and received the prestigious Tennessee Dental Association (TDA) Fellowship Award in 2015. He has launched two fellowship programs in Dentistry and grown the Dentistry residency program into a two-year elective program. Both Dr. Rainey and Dr. Hudson commented on Dr. Wilson's excellence in leadership in growing the department while maintaining high standards in education and patient care.
The International College of Dentists, conceived in 1920, currently has over 12,000 members, in 122 countries, who have been awarded the prestigious title of Fellow in the ICD. Fellowship in the College is extended by invitation only. The honor is bestowed upon those dentists who have made significant contributions to the profession, their community, and successfully completed a thorough peer review process. A nominated dentist must pass a rigorous, peer review process leading to the recognition of the individual's "outstanding professional achievement, meritorious service and dedication to the continued progress of dentistry for the benefit of humankind."
---
Dr. Norwood Receives ACP Laureate Award of the Tennessee Chapter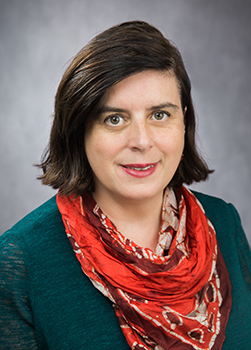 Daphne Norwood, MD, Assistant Professor and Transitional Year Residency Program Director, received the 2016 Laureate Award from the Tennessee Chapter of the American College of Physicians for her commitment to excellence in medical care, education, research and service. In the presentation of Dr. Norwood's award, she was said to embody the qualities of the classically-trained physician.
Dr. Norwood is a graduate of Princeton University as well as the Robert Wood Johnson School of Medicine. In addition, she attained a MPH studying Quantitative Methods and Epidemiology.
Dr. Norwood began practicing inpatient and outpatient medicine in 1998 while teaching at the UT Graduate School of Medicine. In 2006, she took on the roles of Transitional Year Residency Program Director and Associate Program Director of the Internal Medicine Residency.
For the Tennessee Chapter of the ACP, Dr. Norwood has been active in the Council of Transitional Year Program Directors for many years and is the immediate past-chair. She serves on the board of the Association of Hospital Medical Education where her efforts include website content and professionalism milestone development through the Academic Leadership and Program Development Division. She also has been a very active member of the Advisory Council to the Tennessee ACP where she has helped with program content and leads the section on narrative medicine.
Her clinical career has continued in the role of teaching hospitalist and clinic attending. She is known for her engaged style of teaching emphasizing active input and discussion from all learners. Dr. Norwood developed and oversees annually a four-week scholarly activities and evidence-based medicine course for PGY-1 residents (literature review) and PGY-2 residents (evaluation of systems-based practice). All residents produce abstracts, most of which are submitted to local or national meetings. In addition, Dr. Norwood leads a team-based learning group in ambulatory training. Under her guidance the program has seen a steady increase in scholarly publications. Dr. Norwood's efforts in teaching have been recognized at the UT Graduate School of Medicine with an Excellence in Teaching Award as well as the Department of Medicine's R. A. Obenour Award for Excellence in Teaching.

---
Dr. Huffstutter Is Outstanding UTHSC COM Alumnus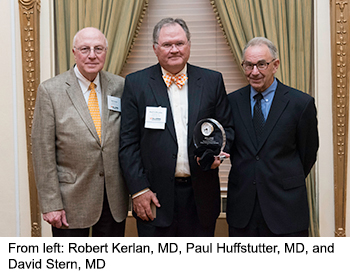 Paul Huffstutter, MD, Assistant Professor of Surgery and Co-Director of the UT Center for Advanced Medical Simulation, received a 2016 Outstanding Alumnus Award from the UT Health Science Center College of Medicine.
Dr. Huffstutter completed his education on a "fast-track." Following his graduation from Dyersburg High School, Huffstutter earned a bachelor's degree in zoology from the University of Tennessee at Martin in only three years. During his senior year, he balanced his accelerated course load with his teaching duties as a biology instructor at the University. In 1973, again in just three years, Dr. Huffstutter graduated from the University of Tennessee College of Medicine. He completed his internship at Baptist Memorial Hospital in 1975 and his surgical residency at the University of Tennessee in 1978. In a little more than 10 years, Huffstutter went from high school student to practicing physician and academic medical instructor.
In 1978, Dr. Huffstutter began his career in academic medicine as an instructor in the department of surgery at the University of Tennessee College of Medicine, serving on the faculty until 1982. During this time, he maintained a thriving private practice in West Memphis, Arkansas. Huffstutter also served as the chief of surgery, the chief of staff, and chairman of the credentials committee with Crittenden Memorial Hospital until 2008.
Dr. Huffstutter retired from the practice of surgery in 2008 and, in what he describes as his most meaningful detour, helped build the UT Center for Advanced Medical Simulation at the UT Graduate School of Medicine. Today, in addition to his leadership in the simulation center, he is also an Assistant Professor in Biomedical Engineering for the Institute of Biomedical Engineering for the University of Tennessee, Knoxville. Dr. Huffstutter has also authored or co-authored numerous publications, conducted workshops and educational presentations, and sat on countless scientific panels throughout his career.

Dr. Huffstutter's ties to UTHSC remain strong, as it is a place to which he says he'll always return. His volunteer efforts, including past president of the University of Tennessee College of Medicine Alumni Council and past member of the University of Tennessee Alumni Board Governors, are to be commended.
In the words of Dr. R. Phillip Burns, a 2002 recipient of the Outstanding Alumnus Award, "Paul Huffstutter epitomizes the criteria for the Outstanding Alumnus Award for the University of Tennessee College of Medicine."
---
Dr. Rogers Leads Cardiovascular Diseases Fellowship Program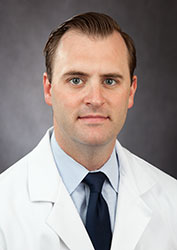 Bret Rogers, MD, Assistant Professor, is now Fellowship Director of the Cardiovascular Diseases program. Dr. Rogers specializes in valvular heart disease, hypertrophic cardiomyopathy, and transesophageal echocardiography. He received his medical degree from Jefferson Medical College of Thomas Jefferson University in Philadelphia, Pennsylvania, followed by residency at Duke University Medical Center in Durham, North Carolina. He completed a Cardiovascular Medicine Fellowship at The Cleveland Clinic Foundation in Cleveland, Ohio, in 2007 and joined the UT Graduate School of Medicine as faculty following his fellowship. The Cardiovascular Diseases Fellowship began in 2008 and has been directed by Dale Wortham, MD, Professor, since its inception. Dr. Wortham now serves as Director of the Interventional Cardiology Fellowship program.
---
Dr. Zite Earns Grant and Advocates for Women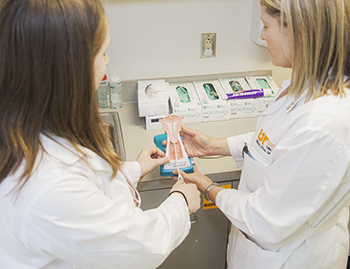 Nikki Zite, MD, Professor of Obstetrics and Gynecology, has received a grant from the National Institute of Reproductive Health (NIRH) to advocate for immediate post-partum Long Acting Reversible Contraception options to be available in Tennessee.
Last spring, NIRH put out an announcement for proposals aiming to help advocates work towards making immediate post-partum Long Acting Reversible Contraception (LARC), such as intrauterine devices (IUD) and implants, available in their states. Dr. Zite had already been working with TennCare and advocating on a series of contraceptive initiatives to decrease undesired pregnancy in Tennessee, and knew that this proposal was a perfect fit for her research and advocacy goals.
Dr. Zite, along with colleagues from Vanderbilt and SisterResearch (a Reproductive Justice Not-for-profit based in Memphis, Tennessee), were each awarded $20,000 specifically to advocate to make postpartum LARC a reality in Tennessee. Most of the funding will be used to meet with stakeholders in Nashville and to produce material to educate key decision makers, physicians, and women about immediate post-partum LARC.
As of July 2016, Dr. Zite's advocacy has led to women on CoverKids getting access to all forms of contraception including sterilization. Prior to these changes, CoverKids recipients had pregnancy coverage only and could not obtain any contraception after the delivery of their child, even a tubal ligation at the time of a cesarean section. Now they have the same benefits as other Tenncare recipients and will be at lower risk for a rapid repeat pregnancy or any unintended pregnancies. In addition, as of August 2016, CoverKids and BlueCare Tennessee will cover LARC insertions in the postpartum period. This means women desiring LARC while they are in the hospital for their delivery or within 8 weeks of their delivery can obtain those devices, making these safe and effective options a possibility.
---
Dr. Osborne's Collaborative Research Wins Seed Funding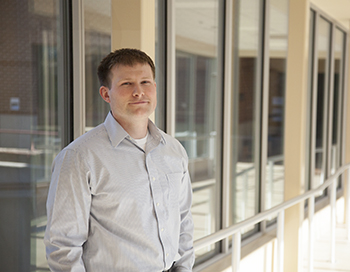 A team of researchers from Oak Ridge National Laboratory (ORNL), ProNova, and the University of Tennessee's Graduate School of Medicine have won a $100,000 seed funding award that is part of a larger NIH funded CTSA project, including the Georgetown School of Medicine. This award will be used to develop early publications and feasibility testing of multiple motion correction technologies that can be used to improve proton therapy targeting in the presence of motion. This work will examine multiple imaging modalities combined with multiple internal and external tracking technologies, all coupled with patient motion simulation to provide accurate assessment of patient motion during proton therapy. Funding for this project will be used to cover student and materials cost to perform this early assessment work which will be used in larger grant submissions.
Funds allocated to the UT Graduate School of Medicine are funding a Computer Science Ph.D. candidate, Tasmia Tumpa, in the Molecular Imaging and Translational Research Program (MITRP). Tumpa is working with Dustin Osborne, PhD, Assistant Professor of MITRP, to focus on the further development of patent-pending tracking technologies developed by the MITRP, as well as technologies being developed in conjunction with other consortium collaborators. The primary goal is to create clinically useful, real-time methods of assessment for proton therapy planning and delivery. As part of this work, Tumpa's unique educational experience combines aspects of imaging and therapy across multiple institutions and imaging systems.
---
Gerdau Supports Amyloidosis Research in Memory of Former Knoxville Mill Leader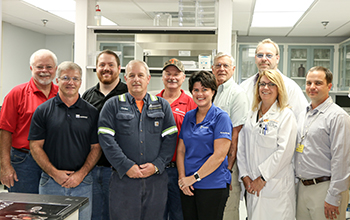 Representatives of steel recycler Gerdau's Knoxville mill recently donated $3,239 to the University of Tennessee Medical Center for medical research in memory of Arlan Piepho, former Gerdau Knoxville vice president and general manager.
The funds, raised through two golf tournaments held this year, were donated to research seeking to find better treatments for primary amyloidosis, a rare and devastating disease that took Piepho's life at age 63.
The donation supports the work of a research team led by Jonathan Wall, PhD, Director of the Amyloidosis and Cancer Theranostics Program.
"Support from companies like Gerdau allows us to make a difference in the lives of amyloidosis patients," Dr. Wall said. "These funds will help us find new ways to diagnose and treat the disease."

The first tournament was held at Ruggles Ferry Golf Club this spring and the second this fall at Egwani Farms. Both tournaments were successful in drawing a large number of participants and raising important research funds.
"As always, these golf tournaments were a fun time for a worthy cause," Gerdau Vice President and General Manager Johnny Miller said. "We are honored to remember Arlan by supporting research that will benefit amyloidosis patients."
Since Piepho's death in 2011, Gerdau employees have raised nearly $8,000 for to support amyloidosis research at the medical center.
Gerdau, a leading producer of long steel in the Americas and one of the largest suppliers of special long steel in the world, has a robust social responsibility program that focuses on providing community support in the locations where its business operates. Pillars under the social responsibility program are health and wellness, history and culture, education and affordable housing.
Gerdau is a leading producer of long steel in the Americas and one of the largest suppliers of special steel in the world. It has industrial operations in 13 countries - in the Americas, Europe and Asia - which together represent an installed capacity of more than 25 million metric tons of steel per year. It is the largest recycler in Latin America and around the world it transforms, each year, millions of metric tons of scrap into steel, reinforcing its commitment to sustainable development in the regions where it operates. With more than 140,000 shareholders, the Company is listed on the stock exchanges of São Paulo, New York and Madrid.

In 2016, Gerdau won the Knoxville Chamber Impact Award in recognition of its broad community support of its Lonsdale neighbors.
---
Medical Student Rotations Increase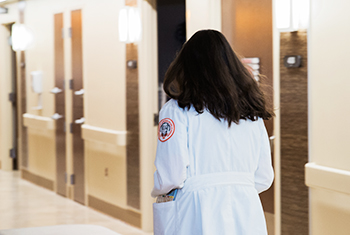 The UT Graduate School of Medicine offers UT College of Medicine medical students the ability to complete their third and fourth years of medical school in Knoxville, and the number of rotations completed in Knoxville has grown, especially among third-year medical students. Since the 2012-2013 term, medical student rotations have increased from 67 per year to 100 per year by third-year medical students. Fourth-year student rotations have increased from 94 in 2012-2013 to 119 in 2015-2016 by UT College of Medicine students. Visiting student rotations have also increased from 44 to 61 during the same time periods. Core clerkships for third year medical students are offered in family medicine, internal medicine, obstetrics and gynecology, surgery, neurology and psychiatry. Fourth-year electives are offered to encompass all specialties and subspecialties. Learn more about UTGSM Medical Student Education.
---
UT Medical Center Named Assessment Hospital in the Highly Infectious Disease Treatment Network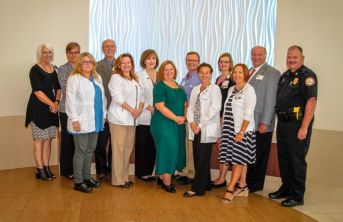 The University of Tennessee Medical Center was recently recognized by the State of Tennessee as an Assessment Hospital in the Highly Infectious Disease Treatment Network. Highly Infectious Disease Assessment Hospitals are defined as hospitals that have proven they have the appropriate training and tools in place to safely identify, isolate, and evaluate a patient with a highly infectious disease and care for that patient until a diagnosis can be confirmed or ruled out and until discharge or transfer is completed. The medical center had a very talented team who worked to develop its highly infectious disease preparedness plan, allowing the medical center to receive this recognition. The highly infectious disease planning team consisted of
Mark Rasnake, Assistant Professor and Residency Program Director, Internal Medicine
Melinda Klar, RN, Administrative Director, UT Center for Advanced Medical Simulation
Jennifer Radtke, Tarry Samsel, Harriett Bennett – Infection Prevention
Terry Wittmer, Pattie Hackworth, Dr. Toni Clinton – Laboratory
Beckye Dalton, Jennifer Brown, Chris Wolfe – Emergency Department
Whitney Pickel, Faith Shingle – Medical Critical Care
Karen Pryor, Debbie Barton – Nursing Adminsitration
Jeff Vickers – Environmental Health Services
Brian Hitch, Robert Simerly – Security
Janet Rowe – Environment, Health, Safety and Emergency Management

The team worked through a 39-page checklist of requirements provided by the Centers for Disease Control that resulted in a 102-page written plan. The medical center is one of only five hospitals in the state designated as an Assessment Hospital that has met the CDC's rigorous requirements. The team completed a state assessment with triple the number of evaluators as a traditional Joint Commission Survey. One of the assessment team members stated that it was one of "most prepared, well-trained teams" he observed throughout the state.
---
Dr. Shamiyeh Named HLVI Medical Director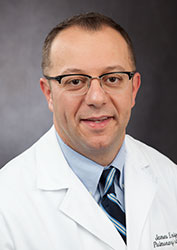 The University of Tennessee Medical Center announced that James Shamiyeh, MD, has been named medical director for the medical center's Heart Lung Vascular Institute. Shamiyeh is board certified in Internal Medicine, Pulmonary Medicine and Critical Care Medicine by the American Board of Internal Medicine.
"Dr. Shamiyeh's collaborative style, his expertise in patient care and his commitment to quality and process improvement make him a natural to lead the Heart Lung Vascular Institute," said Jeanne Wohlford, vice president of UT Medical Center's Heart Lung Vascular Institute. "We are excited about his plans and know he will do an exceptional job given his leadership skills and past experience."
A graduate of the University of Tennessee Health Sciences Center in Memphis, he completed his internal medicine residency at the University of Alabama at Birmingham Hospital where he served as chief resident and completed a fellowship in Pulmonary and Critical Care Medicine.
In addition, Shamiyeh received a Master of Science in Public Health in Clinical Research from the University of Alabama at Birmingham School of Public Health. He also completed LEAN for Healthcare providers at The University of Tennessee and a Physician Leadership Development course developed for UT Medical Center physicians by the UT MBA program.
Shamiyeh follows Dr. John W. Mack, a cardiothoracic surgeon who previously served as medical director for the Heart Lung Vascular Institute until his retirement this year.