UTGSM Welcomes Inaugural Associate Dean for Faculty Development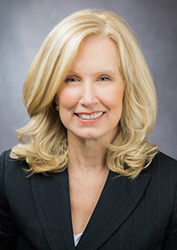 Pamela Rowland, PhD, has joined the University of Tennessee Graduate School of Medicine as the inaugural Associate Dean for Faculty Development. In this new role, she will initiate innovative programs for faculty focused on quality improvement and safety, population health, stewardship of resources, appropriate use of technology, interprofessional teams, competency-based training, and teaching in an outpatient setting.
A nationally recognized communications expert, Dr. Rowland trained as a behavioral scientist and has more than 30 years of clinical experience working with surgeons and physicians at institutions including Dartmouth, Tufts, Brown and North Carolina. She evaluates faculty and residents in clinical settings to improve performance, and she has focused her research on physician-patient satisfaction, oral examinations and interviewing skills. In addition, she identifies behaviors that may lead to risk management involvement.
Dr. Rowland is also a Professor in the Department of Surgery. She is the lead author on the first book for the development of Communication & Professionalism Competencies for Surgeons and director of the national general surgery certifying examination preparation course: The Certifying Examination (CE) Review Course, formerly Clinical Performance and Oral Examinations in Surgery and Co-Director of The Written Examinations Review Course. Dr. Rowland is a faculty member of the American Society of Plastic Surgeons Oral & Written Board Preparation Course, recipient of the 2004 Outstanding Teacher Award by the Association of Surgical Education and a 2010 and 2011 Pfizer Visiting Professorship in Health Literacy. In 2011, Dr. Rowland became the first Associate Chair of Education, Department of Surgery at the University of North Carolina School of Medicine.
Dr. Rowland received her bachelor's degree in education from the University of Connecticut and a master's degree in speech communication from Pennsylvania State University. She received her doctorate in communication studies from the University of Massachusetts with her dissertation on "A Methodology for the Analysis of Medical School Preceptors' Interviewing Styles." She is currently a reviewer for the American Journal of Surgery, Journal of Thoracic and Cardiovascular Surgery, and the Journal of Medical Education. She has membership in several national surgical associations and is published in journals, books and videos.
In establishing programs for faculty development at the UT Graduate School of Medicine, Dr. Rowland plans to have a visible presence in all of the outpatient clinic settings and inpatient care areas at The University of Tennessee Medical Center. She believes her position will allow her to develop the strengths of each faculty member and increase the national presence of UT Medical Center.
---
Top
Our three part mission includes: