Moments
Dr. Bass Speaks to Radiology Residents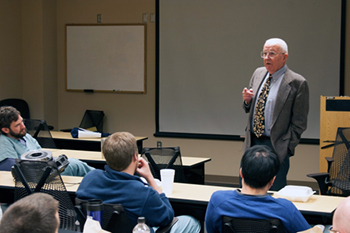 William Bass, PhD, forensic anthropologist well known for his research at the University of Tennessee facility commonly known as "The Body Farm," recently presented to Radiology residents, discussing the investigation of a past case to illustrate the importance of radiology as a tool utilized by forensic anthropologists.
First-Year Radiology Resident Jeff Mahony, MD, said, "Dr. Bass's enthusiasm for his work is inspiring. I would be happy to collaborate with forensic anthropologists in my future career."
---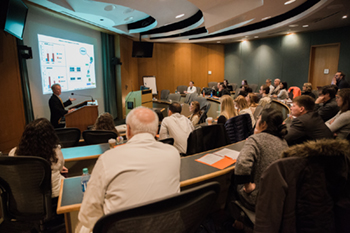 The Cancer Community of Scholars hosted a Cancer Research Symposium in February featuring UT Knoxville and UT Graduate School of Medicine speakers. Gabor Tigyi, PhD, from UT Health Science Center delivered the keynote address, "Lysophosphatidic Acid Regulation of Cancer Metastasis Via the Tumor Microenvironment." Presentations were also given by
Jay Whelan, PhD, Department of Nutrition, "Diet and Translational Cancer Research: From the Land, to the Lab, to the Clinic..."
Tingting Xu, PhD, Center for Environmental Biotechnology, "Autobioluminescent Cells: A New Tool for in vivo and in vitro Bioimaging"
Elizabeth Barker, PhD, Mechanical, Aerospace, and Biomedical Engineering, "A Strategy for Improving Drug Penetration in Solid Tumors"
Vermont Dia, PhD, Department of Food Science and Technology, "Luteolin and Epithelial-to-Mesenchymal Transition in Ovarian Cancer Chemoresistance"
Francisco Barrera, PhD, Department of Biochemistry, Cellular and Molecular Biology, "Novel Soluble Peptides with pH-Responsive Membrane Insertion"
Dallas Donahoe, PhD, Department of Nutrition, "Blame It on My Gut Bacteria: How Microbe-Host Interactions Influence Cancer"
Tim Sparer, PhD, Department of Microbiology, "The Role of Chemokines in Cancer"
Rebecca Shorter, PhD student, Clinical Psychology, "Promoting Cancer Life Management through Integrative Healthcare: Effectiveness towards Decreasing Psychological Distress"
---
Dr. Stevens Delivers Presidential Address to the Southern Association of Vascular Surgery
Scott Stevens, MD, Professor of Surgery, Director of Endovascular Surgery, and Co-director of the Aortic Center, delivered the Presidential Address at the 40th annual meeting of the Southern Association of Vascular Surgery in Cancun, Mexico. The speech, which he wrote in consultation with Harvard School of Business Professor Clayton Christensen, was entitled "Pioneers and Innovators: Creative Disruption in Vascular Surgery." The Southern Association for Vascular Surgery is widely considered the most established and vibrant regional vascular organization in the world. Dr. Stevens's presidential address will be printed in the Journal of Vascular Surgery.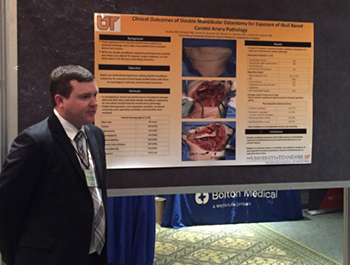 Surgery Resident Ryan Buckley, MD, also presented two posters. His presentation, "Clinical Outcomes of Double Mandibular Osteotomy for Exposure of Skull Based Carotid Artery Pathology," is co-authored by Joshua Arnold, MD; Michael McNally, MD; Oscar Grandas, MD; Scott Stevens, MD; Mitchell Goldman, MD; Eric Carlson, DMD, MD; and Michael Freeman, MD. He also presented "Dietary Zyflamend Inhibits Intimal Hyperplasia Development via the Attenuation of Macrophage Infiltration in a Rodent Model of Vascular Injury," which is co-authored by Deidra Mountain, PhD, Lindsay Bools, MD, Stacy Kirkpatrick, Jay Whelan, PhD, Paul Terry, PhD, Michael Freeman, MD, and Oscar Grandas, MD.
---
Jagadish Wins Gold Medal Award at Southeastern Surgical Congress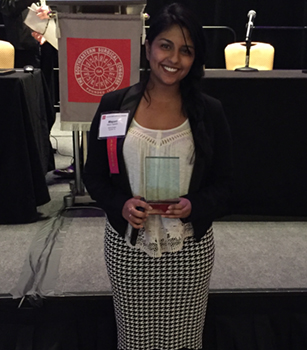 Miyuri Jagadish, UT Knoxville student, won a gold medal at the Southeastern Surgical Congress for her paper, "Diabetic Foot Ulcers: The Importance of SACredit Patient Comorbidity Recognition and Total Contact Casting in Successful Wound Care." The paper is co-authored by Mitchell Goldman, MD, Michael McNally, MD, Eric Heidel, PhD. The Gold Medal Forum Committee says a Gold Medal Award is a prestigious recognition of excellent research.
---
An article on "Contemporary Update on the Treatment of Dog Bite Injuries" by Michael Foster, DMD, and J.W. Hudson, DDS, was named by the Journal of Oral and Maxillofacial Surgery Clinical Focus on Facial Trauma Update as a top 10 read in the February 2016 issue.
---
Maricarmen Malagon-Rogers, MD, recently retired as associate professor and pediactric nephrologist following 26 years of service to UT. She taught in the Department of Family Medicine for 14 years, serving as a role model to residents, physician, and advocate for Family Medicine.
---
Dr. Winbigler Represents Healthcare Education in UT Strategic Plan Video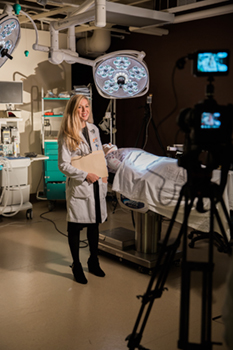 UT System President Joe DiPietro, DVM, released a video highlighting UT's Strategic Plan Refresh Project, a project building on the momentum and achievements of the first two years of the 2012-2017 UT System Strategic Plan to advance the University's vision for a "best in class" system. He released the video during his State of the University address featuring the impact of UT's comprehensive portfolio and its educational, research and outreach assets geared to the diversity of the state through campuses and institutes. All focused on a "best-in-class" university system, these multiple components produce considerable benefits for Tennesseans. As a participant in the video, Internal Medicine Resident Jennifer Winbigler, MD, represents UT's commitment to healthcare education. Watch the video on YouTube.
---
Dr. Stevens Presents at Endovascular Meeting
Scott Stevens, MD, Professor of Surgery, Director of Endovascular Surgery, and Co-director of the Aortic Center, presented, "New Infrarenal EVAR Devices in Clinical Trial." See his presentation on YouTube.
---
Joshua Campbell, DDS, Assistant Professor, Oral and Maxillofacial Surgery
Matthew Todd Heffern, MD, Clinical Assistant Professor, Family Medicine
Rebecca Lavelle, MD, Instructor, Urology
Nathaniel Piel, MD, Clinical Assistant Professor, Medicine
Richard Thigpen, MD, Clinical Instructor, Obstetrics and Gynecology
Stephanie Vanterpool, MD, Assistant Professor, Anesthesiology
New Staff
Glenna Bergan, Clinical Service Assistant, Family Medicine
Mary Mutta, Clinical Service Assistant, Family Medicine
Kimberly Paluso, Clinical Service Assistant, Family Medicine
Stephanie Minor, LPN, Licensed Practical Nurse, Obstetrics and Gynecology
Katherine Wiles, Research Specialist, Anesthesiology
Sierra Willis, Clinical Assistant, Family Medicine

Top