News and Events
Dr. Eric Carlson Announces the Kelly L. Krahwinkel Endowed Chair for OMFS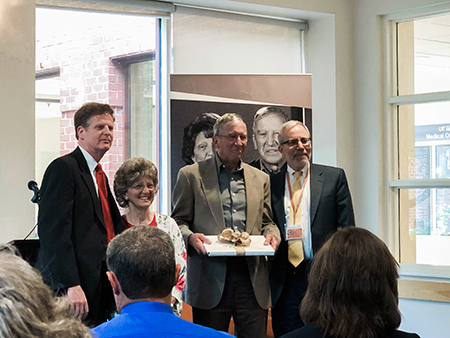 Eric Carlson, DMD, MD, announced the Kelly L. Krahwinkel Endowed Chair for Oral and Maxillofacial Surgery at a ceremony with University of Tennessee Graduate School of Medicine Dean Paul J. Hauptman, MD; Cancer Institute Medical Director John Bell, MD; and the Krahwinkel family. This endowment creates the first endowed chair for the UT Graduate School of Medicine.
The endowment is named for Kelly Krahwinkel, a former patient of Dr. Carlson. In 2007, she was diagnosed with an aggressive variant of adenoid cystic carcinoma of the submandibular salivary gland and cervical lymph nodes. She passed away 13 months later.
The Krahwinkel family, including Kelly's husband, children and parents, wished to provide a permanent legacy in Kelly's name while supporting and promoting the department's mission to offer best practices in head and neck cancer treatment through research, education and patient care.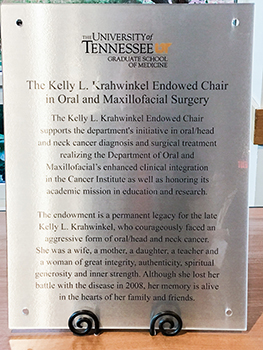 The $1 million endowment was established by the Krahwinkel family and friends; grateful patients and families of The University of Tennessee Medical Center; former OMFS residents and fellows; department faculty; and national implant industries including KLS Martin in Jacksonville, Florida, Depuy Synthes in Westchester, Pennsylvania, and Biomet 3i in West Palm Beach Florida.
Dr. Carlson said, "This endowment will support the department's initiative in oral/head and neck cancer diagnosis and surgical treatment in partnership with the Cancer Institute. The endowment provides a permanent legacy for Kelly L. Krahwinkel and her great family who support and wish to promote our mission for patient care, education and research."
"It is an honor that the skills of the faculty in our department allow us to assist patients as they battle cancer; to educate residents and fellows; and to make clinically relevant observations during therapy that will help future patients. Conducting translational research assists in these initiatives as well. The opportunity to achieve such goals is precisely why I accepted my position at The University of Tennessee Medical Center in 2002."
Current OMFS research projects include a study on trastuzumab, an antibody currently used to treat breast cancer tumors that test positive for a protein called human epidermal growth factor receptor 2 (HER2), as a possible therapy for salivary gland tumors.
For more information on the Oral and Maxillofacial programs, visit: http://gsm.utmck.edu/oral_surg/main.cfm.
Pictured top: Dr. Eric Carlson, Mrs. Krahwinkel, Dr. Krahwinkel, Dr. Paul Hauptman

Posted Decebmer 6, 2019