News and Events
UT Center for Advanced Medical Simulation Earns Re-Accreditation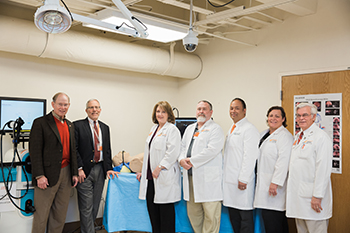 The University of Tennessee Center for Advanced Medical Simulation (UTCAMS) has been reaccredited until 2023 as a comprehensive Accredited Education Institute (AEI) by the American College of Surgeons (ACS). Since earning its initial accreditation in 2012, UTCAMS remains the only facility in Tennessee and 1 of 92 centers in the world to be accredited by the ACS as a Level I Comprehensive AEI.
The AEI accreditation program is a voluntary peer-review process. Earning accreditation requires the submission of an extensive application that reflects compliance with stringent standards, and a forma site visit.
The Level I designation reflects that UTCAMS:
Serves a wide range of learners with a broad scope of education and training programs.
Develops original curricula and offers faculty development programs and courses.
Assesses the impact of educational and training programs on patient outcomes and safety.
Has facilities to accommodate a high volume of learners and scope of educational activities.
Engages in research or other scholarly activities that advance the field of surgical education and training.
UTCAMS is a 6,500-square-foot multidisciplinary core facility that offers a setting for physicians, dentists, nurses, allied healthcare providers and trainees from multiple healthcare specialties throughout the region to improve individual skills and practice team skills critical to patient safety. The center also enables advanced education and research opportunities for residents, fellows and medical students from the Graduate School of Medicine and other institutions. UTCAMS provides virtual reality trainers, partial-task trainers, human patient simulators, standardized patients and resources essential for refining skills for most healthcare professionals..
In 2017, UTCAMS became a certified Fundamentals of Laparoscopic Surgery (FLS) National Test Center. FLS is a comprehensive web-based education module required for General Surgery and Obstetrics and Gynecology residents that includes a hands-on skills training component and assessment tool designed to teach the physiology, fundamental knowledge and technical skills required in basic laparoscopic surgery.
UTCAMS also launched a Medical Education and Simulation Fellowship Program that is 1 of only 16 programs in the country to be accredited by the ACS. The two-year fellowship trains physicians who aspire to be international leaders in medical education, simulation and simulation-based research. In 2019, UTCAMS is adding a one-year Simulation Fellowship that will be available to GSM residents.
As the premier medical simulation center in the region, UTCAMS plans to continue creating and providing quality services in medical simulation, research, education and clinical skills assessment.
---
Pictured from left: Leonard Hines, MD, Fellowship Director and former Co-Director; Paul Hauptman, MD, UTGSM Dean; Melinda Klar, RN, Administrative Director; Don Burnette; Leonard Lamsen MD, Assistant Professor and Medical Education & Simulation Fellow; Judy Roarke, Lab Coordinator and Skills Coach; Sperry Nelson, MD, UTCAMS Director

---
Posted February 11, 2019
Top
---
Support The University of Tennessee Graduate School of Medicine
The University of Tennessee Graduate School of Medicine
1924 Alcoa Highway
Knoxville, Tennessee 37920 | 865-305-9290
Copyright © 2023