News and Events
Surgery Alumnus Dr. Kyle Kleppe Joins Faculty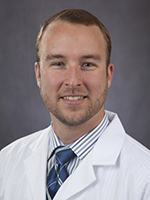 Kyle Kleppe, MD, has joined the Department of Surgery faculty as an Assistant Professor. Dr. Kleppe graduated from the General Surgery Residency Program at the University of Tennessee Graduate School of Medicine in 2017 followed by fellowship in Minimally Invasive and Advanced GI Surgery at the University of Wisconsin. His specialty training focused on benign foregut diseases, hernia repair and bariatrics.
Dr. Kleppe said, "My training in surgical endoscopy techniques will help bring procedures to the region that are not currently being performed. These include therapies for achalasia, spastic swallowing disorders, and gastroparesis." He also plans to expand treatment of dysplasia, benign tumors, and early malignancies of the esophagus, stomach and duodenum.
He is practicing with University Surgeons Associates and teaching in the UT Center for Advanced Medical Simulation as Assistant Surgical Director, in partnership with Mitchell Goldman, MD, former Chair of Surgery.
In addition, Dr. Kleppe plans to conduct research in management of gastroesophageal reflux, minimally invasive hernia repair techniques, and hernia mesh physiology.
Pictured: Dr. Kyle Kleppe

Posted February 11, 2019
Top
---
Support The University of Tennessee Graduate School of Medicine
The University of Tennessee Graduate School of Medicine
1924 Alcoa Highway
Knoxville, Tennessee 37920 | 865-305-9290
Copyright © 2022