News and Events
Dr. Keith Gray Named Chief Medical Officer of UT Medical Center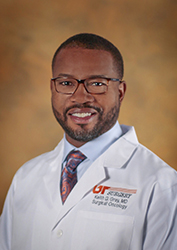 The University of Tennessee Medical Center has named Keith Gray, MD, MBA, Associate Professor of Surgery and Chief of the Division of Surgical Oncology, as its next Senior Vice President and Chief Medical Officer effective March 1 following the retirement of Jerry Epps, MD, former Chair of Anesthesiology.
Dr. Gray came to the medical center and UT Graduate School of Medicine in 2007 and quickly emerged as a leader. He created the Gastrointestinal Tumor and Liver and Pancreas service lines. He served as Chief of Staff and has held three medical directorships, including his current role as medical director of the Operating Room Committee. He co-founded the medical center's Physician Leadership Academy, of which he is a graduate. He is also a graduate of Leadership Knoxville 2016 and Leadership Tennessee class V and earned his MBA from the Haslam College of Business at the University of Tennessee.
Dr. Gray earned undergraduate and medical degrees from Wake Forest University in Winston-Salem, N.C. He completed his general surgery residency and surgical research fellowship at Vanderbilt University Medical Center in Nashville before receiving his fellowship training in surgical oncology at MD Anderson Cancer Center in Houston, Texas.
In the new role, Dr. Gray will oversee the clinical vision and direction of the medical center, and enact policies and protocols designed to further improve patient care and promote wellness and success for physicians and staff. Additionally, Dr. Gray plans to leverage strategic partnerships with community and statewide leaders to promote health equity and raise awareness about social determinants that contribute to health disparities.
"I am honored and humbled to succeed Dr. Jerry Epps and to represent UTMC and such a talented and committed group of physicians," said Dr. Gray. "From the establishment of Knoxville Area Project Access (KAPA) to championing the fight against opioid abuse, the chief medical officer role at UTMC is steeped in a legacy of servant leadership. I look forward to working with our team members and strategic partners to engage our community, continue to meet the comprehensive health care needs of our region, and improve the health status of our state."
Pictured: Dr. Keith Gray

Posted February 11, 2019
Top
---
Support The University of Tennessee Graduate School of Medicine
The University of Tennessee Graduate School of Medicine
1924 Alcoa Highway
Knoxville, Tennessee 37920 | 865-305-9290
Copyright © 2023