News and Events
Dr. James Shamiyeh Named Chief Quality Officer at UT Medical Center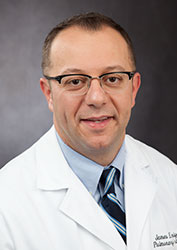 James Shamiyeh, MD, Clinical Assistant Professor of Medicine, will become Senior Vice President and Chief Quality Officer of The University of Tennessee Medical Center. Dr. Shamiyeh, who joined the medical center in 2005 as a pulmonary and critical care medicine physician, most recently served as medical director of the organization's Heart Lung Vascular Institute. His new position starts March 1.
As CQO, Dr. Shamiyeh will focus on the continued improvement of quality metrics at the hospital with attention paid to limiting infections, improving patient outcomes, and keeping patients out of the hospital after discharge. He will also work to improve processes that result in the provision of value for patients through the delivery of efficient and effective care.
"My prior responsibilities and projects have instilled in me a desire to ensure that The University of Tennessee Medical Center delivers safe, efficient, effective, timely and patient-centered care for those we serve," said Dr. Shamiyeh. "This role will allow me to coordinate efforts with outstanding team members and medical staff across multiple departments and centers of excellence to ensure that we deliver the highest possible value across the entire continuum of care. I'm excited to have this tremendous opportunity after nearly 14 years at the medical center."
In addition to the medical director role at the Heart Lung Vascular Institute, Dr. Shamiyeh previously served as Chief of Staff at the medical center. He led and continues to oversee successful improvement projects for diseases and conditions, such as sepsis and COPD, and is extensively involved in multiple patient flow initiatives to best enhance the overall patient care experience. He has an engineering background and enjoys work that involves process improvement and problem solving. Dr. Shamiyeh will continue to practice medicine with the medical center's inpatient critical care and pulmonary services so he can stay apprised of all the evolving needs of patients, physicians and staff, and the overall care environment.
After earning an engineering degree from Georgia Tech, Dr. Shamiyeh completed his medical education at the UT Health Science Center in Memphis. He then completed an Internal Medicine Residency at the University of Alabama at Birmingham Hospital, where he served as chief resident and later completed a fellowship in Pulmonary and Critical Care Medicine. He additionally earned a Master of Science in Public Health from the University of Alabama at Birmingham. After joining the medical center, Dr. Shamiyeh earned his MBA from the University of Tennessee. He's a graduate of the Physician Leadership Academy at the medical center and a member of this year's Leadership Knoxville class.
Dr. Shamiyeh replaces the late Dr. Inga Himelright, who passed away last year after serving the medical center for more than 18 years as a physician and senior leader.
Pictured: Dr. James Shamiyeh

Posted February 11, 2019
Top
---
Support The University of Tennessee Graduate School of Medicine
The University of Tennessee Graduate School of Medicine
1924 Alcoa Highway
Knoxville, Tennessee 37920 | 865-305-9290
Copyright © 2019