Moments
Dr. Overly Directs Interventional Cardiology Program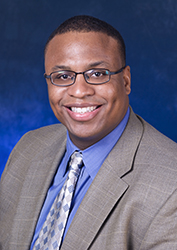 Tijuan Overly, MD, Clinical Assistant Professor, is now Director of the Interventional Cardiology Fellowship in the Department of Medicine. He completed a Cardiovascular Medicine Fellowship and an Interventional Cardiology Fellowship at Cleveland Clinic in Cleveland, Ohio, and has been practicing for 19 years.
---
Dr. Karlstad Receives NIH Grant for Study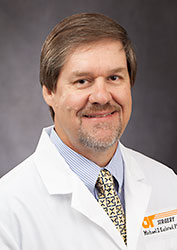 Michael Karlstad, PhD, Director of Shock Trauma and Nutrition Research Laboratory, has received a two-year grant for a collaborative study with researchers at Pennington Biomedical Research Center in Baton Rouge, Louisiana, on type 1 diabetes. The study hypothesizes that pro-inflammatory stimuli can be used to reduce disease-causing mechanisms leading to type 1 diabetes. Preliminary studies have shown promising results.
---
Dr. Gould Earns Lifetime Achievement Award
Howard Gould, MD, FACR, was presented the Albert Nelson Marquis Lifetime Achievement Award by Marquis Who's Who. He retired from UT Graduate School of Medicine as Professor of Radiology in 1999 and is said to be exemplary of what a radiologist should aspire to. The Department recognizes a resident each year who upholds Dr. Gould's dedication by exemplifying:
Commitment to advancing knowledge and skills in clinical radiology
Dependability and clinical judgement
Caring attitude towards patients and peers
Leadership by example
Read more about Dr. Gould's Lifetime Achievement Award.

---
Jacque Van Audenhove Directs IRB
The UT Graduate School of Medicine has named Jacque Van Aundenhove as the new Institutional Review Board Director. Van Audenhove is a Certified Institutional Review Board Professional and was most recently an IRB staff associate for East Tennessee Children's Hospital since 2003. She also has direct experience in research as a scientist and as a clinical research coordinator.
---
Preston Medical Library Welcomes Two New Faculty Librarians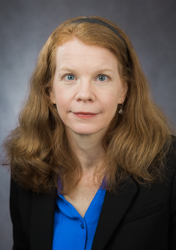 Rebecca Harrington is an Assistant Professor and Clinical Librarian who moved here from Tallahassee, Florida. She received her Masters of Science in Library and Information Science degree from Florida State University and has previously worked at Florida Hospital, Orlando Health, and the Maguire Medical Library at the Florida State University College of Medicine. Harrington is already sitting in on Nursing Practice and Quality and Patient Safety Councils, and is helping more patients and families now that she has completed her Consumer Health Information Specialization from MLA. As the liaison to the departments of Surgery, Oral & Maxillofacial Surgery, and Obstetrics & Gynecology, Harrington is looking forward to getting involved in more research projects, including systematic reviews, and providing assistance with citation management.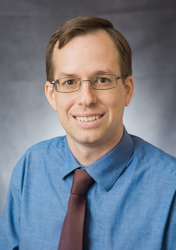 David Petersen moved to Knoxville from Fort Myers, Florida to accept the Research & Learning Services Librarian position. An Assistant Professor, David received his Masters of Science in Library and Information Science from Florida State University and also has a Masters of Arts in History from the University of Kentucky. David has previously worked at Florida Gulf Coast University, Lincoln Memorial University, and the Miami Children's Hospital. Since starting in the middle of July, David has already begun meeting with his liaison department, Internal Medicine. He has updated the Internal Medicine library resource guide and poster tutorial, and he has started researching the newest version of EndNote in order to help library users. He looks forward to attending Internal Medicine meetings and rounds, updating library guides, and conducting instruction sessions in the library.
---
Dr. Lubas Becomes Internal Medicine Residency Associate Program Director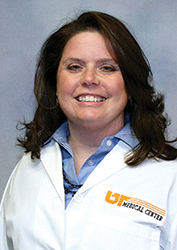 Janet Lubas, MD, Assistant Professor, Medicine, has joined Daphne Norwood as Associate Program Director for the Internal Medicine Residency Program. Dr. Lubas received her medical degree from Medical College of Georgia and completed her Internal Medicine Residency at West Virginia University Hospital.
---
New Faculty

Keri Azuar, MD, Assistant Professor, Radiology
Brett Kothe, MD, Assistant Professor, Obstetrics and Gynecology
Gregory Minwell, MD, Assistant Professor, Radiology
Heather Moss, MD, Assistant Professor, Obstetrics and Gynecology
David Peterson, Assistant Professor, Preston Medical Library
Nathaniel Piel, MD, Assistant Professor, Medicine
Chris Walker, MD, Assistant Professor, Radiology
Lars Webb, MD, Instructor, Surgery

New Staff
Melissa Flood, Clinical Assistant, Oral and Maxillofacial Surgery
Tina Tindell, Licensed Practical Nurse, Obstetrics and Gynecology Clinic
Top