Anesthesiology Fellowship Augments Clinical Practice with Management Skills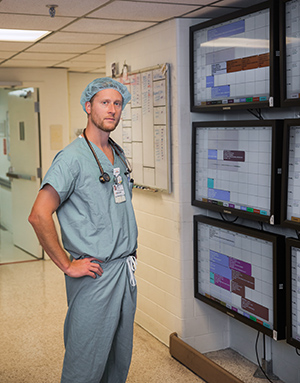 The Department of Anesthesiology offers a Perioperative Medicine Fellowship in partnership with The University of Tennessee Knoxville's Haslam College of Business. In addition to advancing their clinical practice related to the non-surgical care of patients from the time surgery is considered through full recovery, fellows complete the Physician Executive MBA (PEMBA) program. PEMBA is a pre-eminent, nationally ranked MBA program exclusively for physicians seeking leadership, management and business skills. With regard to advancing their clinical practice, fellows can enrich any aspect of clinical practice via a customized curriculum, including advanced regional anesthesia and echocardiography.
Robert M. Craft, MD, Chair of Anesthesiology and Fellowship Program Director said, "My personal experience with the Physician Leadership Academy through UT's College of Business in 2012 led to the conviction that all physicians need finance and management basic knowledge and vocabulary. This fellowship is an extension of that conviction while also providing the fellow a rich clinical experience as a supervising faculty in a Level 1 Trauma Center."
The program goals include learning to supervise other anesthesia providers and developing as healthcare managers. In addition to week-day clinical experience as an Anesthesiology faculty member at The University of Tennessee Medical Center and participation in the PEMBA program, there are seminars designed to develop understanding on the business aspects of a medical practice, perioperative service and larger healthcare institution. The 18-month fellowship also includes an Organizational Action Project, which must be implemented within the department.
Current fellow and Anesthesiology Residency Alumnus Patrick McFarland, MD, said he is in the brainstorming phase of his project. His initial ideas include projects to address opioid abuse related to surgeries or a project to improve performance and quality through a secondary intraoperative monitoring system.
"I completed a political affairs rotation in Washington D.C. researching and discussing opioid abuse with several congressmen and women," Dr. McFarland said. "I would draw on that work to complete a project to reduce reliance on opioids in the perioperative period or to do a community-wide pilot project that would help patients receive treatment for opioid abuse and addiction in order to prevent relapse and repeat surgeries related to opioid abuse disorder.
"Or, I may do a project on improving perioperative performance and quality control through a secondary intraoperative monitoring system similar to an air traffic control tower for all operating rooms."
Dr. McFarland said that through the fellowship he hopes to improve the quality and safety of patient care at the medical center. "I have always been an advocate of patient safety and quality care, and I hope this fellowship will continue to strengthen those aspects."
Dr. McFarland will be the second graduate of the program. Beginning in 2016, Micah Hatch, MD, also an Anesthesiology Residency Alumnus, was the first fellow in the program and now practices in Nashville, Tennessee.
---
Oncofreeze PET/CT Scans Deliver Faster, Better Diagnosis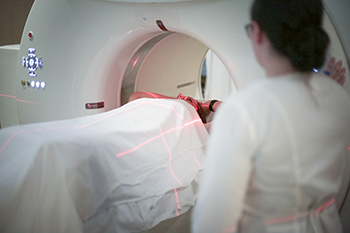 Thanks to a unique partnership between the University of Tennessee Graduate School of Medicine and Siemens, The University of Tennessee Medical Center has access to some of the most cutting-edge scan research in the world. The Molecular Imaging & Translational Research Program (MITRP), directed by Dustin Osborne, PhD, has worked with Siemens for more than 10 years to bring the latest in scanning technology to our area.
Through this partnership, the medical center was the first in the country to begin using a PET/CT scanner with FlowMotion. FlowMotion scans in a single, continuous sweep, making scans more efficient.
Now, the medical center is the first in the country to use OncoFreeze, creating even better images in less time. Dr. Osborne said, "When added to the FlowMotion technology, OncoFreeze doesn't just reduce the blurring caused by natural breathing, it also speeds up scan time, dropping it from 30 minutes to nine minutes."
The combination of FlowMotion and Oncofreeze gives medical center physicians the highest quality scans in the shortest time of anywhere in the region.
For Harold Bryson, a scan with a state-of-the-art technology called OncoFreeze caught his lung cancer early. For many cancer patients like Bryson, this new tool can lead to better treatment and a longer life.
PET/CT scanning technology plays an important role in cancer treatment. This type of scan detects cancer cells, providing for early diagnosis, precise localization and more accurate tumor detection. Physicians also use PET/CT scans to track how well cancer treatment, like chemotherapy and radiation, has worked.
In 2016, Bryson, a patient at The University of Tennessee Medical Center, was diagnosed and treated for throat cancer. Last year, he came back for a follow-up PET/CT scan, which showed his throat was clear of cancer. But the medical center's state-of-the-art PET/CT scanner, with a unique technology called OncoFreeze, detected something new: a small spot on his lung.
For Bryson, the shorter scan time meant not having to stay in the imaging system for longer than necessary, allowing him to get back to teaching and playing with his grandson. The improved image quality from the new scanner led his physician, Joseph Kelley, MD, PhD, Assistant Professor in the Department of Radiology, to discover the spot on his lung. That spot may have been missed without motion correction imaging.
And Bryson isn't alone. Now that the scans are so fast, the techs have time to do more of them. That means all of the medical center's cancer patients who receive a PET/CT scan have access to the Oncofreeze technology and motion-free images.
Cancers like Bryson's, which might not have been detected in a traditional scan, now can be caught and treated early. Also, the physicians who read them have clearer scans than ever before, which means better diagnoses and even more customized treatment for cancer patients.
Dr. Kelley said, "Very few hospitals in the world have access to this world-class scanner. We're incredibly fortunate."
Bryson is grateful for this topline scanner, too. "Without OncoFreeze, the cancer would have been more progressed and I might not be alive today."
---
New Clinics Offer Specialized Care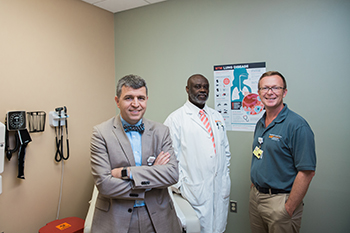 The Department of Medicine has formed several new clinics in infectious disease, heart failure, and psychiatry to offer specialized services for improved patient care.

The Infectious Disease Clinic is a great resource for both outpatient physicians and for patients seen by the ID service in the hospital. Before the clinic's inception, hospital patients were sent home with IV antibiotic infusions for six to eight weeks of treatment. Even though labs were followed up by physicians, according to Mahmoud Shorman, MD, Associate Professor and Chief of Infectious Disease, "There was no telling what happened after [a patient went home]"; infections might have resolved or complications might have developed.

Mark Rasnake, MD, Assistant Professor and infectious disease specialist, said, "People's illness doesn't stop the day they get discharged."

Through the ID clinic, which also includes Clinical Assistant Professor Simi Vincent, MD, patients can be followed safely after discharge from the hospital, and many hospital admissions can be prevented through outpatient management. For instance, patients from the orthopedic or urologic clinics with multidrug resistant infections can be referred to the ID clinic and receive IV antibiotic therapy at the outpatient infusion center rather than in the hospital. The clinic allows ID physicians the opportunity to monitor therapy to resolution and see the fruition of their labors when patients return in a healthy state.

Residents and medical students also benefit from the educational opportunity to rotate through the clinic. Future endeavors of the clinic may include research, pre-exposure prophylaxis (PrEP), and travel medicine.

Muddasir Mehmood, MD, Clinical Associate Professor in Cardiology, recently joined the faculty team and has developed a specialized interdisciplinary heart failure clinic.

He said, "Heart failure patients are unique. They require special attention, and successful treatment requires a partnership between the patient, family and providers."

He envisions developing a team of health professionals to educate and empower patients to better manage their disease. "Heart failure is a chronic progressive disease," he said. "Once traditional management options are maximized, we keep an eye out for early recognition of advanced stages of heart failure and discuss cardiac replacement therapies such as a mechanical heart pump or heart transplant when appropriate."

Dr. Mehmood is energized by challenges and recognizes the importance of clinical discovery and teaching. He is actively involved in research and education and hopes to bring technologic innovations in heart failure to the medical center.

Paul Miller, MD, Assistant Professor, has relocated his private psychiatry practice from Maryville to The University of Tennessee Medical Center. In 2013, he joined the faculty as the psychiatry clerkship director for third- and fourth-year medical student, which is how he discovered a passion for training new physicians. Through his clinic, Dr. Miller plans to offer new services to the community while providing residents with psychiatric training and experience managing common outpatient cases.

With specialized services and the expertise of these physicians, these new clinics are giving patients access to high-quality, specialized care locally.
---
Dean Neutens and Dr. Towers Named Health Care Heroes

Dean James Neutens, PhD, and Craig Towers, MD, Professor of Obstetrics and Gynecology, at the University of Tennessee Graduate School of Medicine were among seven health care professionals recognized as the 2018 Knox.biz Health Care Heroes.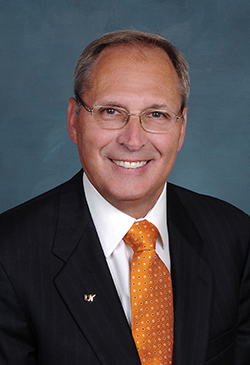 Dr. Neutens was recognized for excellence in medical education. Since becoming acting Dean in 2005, Dr. Neutens grew academic programs available to resident physicians and medical students as well as strengthened the criteria for residency programs to meet above and beyond the measurements required by the accrediting agencies. Dean Neutens also grew research funding and led the effort to open the UT Center for Advanced Medical Simulation, the state's only accredited simulation center. Read more about Dean Neutens success in Knoxnews.com.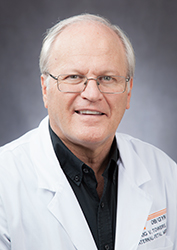 Dr. Towers was recognized with a Road to Recovery award for his five-year study to successfully detox more than 300 pregnant women off of opiates before delivering their babies. Through his efforts, Dr. Towers has helped get prenatal medical treatment as well as behavioral health counseling for pregnant women to successfully wean off of opiates as opposed to using a maintenance drug. Through the national attention of his success stories, he also helped modify national standards by the American Congress of Obstetricians and Gynecologists to recognize that through the oversight of a qualified physician, detoxification can lead to a healthy and safe deliver of a newborn baby. Read more about Dr. Towers and his work in Knoxnews.com.
---
Research Links Poor Sleep and Adult Diabetes to Wound Healing

A multidisciplinary team of researchers from the UT Graduate School of Medicine, UT Knoxville, Oak Ridge National Laboratory and Pennington Biomedical Research Center published a study in the journal Sleep linking poor sleep and type 2 diabetes to slower wound healing.
Their research shows that sleep can play an important role in wound healing and can have a significant impact when coupled with type 2 diabetes, taking nearly three times as long for wounds to heal.
One in three adult Americans suffers from prediabetes, according to the Centers for Disease Control and Prevention. Individuals with prediabetes are at higher risk of developing Type 2 diabetes at some point in their lives.
In people with Type 2 diabetes, high glucose levels lead to poor blood circulation and nerve damage, making the body more vulnerable to infections, especially after surgery. Sleep disorders can also weaken the immune system and slow healing.
Treating wounds in diabetic patients is not only challenging at a clinical level, it can also get expensive. Just in the United States, the cost of treating nonhealing wounds is estimated to top $50 billion a year.
Ralph Lydic, PhD, Robert H. Cole Endowed Professor of Neuroscience, said, "This is a public health issue, and we want to contribute to a solution."
Sleep disorders and Type 2 diabetes are intimately connected; it has been widely documented that lack of sleep can create metabolic changes like those seen in patients with insulin resistance.
Dr. Lydic plans to continue research on this topic. "Next we want to explore the effect that specific drugs have on wound healing in these same groups of mice with disrupted sleep."
"Sleep Fragmentation Delays Wound Healing in a Mouse Model of Type 2 Diabetes" was co-authored by Surgery Resident John McLain, MD, and UT Graduate School of Medicine faculty Dr. Lydic; Helen Bahdoyan, PhD, Professor and Co-Director of Anesthesiology Research; Michael Karlstad, PhD, Director of Shock Trauma and Nutrition Research; and in collaboration with UT alumni Wateen Alami and Chris Cooley and graduate student Zachary Glovak as well as Jason Collier and Susan Burke from the Pennington Biomedical Research Center in Baton Rouge, Louisiana, part of the Louisiana State University System.
---
Dr. Vanterpool Recognized as Leader in Addressing Opioid Abuse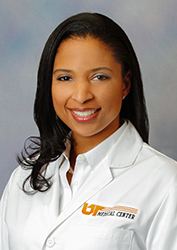 In July 2018, Tennessee enacted one of the strictest opioid laws in the nation, the TN Together Opioid Bill. TN Together is a multi-faceted plan, made up of legislation, more than $30 million in funds, and other executive actions aimed at attacking one of the state's opioid epidemic. It does this through prevention, treatment and law enforcement.
In conjunction with the bill, Tennessee Governor Bill Haslam established the Tennessee Commission on Pain and Addiction Medicine Education. The commission is comprised of 19 members who represent the state's public and private medical educational institutions, the Tennessee Department of Health, a broad group of professional associations and licensed health care practitioners. Stephanie Vanterpool, MD, MBA, Assistant Professor of Anesthesiology, was appointed to the commission which has been charged with developing competencies to be adopted by all healthcare higher learning institutions in the state to facilitate appropriate understanding, assessment, diagnosis, and treatment of pain and addiction.
In addition to her work on the Governor's commission, Dr. Vanterpool has demonstrated ongoing leadership in opioid and pain management education and advocacy. She is currently the president-elect of the Tennessee Pain Society and also serves as the Director of Comprehensive Pain Services for The University of Tennessee Medical Center. In these roles, she continues to provide local and regional education on the importance of accurately diagnosing and treating the cause of pain, not just focusing on a pain score. She says that instead of prescribing opioids to treat pain, it is more effective for physicians to utilize targeted pain treatment options.
"Educating prescribers on targeted pain treatment and giving them the tools to diagnose that treat the cause of pain without relying exclusively on opioids is incredibly important," said Dr. Vanterpool. "As a result, patients will achieve better outcomes which equate to appropriate and effective relief of pain, improved function and quality of life, and decreased opioid use."
However, despite the national focus on pain management, and the opioid crisis, pain treatment education is a challenge, she says.
"The amount of education prescribers receive on actual pain assessment and treatment is very limited," said Dr. Vanterpool. "Because of this, the medical center will be actively promoting the role of targeted pain treatment as well as hosting conferences and providing educational materials and guidelines to prescribers."
Dr. Vanterpool says that to address this educational need, the medical center and Department of Anesthesiology are jointly hosting a Targeted Pain Treatment conference, which is open to healthcare professionals across the Southeast. The conference is scheduled for Feb. 1, 2019, in Knoxville. Details and registration information can be found at http://gsm.utmck.edu/cme/courses/targetedpain/main.cfm.
"I am excited about spreading the word about Targeted Pain Treatment through patient outreach, provider education, and through our Comprehensive Pain Center at the medical center," said Dr. Vanterpool. "We owe it to our patients to provide the best treatment options available to help them meet their functional goals. I believe Targeted Pain Treatment is part of that solution.
"It is our hope that by shifting the focus of both patients and prescribers to 'treat the source not the score', we can turn the tide on the chronic pain and opioid crisis."
---
Alumni and Team Health Co-Founders Discuss the Advantages of Learning and Practicing with UT

The co-founders of TeamHealth, Family Medicine alum and Board of Visitor Randal Dabbs, MD, and Internal Medicine alum Lynn Massingale, MD, discuss their partnership with The University of Tennessee Medical Center on the TeamHealth blog, including their education, the benefits of working at a Level I trauma center, and why they love Knoxville.
Dr. Massingale said the mission of the medical center is very aligned to the mission of TeamHealth, including a focus on education "The medical center is a high-profile hospital in the community and a high-profile partner at TeamHealth. It is a great place to learn and share your ideas. The medical center is also a great place that will allow you to grow professionally as a physician and within the TeamHealth organization. If you want to be a great doctor and know you can have great influence both here in the community and region we serve, then the medical center is a terrific location to work."
Of his education, Dr. Dabbs said, "My time at the medical center was crucial to my development as an emergency physician. I did a family medicine residency and started moonlighting during my first year. I had an unbelievable support system during my residency program. I was able to ask questions and gain direction and had great contacts with other clinical programs, like OB/GYN and oral surgery, which allowed me to become more comfortable when I was working as an emergency physician in a rural community."