Residents and Fellows Awarded for Research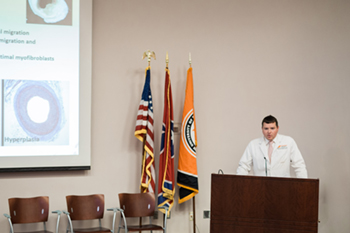 The UT Graduate School of Medicine Dean and the Academy of Scholars recognized excellence in research through Resident and Fellow Research Day, initiating a new format to showcase the very best in case reports and original research. Abstract submissions were limited to research that had been published or presented nationally, and a group of 28 faculty members selected the finalists for participation in Research Day. Four case reports and four original research projects were presented and scored by a panel of judges including Inga Himelright, MD, Leonard Hines, MD, Paul Huffstutter, MD, Stephen Kennel, PhD, and Jonathan Wall, PhD.
Awarded for their presentations were
Case Reports: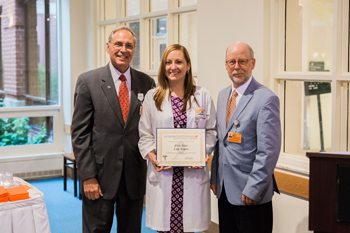 1st Place
Jaime Morris, DO
Internal Medicine
"Rare breast metastasis in a patient with atypical pulmonary carcinoid and a follicular hürthle cell thyroid nodule"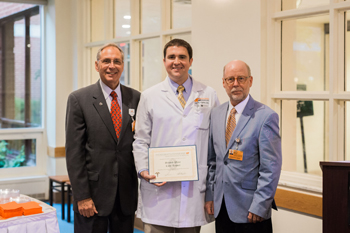 2nd Place
B. Aaron Harper, MD
Anesthesiology
"Sudden neurologic decline during Cesarean section: A rare presentation of subarachnoid hemorrhage"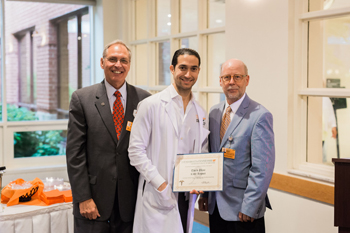 3rd Place
Rafael Alba Yunen, MD
Pulmonary Diseases

"An unusual case of brain abscess complicating foreign body aspiration in an adult"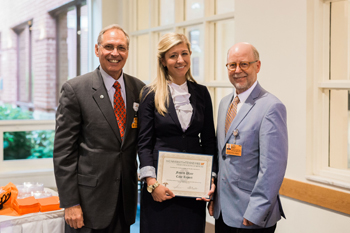 4th Place
Kelly Schwirian, MD
Obstetrics and Gynecology
"Robotic-assisted laparoscopic removal of eroded transobturator midurethral sling after failed cystoscopic excision"
Original Research: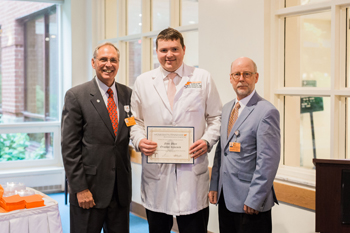 1st Place
M. Ryan Buckley, MD
Vascular Surgery
"Dietary Zyflamend inhibits intimal hyperplasia development via the attenuation of macrophage infiltration in a rodent model of vascular injury"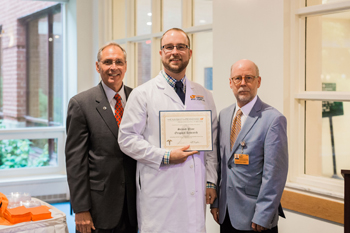 2nd Place
Kyle Kleppe, MD
Surgery
"Low-opioid multimodal pain control strategies reduce narcotic utilization in sleeve gastrectomy patients"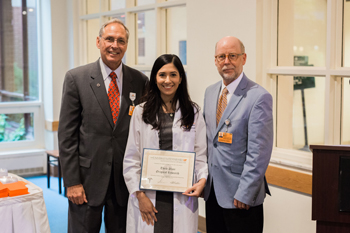 3rd Place
Noelle Fernandez, MD
Obstetrics and Gynecology
"Sharing of snorting straws and Hepatitis C Virus (HCV) infection in pregnant women"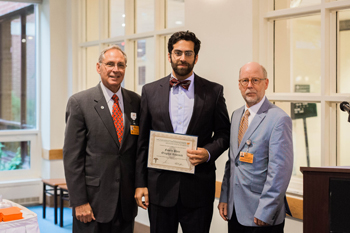 4th Place
Matthew Abraham, MD
Surgery
"Transanal minimally invasive surgery (TAMIS) for local excision of rectal neoplasms"
Abstract Reviewers:
William Metheny, PhD, Assistant Dean for Graduate Medical and Dental Education, thanks the abstract reviewers including: Shelley Acuff; Yong Bradley, MD; Eric Carlson, DMD, MD; Robert Craft, MD; Rajiv Dhand, MD; Lisa Duncan, MD; Carol Ellis, MD; Laura Findeiss, MD; Kimberly Fortner, MD; Michael Freeman, MD; Oscar Grandas, MD; Michael Karlstad, PhD; Ronald Lands, MD; Russell Langdon, MD; Jeremy Mahlow, MD; Gregory Mancini, MD; Matthew Mancini, MD; Emily Martin, PhD; F. Matthew Mihelic, MD; Deidra Mountain, PhD; Dustin Osborne, PhD; Amila Orucevic, MD; Bruce Ramshaw, MD; Paul Terry, PhD; Natalie Varner, MD; Wesley White, MD; and Anthony Wilson, MD.
---
First North American Patient in Liver Cancer Clinical Trial Treated at UT Medical Center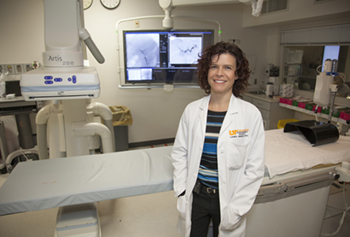 The University of Tennessee Medical Center initiated treatment on North America's first participant in a clinical trial for patients who have advanced liver cancer and limited available treatment options. The Phase III clinical trial involves the injection of an experimental agent directly into liver tumors. The agent is a vaccinia virus (Pexa-Vec), modified to destroy cancer cells and create an immune response to the cancer (also known as "Oncolytic Immunotherapy"). This final phase study will assess the effectiveness of the agent, combined with standard chemotherapy, in fighting the cancerous tumors and improving survival.
The clinical trial, known as the PHOCUS trial, is for patients with hepatocellular carcinoma (HCC) who have failed localized therapies and have not undergone prior systemic treatment. Half of the PHOCUS trial participants will receive sorafenib (Nexavar®), the only drug currently approved for HCC treatment, while the other half will receive injections of Pexa-Vec, an oncolytic vaccinia virus immunotherapy created by SillaJen, Inc., followed by sorafenib.
"Having been involved in a prior clinical trial using Pexa-Vec, I remain excited about the potential this new cancer immunotherapy holds," said Laura Findeiss, MD, Professor and Chair of the Department of Radiology and principal investigator of the study at The University of Tennessee Medical Center and UT Graduate School of Medicine. "At The University of Tennessee Medical Center, we are at the forefront of bringing innovative cancer treatments to patients, as exemplified by having enrolled the first North American patient into the PHOCUS trial."
The randomized study is designed to enroll 600 patients and will be conducted at approximately 140 sites worldwide. The primary objective of the study will be to determine the overall survival of patients treated with Pexa-Vec, followed by sorafenib versus sorafenib alone. Secondary objectives will include safety as well as assessments for tumor responses between the two groups as measured by the following endpoints: time to progression, progression-free survival, overall response rate and disease control rate. To learn more about the trial, please visit: http://www.pexavectrials.com/. For information or possible participation in this trial through the Office of Clinical Trials at The University of Tennessee Medical Center, call (865) 305-9773.
"Primary liver cancer remains an unmet medical need for thousands of newly diagnosed patients and their families," said Eun Sang Moon, chief executive officer of SillaJen. "We hope that the initiation of the global PHOCUS clinical trial is an early step toward developing a new treatment for this disease."
About The University of Tennessee Medical Center
The mission of The University of Tennessee Medical Center, the region's only hospital to achieve status as a Magnet® recognized organization, is to serve through healing, education and discovery. UT Medical Center, a 609-bed, not-for-profit academic medical center, serves as a referral center for Eastern Tennessee, Southeast Kentucky and Western North Carolina. The medical center, the region's only Level I Trauma Center, is one of the largest employers in Knoxville. For more information about The University of Tennessee Medical Center, visit online at www.utmedicalcenter.org.
About SillaJen
SillaJen, Inc. is a South Korean based biotechnology company headquartered in Busan, South Korea, with satellite offices in Seoul, South Korea and San Francisco, CA. The company is focused on the development and commercialization of oncolytic immunotherapy products using the SOLVE platform, including its lead product Pexa-Vec, which is currently in Phase 3 trials for the treatment of advanced primary liver cancer. Additional information about SillaJen is available at www.sillajen.com.
---
Top