GSM Alumni Recognized for Outstanding Achievements

For the first time, UT Graduate School of Medicine alumni were honored at the New Resident and Fellow Welcome Reception and GSM Awards Ceremony. Awards were presented by Dean James Neutens, PhD, to alumni who have made significant contributions to the mission of The University of Tennessee Medical Center and the community.
Awards were presented to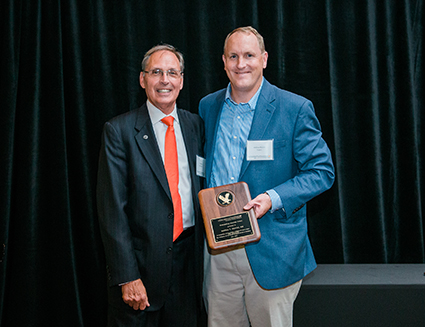 Matthew Mancini, MD, Associate Professor, Surgery
Dr. Mancini completed the Surgery Residency program in 1999 and joined faculty upon graduating. He is currently division chief of General Surgery with special interest in minimally invasive surgery techniques. He is a mentor in the Medical Explorations program for high school students. Dr. Mancini is currently serving as president to the Knoxville Academy of Medicine and is a candidate for president of the Tennessee Medical Association. He has won the Department of Surgery's Hiram Crutchfield Teaching Award as well as the medical center's Guardian Angel Award.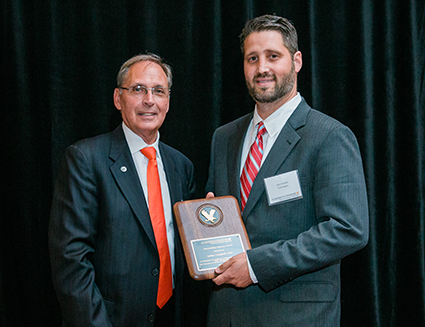 Joshua Campbell, DDS, Oral Surgery Specialists of Tennessee
Dr. Campbell completed the Oral and Maxillofacial Surgery Residency program in 2008. He is on faculty at Vanderbilt with special interest in CT guided hand and soft tissue grafting. He also mentors Oak Ridge High School students in the Health Sciences Shadowing Program. Dr. Campbell has received multiple academic as well as community awards, and he is multi-talented with interests in music, videography, photography and research.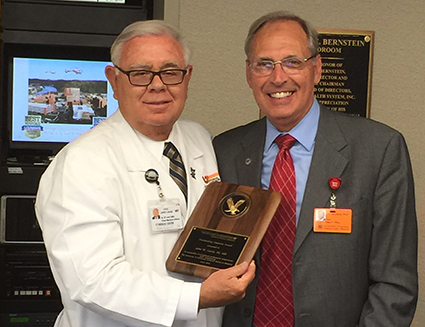 John "Jack" Lacey, III, MD, Senior Vice President and Chief Medical Officer, The University of Tennessee Medical Center
Dr. Lacey graduated from the Internal Medicine Residency in 1977. He is a clinical assistant professor in the Department of Medicine and extremely active in the community. He is a board member of the Knoxville Academy of Medicine and Knox County Board of Public Health. Dr. Lacey is medical director of Knoxville Area Project Access and chairperson of the Knoxville Area Hospital Study Group. His efforts in education and healing have led to quality and safety improvements throughout Tennessee. He has been recognized by multiple governors of Tennessee and won Tennessee Colonel, United Way Volunteer of the Year, Knoxville Business Journal Healthcare Hero, and Tennessee Medical Association House of Delegates Outstanding Physician of the Year.
Our three part mission includes:

---
Dr. Robert Craft Named Chair of Anesthesiology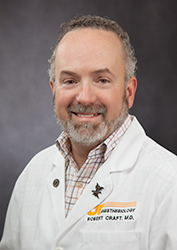 Robert M. Craft, MD, long-time faculty member and former resident, has been appointed Chair of the Department of Anesthesiology at the University of Tennessee Graduate School of Medicine, Knoxville.
James J. Neutens, PhD, Dean of the Graduate School of Medicine stated, "Dr. Craft's qualifications are exemplary of our mission for excellence in education, healing and discovery. We look forward to the continued success Dr. Craft brings to the Department as well as the institution."
Dr. Craft joined the Department in 1994 as assistant professor following a fellowship in Neuroanesthesiology at Mayo Clinic. Since that time, he has been promoted to professor and has served as departmental vice chair since 2006 and residency program director since 2008. He is also section chief for Neuroanesthesiology and Pre-Operative Evaluation.
"Dr. Craft's qualifications are exemplary of our mission for excellence in education, healing and discovery. We look forward to the continued success Dr. Craft brings to the Department as well as the institution."
- Dean James Neutens
During his tenure, Dr. Craft has been deeply involved in resident education institutionally and nationally. As chair of the Department's Education Committee for the past 12 years, Dr. Craft has helped move the residency from a 3-year program of 21 residents to a 4-year program of 32 residents. The program has also maintained a maximum ACGME review cycle for the past decade. Nationally, Dr. Craft has served the American Board of Anesthesiology as a Written Exam Editor. He is the Anesthesiology representative to the Organization of Program Directors Associations, and he is a council member of the Association of Anesthesiology Core Program Directors.
Dr. Craft is also instrumental in faculty education and leadership. He is an inaugural member to the UTGSM Academy of Scholars. In 2013, Dr. Craft completed the Physician Leadership Academy, a year-long education program provided by the Executive Education Program of the UT College of Business Administration. He also serves on the UT Health Science Center Faculty Senate and the internal Academic Appointment, Promotion and Tenure Committee.
At The University of Tennessee Medical Center, Dr. Craft has practiced in nearly every subspecialty of anesthesiology for 21 years, and he has been named a Top Doc for the region by his peers in Cityview magazine for the past nine years. As medical director of the Pre-Operative Evaluation clinic for 18 years, he has helped to greatly improve and expand the pre-operative evaluation of patients, including the implementation of the institution's first fully electronic patient care area.

In research, Dr. Craft was recently instrumental in expanding the Anesthesiology Research Division by recruiting international neuroscience experts to conduct groundbreaking research to better understand the brain and consciousness. Dr. Craft also leads research on blood and blood coagulation, currently focusing on disorders in stroke and trauma patients. Over the past 15 years, his research has garnered approximately $850,000 from industry and peer-reviewed grants.

Nationally recognized for his expertise, Dr. Craft has written book chapters for the second, third and fourth editions of Anesthesiology Review, considered the most comprehensive and informative anesthesiology review text. Dr. Craft also lectures nationally, he serves as reviewer and moderator for international societies, and he has published multiple articles in peer-reviewed journals.
Top