Alumni Visit UTGSM for Inaugural Reunion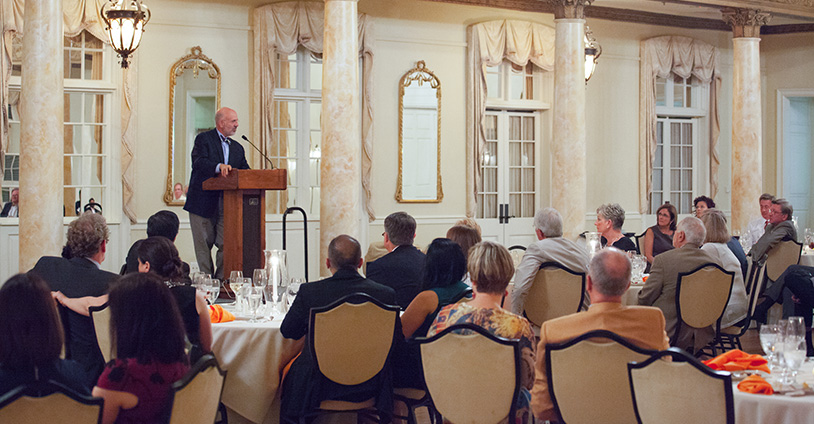 The UT Graduate School of Medicine hosted more than 20 resident and fellow alumni at its Inaugural Alumni Reunion April 25-26, including graduates from Anesthesiology, Family Medicine, Medicine, OBGYN, OMFS, Radiology, Surgery, and Urology.
The weekend event included a panel discussion of "Perspectives in Healthcare," a CME-certified event including specialists from the fields of insurance, hospital, business, and physician providers to discuss their unique challenges and struggles in meeting the healthcare needs of Tennesseans among recent changes in health care as well as explore opportunities to reduce costs while increasing quality care. Panelists were Amy Barger-Stevens, MD, a physician at the UT Graduate School of Medicine and currently Chief of Staff at The Univeristy of Tennessee Medical Center; Craig Becker from the Tennessee Hospital Association; Lynn Massingale, MD, FACEP from Team Health Holdings; and Larry Nall from Blue Cross Blue Shield.
The event also included departmental tours and visits to the UT Center for Advanced Medical Simulation and featured speakers UT President Joe DePietro and UT Vols Football Coach Butch Jones. John Lacey, III, MD, Senior Vice-President and Chief Medical Officer of The University of Tennessee Medical Center and associate professor for the UT Graduate School of Medicine, served as alumni reunion moderator.
Visit the UTGSM Alumni Reunion 2014 photo album on Flickr.
Top