Publications and Presentations
2014 UTGSM Scholarly Activity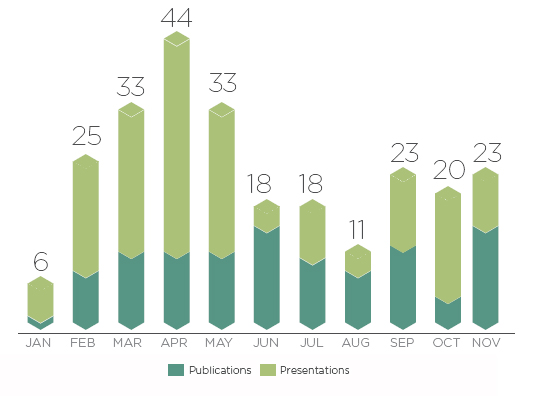 November Publications
White WM, Pickens RB, Elder RF, Firoozi F. Robotic-assisted sacrocolpopexy for pelvic organ prolapse. Urologic Clinics of North America. 2014 Nov;41(4):549-57. Heald AE, Iversen PL, Saoud JB, Sazani P, Charleston JS, Axtelle T, Wong M, Smith WB, Vutikullird A, Kaye E. Safety and pharmacokinetic profiles of phosphorodiamidate morpholino oligomers with activity against Ebola virus and Marburg virus: Results of two single ascending dose studies. Antimicrobial Agents and Chemotherapy. 2014 Nov;58(11):6639-47. Lee S, Nodit L. Phyllodes tumor of vulva: A brief diagnostic review. Archives of Pathology & Laboratory Medicine . 2014 Nov;138(11):1546-1550. Creinin MD, Zite N. In reply. Obstetrics and Gynecology . 2014 Nov;124(5):1033-1034. Pasciak AS, Kyle Jones A. Time to take the gloves off: The use of radiation reduction gloves can greatly increase patient dose. Journal of Applied Clinical Medical Physics . 2014;15(6):351-359. Lee S, Lewis J, Liaw K, Bushkell L, Young Y, Googe P. Recurrent atypical fibroxanthoma with satellite metastasis. Journal of Cutaneous Pathology . 2014 Nov 19. [Epub ahead of print] Owen RC, Nodit L, Hatcher P, White W, Klein F. Penoscrotal mass: A rare presentation of herpes simplex virus infection. Urology . 2014 Nov;84(5):e15-e16. Goyal A, Terry PD, Superak HM, Nell-Dybdahl CL, Chowdhury R, Phillips LS, Kutner MH. Melatonin supplementation to treat the metabolic syndrome: a randomized controlled trial. Diabetology & Metabolic Syndrome . Diabetol Metab Syndr. 2014 Nov 18;6:124. Ramshaw BJ. 16(th) Annual Hernia Repair, Las Vegas. Hernia. 2014;18(6):931-3. Epub 2014 Nov 19. Coskun B, Lavelle RS, Alhalabi F, Christie AL, Zimmern PE. Anterior vaginal wall suspension procedure for moderate bladder and uterine prolapse as a method of uterine preservation. Journal of Urology. 2014 Nov;192(5):1461-7. Epub 2014 Jun 13.
---
November Presentations
Orucevic A. Should the breast prognostic markers be incorporated into the AJCC TNM staging system – An institution's 10 year experience on breast prognostic markers and overall survival of Caucasian female breast cancer patients. Presented at Pioneer Century Science Global Cancer Conference; 2014 Nov 1-3; Athens, Greece.

Hruska CJ, Bertoli RJ, Young YD, Burkhart PH, Googe PB. Primary cutaneous anaplastic large cell lymphoma in a patient receiving adalimumab. Presented at American Society of Dermatopathology Annual Meeting; 2014 Nov 6-9; Chicago, IL. DeSouza K, Duncan L, Lewis J, King R. Malignant blue nevus with blue nevus-like metastases: The combined presentation of two rare entities. Presented at American Society of Dermatopathology Annual Meeting; 2014 Nov 6-9; Chicago, IL. Kao J, Buzzeo M, Campbell PD. Can you hear me know? Congenital aural atresias and the CT predictors of surgical success. Presented at Radiological Society of North America; 2014 Nov 30 - Dec 5; Chicago, IL. Frederick-Dyer K, Faulkner A, Hudson KT, Pasciak AS. E-learning physics: A resource guide for radiology residents. Presented at Radiological Society of North America; 2014 Nov 30 - Dec 5; Chicago, IL. Bourgeois A, Bradley Y, Pasciak A. The local deposition method: A simplified mechanism of direct yttrium-90 dosimetry utilizing PET/CT with comparable accuracy to dose-point kernel convolution. Presented at Radiological Society of North America; 2014 Nov 30 - Dec 5; Chicago, IL. Acuff S, Osborne D. Use of optimal respiratory gating with continuous bed motion PET/CT to improve personalized radiation therapy planning. Presented at Radiological Society of North America; 2014 Nov 30 - Dec 5; Chicago, IL. Hurst M, Cook E, Lindsay JM, Earl M. Libraries respond to mobile ubiquity: Research and assessment of mobile device usage trends for academic and medical libraries. Presented at Charleston Conference; 2014 Nov 3-8; Charleston, SC. Mancini G, Phillips M, Le H. Basic endoscopy and laparoscopy resident course. Presented at Society of American Gastrointestinal and Endoscopic Surgeons (Invited Lectureship); 2014 Nov 6-7; Cincinnati, OH.
---
November Books and Book Chapters
Modi D, Branca P, Dudney T, Dhand R. Tracheostomy: Prospective Practices, Management and Potential Complications. Hauppauge: Nova Science Publishers, Inc., Chapter 1, 1-30, 2014.

Briggs GG, Freeman RK, Yaffe SJ, Towers CV. Drugs in Pregnancy and Lactation: A Reference Guide to Fetal and Neonatal Risk, 10th ed. Philadelphia: Lippincott Williams and Wilkins, 2014.
---
October Publications
Martin EB, Kennel SJ, Richey T, Wooliver C, Osborne D, Williams A, Stuckey A, Wall JS. Dynamic PET and SPECT imaging with radioiodinated, amyloid-reactive peptide p5 in mice: A positive role for peptide dehalogenation. Peptides. 2014 Oct;60:63-70. Carlson ER. Strategic opportunism. Journal of Oral and Maxillofacial Surgery : Official Journal of The American Association of Oral and Maxillofacial Surgeons . 2014 Oct;72(10):1874-5. Autorino R, Zargar H, White WM, Novara G, Annino F, Perdona S, De Angelis M, Mottrie A, Porpiglia F, Kaouk JH. Current Applications of Near-infrared Fluorescence Imaging in Robotic Urologic Surgery: A Systematic Review and Critical Analysis of the Literature. Urology . 2014 Oct;84(4):751-759. Connor RS, Zite N.Unintended pregnancy worldwide: The case for LARC. Gynaecology Forum. 2014 19(3). Parrott JS, White JV, Schofield M, Hand RK, Gregoire MB, Ayoob KT, Pavlinac J, Lewis JL, Smith K. Current coding practices and patterns of code use of registered dietitian nutritionists: The Academy of Nutrition and Dietetics 2013 coding survey. Journal of the Academy of Nutrition and Dietetics . 2014 Oct;114(10):1619-1629.e5. Keeble DS, Farland MZ, Eaddy J. Glycemic control is an important consideration in diabetes care. American Family Physician . 2014 Oct 15;90(8):524-6. Oelschlegel S, Gonzalez A, Frakes E.Consumer health information centers in medical libraries: A survey of current practices. Journal of Hospital Librarianship. 2014 Oct;14(4);335-347 Pestana IA, Campbell D, Fearmonti RM, Bond JE, Erdmann D. Supersize panniculectomy: Indications, technique, and results. Annals of Plastic Surgery. 2014 Oct;73(4):416-21. Ramshaw B. Discussion: Enhanced recovery after surgery pathway for abdominal wall reconstruction: Pilot study and preliminary outcomes. Plastic and Reconstructive Surgery. 2014 Oct;134(4 Suppl 2):160S-1S.
---
October Presentations
Christianson T, Menser CC. Airway management in a twenty two month old patient with acute epiglottitis. Presented at American Society of Anesthesiologists Annual Meeting; 2014 Oct 11-15; New Orlenas, LA.

Maines T, Craft R. Neurointerventional Emergencies: Does general anesthesia delay care? Presented at American Society of Anesthesiologists Annual Meeting; 2014 Oct 11-15; New Orleans, LA. Cutchens N, Cox WE. Cauda Equina syndrome in low-risk patient following subarachnoid block for total knee replacement. Presented at American Society of Anesthesiologists Annual Meeting; 2014 Oct 11-15; New Orleans, LA. Baracz A, Hosking M. Anterior mediastinal teratoma in a 14-year old. Presented at American Society of Anesthesiologists Annual Meeting; 2014 Oct 11-15; New Orleans, LA. Gordon R, Langdon R. Cerebral oximetry and balloon test occlusion. Presented at American Society of Anesthesiologists Annual Meeting; 2014 Oct 11-15; New Orlenas, LA. Castelbuono J, Camp N, Walsh M, Langdon R. Terson syndrome: Atypical presentation and the need for fundoscopic evaluation. Presented at Society for Neuroscience in Anesthesiology and Critical Care; 2014 Oct 9-11; New Orleans, LA. Oelschlegel S, Earl M, Vaughn C, Lindsay JM, Leonard K. Improving a library outreach service by targeting community partners in ZIP Codes identified as health information disparity area. Presented at Southern Chapter Medical Library Association; 2014 Oct 26-30; Mobile, AL. Earl M, Vaughn C. Making a difference in the global community: An action workshop model. Presented at Southern Chapter of the Medical Library Association; 2014 Oct 28-30; Mobile, AL. White K, Potter J, Zite N. Geographic variation in characteristics of postpartum women using female sterilization. Presented at Society of Family Planning; 2014 Oct 12-13; Miami, FL. Zite N, Lotke P. A survey of healthcare providers attitudes towards IUC provision and counseling in parous and nulliparous women. Presented at Society of Family Planning; 2014 Oct 12-13; Miami, FL. Dawane RV, Clark C. Transfusion of out of blood group platelets with high isohemagglutinin titers: Potential impacts of implementing a platelet titer screening program. Presented at AABB Advancing Transfusion and Cellular Therapies Worldwide Annual Meeting; 2014 Oct 24-28; Philadelphia, PA. Rooney Thompson M, Towers C, Howard B, Hennessy M, Wolfe L, Heitzman C. The use of prostaglandin E1 in peripartum patients with asthma. Presented at Central Association of Obstetrics and Gynecology Annual Clinical Meeting; 2014 Oct 8-11; Albuquerque, NM. Smalley A, McConville P. Paradoxical fat embolism causing delayed awakening and encephalopathy during isolated femur fracture nailing. Presented at American Society of Anesthesiologists Annual Meeting; 2014 Oct 11-15; New Orleans, LA. Lotke P, Black K, Lira J, Zite N. Contraception use and pregnancy intention: A survey of young women. Presented at Society of Family Plannning Forum; 2014 Oct 12-13; Miami, FL. Kim ED, Brannigan RE, Pisarska M. Variocele: If and when to treat. Presented at American Society for Reproductive Medicine; 2014 Oct 18; Honolulu, HI. Lindsay JM, Earl M, Altmyer E. How our users make a difference in journal title selection: A longitudinal view of journal use. Presented at Medical Library Association 64th Annual Meeting of the Southern Chapter; 2014 Oct 26-30; Mobile, AL. Berthelier V. Searching for small molecules as potent inhibitors of Z-AAT. Presented at Alpha-1 Foundation Investigators' Meeting; 2014 Oct 17; Miami, FL. Osborne D. PET/CT imaging using continuous bed motion. Presented at European Association of Nuclear Medicine; 2014 Oct 18-22; Gothenburg, Sweden. Wilson GA. Sleep apnea. Presented at University of North Carolina School of Medicine, Resident Core Lecture Symposium (Invited Lectureship); 2014 Oct 8; Chapel Hill, NC. White JV. Starved for information: Standardizing the approach to recognition and documentation of pediatric malnutrition. Presented at Food and Nutrition Conference and Exhibition: Annual Meeting of the Academy of Nutrition and Dietetics; 2014 Oct 19; Atlanta, GA. White JV. Decoding RDN clinical practice patterns to improve coverage and compensation: The academy's 2013 coding survey. Coding and billing terminology and practices. Presented at Food and Nutrition Conference and Exhibition: Annual Meeting of the Academy of Nutrition and Dietetics; 2014 Oct 20; Atlanta, GA.
Top
Our three part mission includes: