The Department of Family Medicine
Taylor A. Wright, MD
Assistant Professor
Director of Clinical Services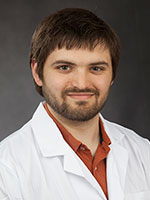 Clinical Focus
Resident Education, History of Medicine, Bedside Ultrasound, Obstetrics.
Education
Medical School
University of Tennessee College of Medicine- Memphis, TN
Residency
University of Tennessee Graduate School of Medicine, Knoxville, TN
Certification
American Board of Family Medicine, 2016
Professional Organizations
American Academy of Family Physicians 2009 - Present
Tennessee Medical Academy 2009 - Present
Tennessee Academy of Family Physicians 2013 - Present
Knoxville Academy of Medicine, 2013 - Present
Book Contribution
Dabbs W, Jenkins J, Wright T. Incontinence, Urinary Adult Male. In: Domina FJ, Baldor RA, Golding J, Stephens MB (eds), The 5-Minute Clinical Consult 2018. 26th Edition., Philadelphia, Lippincott, Williams & Wilkins, 2017.
Current Publications
Wright TA.
Spinosad: A low-risk, effective treatment for lice. American Family Physician. 2019 Nov 15;100(10):601.
Wright TA.
Acupuncture is ineffective for treatment of low back pain. American Family Physician. 2017 Dec 15;96(12):Online.
Current Presentations
Dabbs WS, Chamberlin S, Jeter J, Norman L, Wilson GA, Wright T. Can prudent prescribing practices of opioids be taught to residents and faculty using an audit tool? Presented at Society of Teachers of Family Medicine Annual Spring Conference (Invited Lecture); 2017 May 5-9; San Diego, CA.
Top