The Department of Family Medicine
Amy B. Stevens, MD
Professor
Residency Program Director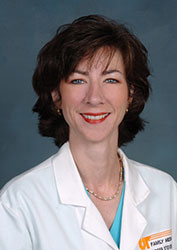 Clinical Focus
Resident well-being, pediatrics, women's health, dermatology, behavioral medicine, and office-based procedures
Education
Medical School
University of Tennessee, Memphis
Residency
University of Tennessee Baptist/Healthplex Family Medicine Program, Memphis
Fellowship
National Institute of Program Director Development
Certification
Family Medicine
Current Publications
Stevens AB, Brasuell DM, Higdon RN.
Atypical preeclampsia - Gestational proteinuria. Journal of Family Medicine and Primary Care. 2017;6(3):669-671.
Wheeler JS, Ray SM, Helmer RS, Stevens AB, Franks AS.
Development and implementation of an interdisciplinary pulmonary care clinic within an existing clinic program. American Society of Health-System Pharmacists. 2015 Nov 1;72(21):1844-7.
Current Presentations
Wilson GA, Blake GH, Stevens AR, McNabb A, Heidel RE. Comparing medical school training in rural, non-academic settings with training in academic settings: Is there a difference in preparedness for residency? Presented at Society of Teachers of Family Medicine Annual Conference (Invited Lecture); 2016 Apr 30 - May 4; Minneapolis, MN.
Stevens A, Haynes J, Jenkins J, Wright T. Grow your own...(Faculty that is!). Presented at American Academy of Family Physicians, Program Directors Workshop and Residency Program Solutions, Residency Education Symposium; 2016 Apr 1-5; Kansas City, MO.
Top