The Department of Family Medicine
Julie W. Jeter, MD
Associate Professor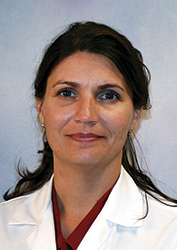 Clinical Focus
Women and children's health, intensive and emergency care procedures, and practice management
Education
Medical School
University of Tennessee, Memphis
Residency
University of Tennessee Medical Center, Knoxville
Certification
Family Medicine
Current Publications
Weddle SC, Rowe AS, Jeter JW, Renwick RC, Chamberlin SM, Franks AS.
Assessment of clinical pharmacy interventions to reduce outpatient use of high-risk medications in the elderly. Journal of Managed Care & Specialty Pharmacy. 2017 May;23(5):520-524.
Current Presentations
Nieuwoudt C, Reeder CF, Moss HK, Van Nes JB, Schoutko WW, Jeter JW, Fortner KB. Immunization uptake for pertussis and influenza vaccines in pregnancy across different clinical settings at a single institution. Presented at Infectious Diseases Society for Obstetrics and Gynecology; 2018 Aug 2-4; Philedelphia, PA.
Dabbs WS, Chamberlin S, Jeter J, Norman L, Wilson GA, Wright T. Can prudent prescribing practices of opioids be taught to residents and faculty using an audit tool? Presented at Society of Teachers of Family Medicine Annual Spring Conference (Invited Lecture); 2017 May 5-9; San Diego, CA.
Top
---
The University of Tennessee Graduate School of Medicine
1924 Alcoa Highway
Knoxville, Tennessee 37920 | 865-305-9290
Copyright © 2019