The Department of Family Medicine
William S. Dabbs, MD
Assistant Professor
Clerkship Director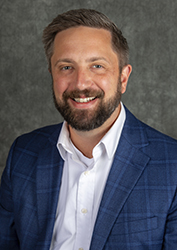 Clinical Focus
Evidence Based Medicine, Quality Improvement, Resident and Medical Student Education, Preventive and Ambulatory Care
Education
Medical School
University of Tennessee Health Science Center, Memphis
Residency
Banner University Medical Center-Phoenix, AZ
Fellowship
Arizona College of Medicine
Professional Organizations
Society of Teachers of Family Medicine
American Academy of Family Physicians

Certification
American Board of Family Medicine
Current Publications
Andrade DJ, Dabbs W, Honan V.
Rapunzel syndrome in a postpartum patient after Caesarian delivery. ACG Case Reports Journal. 2014 Jan 10;1(2):85-7. eCollection 2014.
Current Presentations
Brown SR, Anderson J, Hunt M, Lewis K, Peterson L, Dabbs W, Evans R. Live! American family physician podcast recording. Presented at American Academy of Family Physicians National Conference of Family Medicine, Residents and Students (Invited Lecture); 2016 Jul 28-30; Kansas City, MO.
Hunt M, Peterson L, Leubner J, Dabbs W.. Transitional care management: A family medicine quality improvement initiative. Presented at Society of Teachers of Family Medicine Conference on Practice Improvement (Invited Lecture); 2015 Dec 3-6; Dallas, TX.
Top