The Department of Family Medicine
Gregory H. Blake, MD, MPH
Professor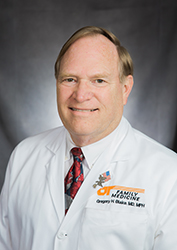 Clinical Focus
Occupational Medicine
Flight Medicine
Education
Medical School
University of Texas Southwestern, Dallas, TX
Graduate Degree
Master of Public Health, University of Oklahoma, Oklahoma City, OK
Residency
Dwight David Eisenhower Army Medical Center, Ft. Gordon, GA
Fellowship
Academic Medicine, University of North Carolina Chapel Hill
Certification
Family Medicine, Disaster Medicine
Current Publications
Wilson GA, Jenkins JM, Blake GH.
Recruiting faculty from within: Filling the growing need for Family Medicine faculty. Journal of Regional Medical Campuses. 2020 Apr;3(1). [Epub ahead of print]
Blake GH, Kemmet RK, Jenkins J, Heidel RE, Wilson GA.
Milestones as a guide for academic career development. Family Medicine. 2019 Oct;51(9):760-765.
Greer E, Singh KH, Blake G, Stockton MD.
Schistosomiasis in a returning international traveler with cyclic fevers and diarrhea. Canadian Family Physician Medecin De Famille Canadien. 2018 Feb;64(2):123-126.
Mihelic M, Blake GH.
Why is Family Medicine different? Journal of Enterprise Architecture. 2017 Jun 27;e352027.
Current Presentations
Wilson GA, Jenkins JM, Blake, GH. Grow your own: Recruiting and preparing faculty from within your residency program. Presented at Society of Teachers of Family Medicine Annual Spring Conference (Invited Lecture); 2017 May 5-9; San Diego, CA.
Blake GH, Wilson GA, Jenkins JM. Grow your own faculty. Presented at American Academy of Family Physicians Program Director's Workshop (Invited Lecture); 2017 Mar 24; Kansas City, MO.
Top