The Department of Family Medicine
F. Matthew Mihelic, MD
Associate Professor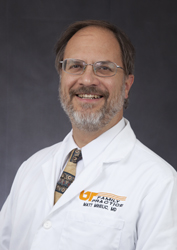 Clinical Focus
Medical decision-making, complex systems, biophysics
Education
Medical School
Loyola University of Chicago
Residency
Montgomery Family Practice Residency Program, University of Alabama at Birmingham authorized, Montgomery, Alabama
Certification
Family Medicine
Current Presentations
Mihelic MF. Defining adaptation in terms of biological system source code geometry. Presented at Society for Chaos Theory in Psychology and Life Sciences 25th Annual International Conference; 2015 Jul 29-31; Gainesville, FL.
Terrell TR, Bostick R, Rogers GL, Langston MA, Barth J, Bennett E, Sloane R, Galloway L, Cantu RC, Mihelic FM. Association of APOE and other genetic polymorphisms with prospective concussion risk in a prospective cohort study of college athletes. Presented at 5th Annual Oak Ridge National Laboratory Biomedical Sciences and Engineering ; 2015 May 6-8; Oak Ridge, TN.
Mihelic FM. Implications of the Landauer limit for quantum logic. Presented at Society of Photo-Optical Instrumentation Engineers, Quantum Information and Computation XII; 2014 May 5-9; Baltimore, MD.
Top
---