The Department of Family Medicine
F. Matthew Mihelic, MD
Associate Professor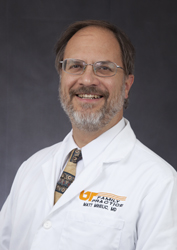 Clinical Focus
Medical decision-making, complex systems, biophysics
Education
Medical School
Loyola University of Chicago
Residency
Montgomery Family Practice Residency Program, University of Alabama at Birmingham authorized, Montgomery, Alabama
Certification
Family Medicine
Current Publications
Mihelic M, Blake GH.
Why is Family Medicine different? Journal of Enterprise Architecture. 2017 Jun 27;e352027.
Current Presentations
Mihelic FM. How do we manage the complexity of medical care delivery today? Presented at Annual Meeting of the North American Primary Care Research Group (NAPCRG) (Invited Lecture); 2018 Nov 13; Chicago, IL.
Mihelic FM. Modeling the DNA molecule as a quantum mechanical Turing machine. Presented at 85th Annual Meeting of the American Physical Society Southeastern Section (Invited Lecture); 2018 Nov 9; Knoxville, TN.
Top
---
The University of Tennessee Graduate School of Medicine
1924 Alcoa Highway
Knoxville, Tennessee 37920 | 865-305-9290
Copyright © 2019