Publications and Presentations
Last Six Months of UTGSM Scholarly Activity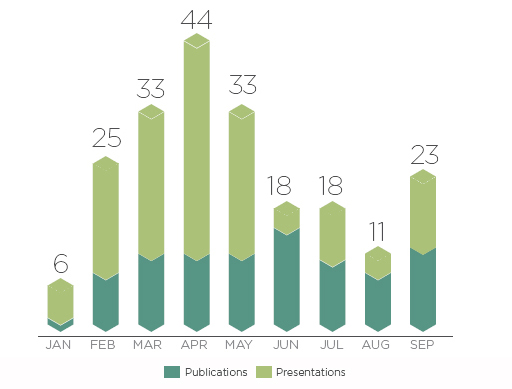 September Publications
Franklin D, Cardini A, Flavel A, Marks MK. Morphometric analysis of pelvic sexual dimorphism in a contemporary Western Australian population. International Journal of Legal Medicine. 2014 Sep;128(5):861-72.

Acuff SN, Bradley YC, Barlow P, Osborne DR. Reduction of patient anxiety in PET/CT imaging by improving communication between patient and technologist. Journal of Nuclear Medicine Technology. 2014 Sep;42(3):211-7. White WM, Pickens RB. Editorial comment. Urology. 2014 Sep;84(3):617-8. Creinin MD, Zite N. Female tubal sterilization: The time has come to routinely consider removal. Obstetrics and Gynecology. 2014 Sep;124(3):596-599. Holbrook S, Baldwin J, Gilmore CD, Henkin R, Hubble W, Kiss C, Bires AM, Mann A, Nelson KP, Owen MA, Sobey K, Stuckey A, Wenzel-Lamb N, Wilkinson D, Wintering NA. Clinical research: The future of the molecular imaging technologist-A white paper presented by members of the graduate stakeholders committee of the SNMMI technologist section. Journal of Nuclear Medicine Technology. 2014 Sep;42(3):228-32. Carlson ER. Response to the letter to the editor. Journal of Oral and Maxillofacial Surgery. 2014 Sep;72(9):1641-3. Vitulano ML, Fite PJ, Hopko DR, Lochman J, Wells K, Asif I. Evaluation of underlying mechanisms in the link between childhood ADHD symptoms and risk for early initiation of substance use. Psychology of Addictive Behaviors : Journal of The Society of Psychologists in Addictive Behaviors . 2014 Sep;28(3):816-27. Terrell TR, Abramson R, Bostick R, Barth J, Sloane R, Cantu RC, Bennett E, Galloway L, Erlanger D, McKeag D, Valentine V, Nichols G. Multi center cohort study on association of genotypes with prospective sports concussion: Methods, lessons learned, and recommendations. The Journal of Sports Medicine and Physical Fitness . 2014 Sep 22. [Epub ahead of print] Rajan NM, Ellis CL. Allergic to the sun. Cleveland Clinic Journal of Medicine . 2014 Sep;81(9):520-2. Bourgeois A, Bradley Y, Nodit L. Clinical chameleon: To be or not to be metastasis. Gastroenterology . 2014 Nov;147(5):977-8. Hong I, Cho S, Michel CJ, Casey ME, Schaefferkoetter JD. Complementary frame reconstruction: A low-biased dynamic PET technique for low count density data in projection space. Physics in Medicine and Biology. 2014 Sep 21;59(18):5441-55. Craig M, Hanna WT, Cabanillas F, Chen C-S, Esseltine D-L, Neuwirth R, O'Connor OA. Phase II study of bortezomib in combination with rituximab, cyclophosphamide and prednisone with or without doxorubicin followed by rituximab maintenance in patients with relapsed or refractory follicular lymphoma. British Journal of Haematology. 2014 Sep;166(6):920-8. Oelschlegel S, Gonzalez AB.Promoting National Library of Medicine and National Institutes of Health resources to industry: Developing a wellness outreach toolkit. Journal of Consumer Health on the Internet. 2014 Sep;18(3):238-252 Schildkraut JM, Alberg AJ, Bandera EV, Barnholtz-Sloan J, Bondy M, Cote ML, Funkhouser E, Peters E, Schwartz AG, Terry P, Wallace K, Akushevich L, Wang F, Crankshaw S, Moorman PG. A multi-center population-based case-control study of ovarian cancer in African-American women: the African American Cancer Epidemiology Study (AACES). BMC Cancer. 2014 Sep 22;14:688. Sullivan LE, Wortham DC, Litton KM. Rectus sheath hematoma with low molecular weight heparin administration: a case series. BMC Research Notes. 2014 Sep 1;7:586.
---
September Presentations
Petree G, Foster M, Gotcher J. Case report: Local anesthetic induced hypoglossal nerve injury. Presented at American Association of Oral and Maxillofacial Surgeons Annual Meeting; 2014 Sep 8-13; Honolulu, HI.

Foster M, Hudson JW. Treatment of osteomyelitis: A less radical approach to this surgical disease. Presented at American Association of Oral and Maxillofacial Surgeons Annual Meeting; 2014 Sep 8-13; Honolulu, HI. Wells N, Hudson JW. Treatment of myofascial pain and dysfunction with onabotulinumtoxin A in patients with chronic migraine encephalalgia. Presented at American Association of Oral and Maxillofacial Surgeons Annual Meeting; 2014 Sep 8-13; Honolulu, HI. Rogers E, McGrail M. Behavioral medicine fellowship for family physicians: Integrated care emphasis, but with broad-based experience. Presented at 35th Forum for Behavioral Science in Family Medicine; 2014 Sep 18-21; Chicago, IL. Bourgeois A, Stanborough R, Hadi T, Bradley YC. A "visual" review of ocular pathology in the adult. Presented at American Society of Head & Neck Radiology; 2014 Sep 10-14; Seattle, WA. Faulkner A, Bourgeois A, Stanborough R, Pasciak AS, Bradley YC. Multimodality imaging of mandibular lesions: A jaw-dropping differential. Presented at American Society of Head & Neck Radiology; 2014 Sep 10-14; Seattle, WA. Rogers J, Bourgeois A, Hadi T, Bradley YC. Pictorial review of facial and orbital trauma in the adult. Presented at American Society of Head & Neck Radiology; 2014 Sep 10-14; Seattle, WA. Carlson ER. Tumor of mandible: Tumor board case presentation. Presented at American Association of Oral and Maxillofacial Surgeons; 2014 Sep 8-13; Honolulu, HI. Corder J, Rasnake N, McNutt K, Smith S, Enderson BL, Daley BJ. Internal staff surge during mass casualty event preserves other hospital resources. Presented at Annual Meeting of the American Association for the Surgery of Trauma; 2014 Sep 10-13; Philadelphia, PA. Chen J, Nepveux FJ, Patel P, Heidel RE, Orucevic A. Can finding esophageal eosinophilia in biopsies from esophageal strictures predict the diagnosis of eosinophilic esophagitis? Presented at College of American Pathologists; 2014 Sep 7-10; Chicago, IL. Hudson JW (Moderator). Diagnosis and treatment of chronic oral facial pain. Presented at American Association of Oral and Maxillofacial Surgeons; 2014 Sep 8-13; Honolulu, HI. Blake GH. Residency program solutions. Presented at American Academy of Family Physicians Annual Meeting; 2014 Sep 29-30; Kansas City, MO. Kilgore L. Ovarian cancer awareness. Presented at Oak Ridge National Laboratory (Invited Lectureship); 2014 Sep 30; Oak Ridge, TN. Stevens S. Current and future status of aortic arch branched grafts. Presented at University of Kentucky Aortic Symposium (Invited Lectureship); 2014 Sep 4-6; Lexington, KY. Stevens S. Atherectomy: Applications and outcomes. Presented at 18th Annual Max R. Gaspar Symposium Peripheral Arterial Disease (Invited Lectureship); 2014 Sep 18; Los Angeles, CA. Top
Our three part mission includes: