Sports Medicine Director Discusses Sudden Cardiac Death Research at International Olympic Committee Conference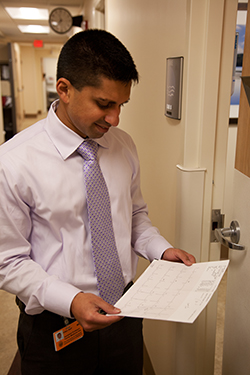 Irfan Asif, MD, Director of the Sports Medicine Fellowship Program and an Assistant Professor in Family Medicine, will present his research related to sudden cardiac death at the International Olympic Committee World Conference on Prevention of Injury and Illness in Sport in April, the premier international conference for those interested in clinical aspects of sports and exercise medicine. Dr. Asif joins more than 120 leaders in their fields as speakers. The conference, held every three years, is a unique opportunity for the global sport and exercise medicine community to meet face to face.
Dr. Asif has been investigating a screening method designed to accurately diagnose heart problems in athletes. To play sports at any level, including high school, college and professional sports, athletes must first be screened for heart abnormalities that could be predictors of sudden cardiac arrest. This is a condition in which the heart unexpectedly fails to contract effectively and normal blood circulation stops. It is serious and often deadly. In fact, sudden cardiac death is the leading cause of death on the playing field; it's considered a greater danger than sports-related concussion, also a hot topic in sports medicine.
"Sudden cardiac arrest is the first notification of disease in as many as 60% to 80% of people with an underlying heart problem," Dr. Asif says. "By the time you know about it, it may be too late."
"College athletes are especially unique because they're often away from home and don't have emotional support nearby."
- Irfan Asif, MD
Currently the standard practice to predict sudden cardiac arrest is to screen athletes by means of medical histories and physical exams. But this misses the majority of those who are at risk because most athletes with heart problems show no symptoms. About eight years ago, Dr. Asif began developing a more reliable screening strategy for athletes using electrocardiograms (EKGs). His technique involves searching for athlete-specific criteria, which is necessary, Dr. Asif says, because athletes' hearts perform differently from those of the average person.
Previously, mass use of EKG screenings on athletes have been protested, for several reasons. Some opponents say it might even increase the anxiety athletes feel. So three years ago, Dr. Asif expanded his research to include the psychological implications of requiring athletes to have EKGs. What he found is that the additional layer of information actually improves mental well-being because athletes who pass the screening feel more confident on the playing field. While EKG screenings have led to a reduction in false positives, their use is still not considered standard nationwide due to the need to train people in the new EKG interpretation standards.
Dr. Asif continues to explore the mental well-being of athletes, and he's working to develop programs for those diagnosed with heart conditions.
"Primary care physicians play a unique role in that they are trained to provide both physical and emotional support, so it's important for them to consider emotional well-being when caring for patients," he says. "College athletes are especially unique because they're often away from home and don't have emotional support nearby."
Top