News and Events
GSM Employees Recognized for Excellence
The University of Tennessee Graduate School of Medicine recently honored employees with the 14th annual Employee Excellence Awards program. Nominated by peers and supervisors, Excellence Award winners are recognized for their willingness to go beyond the scope of their jobs by providing outstanding job performance, leadership, courtesy and customer service, and community service. This year's awards were announced in surprise Zoom meetings with the recipients. A recognition ceremony will be held at a later date.
Excellence in Job Performance
Sheri Baldwin
Administrative Assistant
Surgery
Ms. Baldwin has provided administrative support to the Department of Surgery for more than 18 years. She supports the Division of Oncology to ensure faculty maintain requirements within the GSM and UT systems. She helps faculty to update their CVs, accomplish research goals, and prepare for academic meetings. She also ensures that faculty are informed about their daily schedules.
In nominating her, James McLoughlin, MD, Professor, wrote, "Sheri continually works with a smile and a word of encouragement. She remains a source of joy and energy within our office." Dr. McLaughlin was joined on the Zoom call by Drs. Freeman, Lewis and Lloyd who offered their congratulations.
Shown below: Dr. James Lewis, Kandi Hodges, Dr. Michael Freeman, Amy Paganelli, Dr. Jonathan Wall, Dr. Rajiv Dhand, Dr. Jillian Lloyd and Dr. William Metheny who joined me in honoring Sheri via Zoom.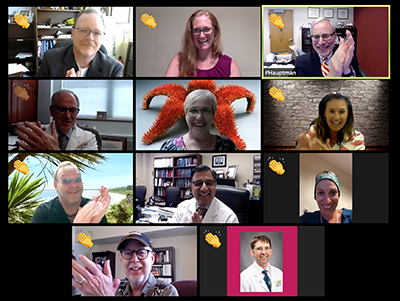 Excellence in Leadership
Amanda Wilson MBA
Coordinator III
Faculty and Staff Affairs
Ms. Wilson oversees the hiring process of new faculty for the GSM and all aspects of faculty coordination. She manages faculty evaluations and the tenure review process with focus and attention to detail. Her knowledge of University rules and regulations is superlative. Over the last year, she also led the effort to rollout Digital Measures.
In her nomination, Rose LaSorsa, Dentistry Coordinator, wrote, "Amanda is a quiet leader and leads by example by taking full responsibility for her job. She is of strong character and resilient in the face of change. She is a consistent and reassuring presence at the GSM."
Shown below: Kandi Hodges, Deb Strahler, Amy Paganelli and Lillie Martin who joined me in honoring Amanda and Kathy via Zoom.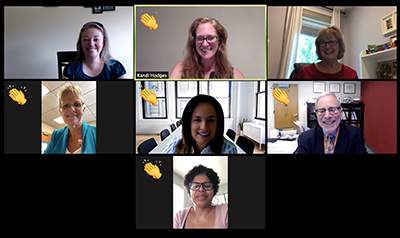 Excellence in Outstanding Courtesy and Customer Service
Kathy O'Connor
Human Resources Coordinator
Faculty and Staff Affairs
Ms. O'Connor is an integral part of the staff "new hire" process. She helps to streamline hiring procedures, working with the UT Health Science Center staff to ensure all documentation is in place. She has assisted in restructuring the new employee orientation for faculty and staff, and organizes the Employee Excellence Awards program. Ms. O'Connor adapts quickly to change and helps department staff to understand best practices.
In her nomination, Rose LaSorsa wrote, "Kathy always welcomes you with a smile. She is most attentive to details that matter and works well with departmental colleagues to make the process flow smoothly."
Excellence in Community Service
Jen Russomanno, DrPH
Coordinator
Continuing Education and Professional Development
Dr. Russomanno works within the community to address food insecurity. She has created a committee that is working to enhance the food pantry in the Family Medicine clinic to better meet the needs of University Family Physician patients. The committee is a collaboration between Nourish Knoxville, UT Knoxville Extension, UT Knoxville Department of Nutrition and University Family Physicians.
Laura Maples, CEPD Director said, "Jen continues to work tirelessly regarding food insecurity. Her doctoral dissertation was related to this need, and she has initiated several projects at GSM and within the community to address it."
Shown below: Dr. Rajiv Dhand, Kandi Hodges, Amy Paganelli, Laura Maples and Dr. William Metheny who joined me in honoring Jen via Zoom.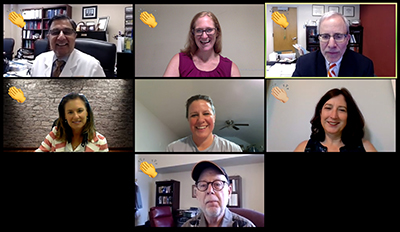 Posted: August 18, 2020