News and Events
Medical Education and Simulation Fellowship Program Earns Reaccreditation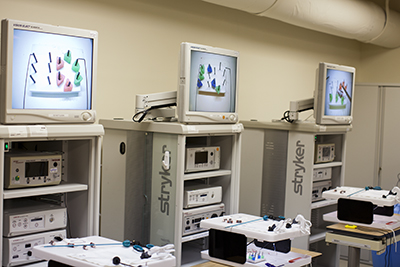 The Medical Education and Simulation Fellowship Program through the University of Tennessee Center for Advanced Medical Simulation (UTCAMS) received a three-year reaccreditation from the American College of Surgeons Accredited Education Institutes (ACS-AEI) The fellowship, directed by Mitchell Goldman, MD, is dedicated to training fellows who aspire to become international leaders in medical education, simulation and simulation-based research. Through partnership with the UT College of Education, Health, and Human Sciences, fellows graduate from the two-year program with a Master's degree in Education.
Three core skill sets are addressed in this fellowship: teaching and learning; business management and leadership; and research design and implementation. Graduates are equipped with the teaching and learning skills essential to becoming an outstanding adult educator with business and leadership skills to navigate the administrative needs of a simulation center. The accreditation review committee noted that UTCAMS has designed a robust fellowship program that is improving the quality of surgical care by developing future leaders and scholars in the area of simulation-based surgical education and training.
Leonard Lamsen, MD, Emergency Medicine Fellowship Director, recently graduated from the program and has been named UTCAMS Medical Director. Prior to the fellowship, Dr. Lamsen had been using the Center for educational activities with his Emergency Medicine fellows. He said, "As a simulation fellow, I learned about what went on behind the scenes and how to provide a better experience for my learners.
"I learned core simulation practices including curriculum development, debriefing, and learner assessment. I learned how to use different simulation modalities from task-trainers to high-fidelity manikins. I also had the opportunity to see how other departments in the Graduate School of Medicine and around the hospital use simulation in their educational activities."
The program is one of 16 in the country to be accredited by the ACS-AEI. It was established in 2016 and received its accreditation in 2017. UTCAMS is the only facility in Tennessee to be named a Level I Comprehensive Accredited Education Institute by ACS. The Center was established in 2007 and offers medical teams at the UT Graduate School of Medicine and The University of Tennessee Medical Center as well as healthcare professionals across the region opportunities to master medical skills using life-size human patient simulators, laparoscopic and endoscopic simulators, and other skills-building models.
For more information and to apply, visit: http://gsm.utmck.edu/simulation/fellowship.cfm.
Posted: June 12, 2020

Top
---