The Department of Anesthesiology
Anesthesiology News
---

Physician Advocacy: Satisfying Your Professional Citizenship Duty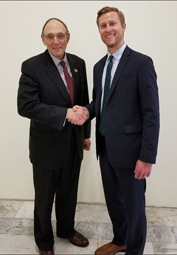 What an experience! The ASA Policy Research Rotation in Political Affairs exceeds all expectations. If physician advocacy interests you (and it should!), this is the elective to seek during your final years in training. An unmatched four-week learning experience, this rotation will teach everything from leadership skills and advocacy practices, to policymaking and public speaking in just one month's time.

In general, we need more physicians involved in organized medicine, health care leadership and advocacy efforts. Not only does the ASA do a fantastic job accomplishing this goal, they also do a fantastic job developing broad, grassroots interest in such. In today's world, putting the "blinders" on, so to speak, to "just practice medicine" is no longer a sustainable option. Given our specialized training, physicians have an obligation to positively impact society, at the patient's bedside and beyond. Embodying this ideal, professional citizenship is a critical, yet often overlooked, component of our physician responsibilities. In fact, professionalism itself is one of the six core competencies of residency training. Bottom line, physician advocacy is part of the job and we must treat it as such.

Furthermore, the ASA Advocacy Division works tirelessly on our behalf behind the scenes seemingly 24 hours a day, 7 days a week. Led by Manuel Bonilla, Nora Matus, Ashley Walton, Zorie Valchev, Amanda Ott and Kyle Simerly, the Advocacy Division fights for our interests, irrespective of party or politics. Incredibly, the State Affairs Department, run by Jason Hansen, Erin Mahrt and Erin Thompson, tracks activity in all fifty states ensuring we have a voice wherever needed. From scope of practice, to out-of-network billing, to truth in advertising, issues arise and evolve daily. Most days resemble the organized chaos encountered often in our specialty, just in a different fashion. Ever ready for meetings on the hill, conference calls with consultants, fundraising receptions to attend, department personnel constantly juggle shifting agendas while managing multiple ongoing projects. And they do an exceptional job! You need not wonder why our specialty claims the title of America's #1 Physician PAC. This status coupled with the relentless drive of our advocacy leaders yields a powerful voice in D.C., one that policymakers acknowledge and respect.

It should come as no surprise opioids took center stage in D.C. in March, and rightfully so. Opioid overdose deaths claim 115 lives per day. Scouring literature for data assessing the risk of chronic opioid use after surgery and how multimodal analgesia can help limit reliance on opioids to present to legislators quickly developed into a main priority as I started the rotation. As one can imagine, data was plentiful. This quickly transformed into draft legislation hopefully to secure funding for programs to reduce reliance on opioids before, during, and after surgery. Sound familiar? Channeling the Perioperative Surgical Home model, this legislation aims at expanding pain management practices, including multimodal analgesia and opioid-sparing protocols, to formalize the transition of care from the early inpatient postoperative period to the outpatient follow-up setting, with the goal of decreasing opioid use upon discharge following surgery. Although straightforward from an anesthesiologist's perspective, this concept was not common knowledge among policymakers. Queue professional citizenship! These politicians who wield the power to dictate how we practice our craft simply do not have the fount of knowledge which comes with a medical degree, residency training and continuing medical education. They rely on us, and our Advocacy Division. This underscores why we have a professional duty to advocate on behalf of our patients. As physicians, we are poised to drive positive change in the world for the betterment of society, and this ideal is something I personally embrace. I hope you shall do the same. Patrick McFarland, Knoxville, Tennessee, ASA Resident Scholar signing off!
---
Resident Patrick McFarland, MD, at Policy Research and Political Affairs Rotation in DC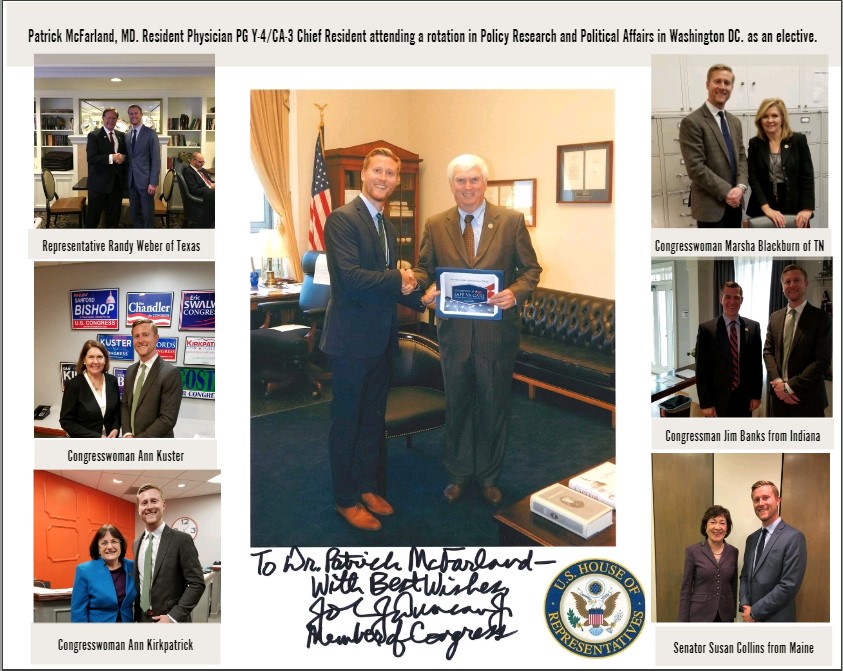 ---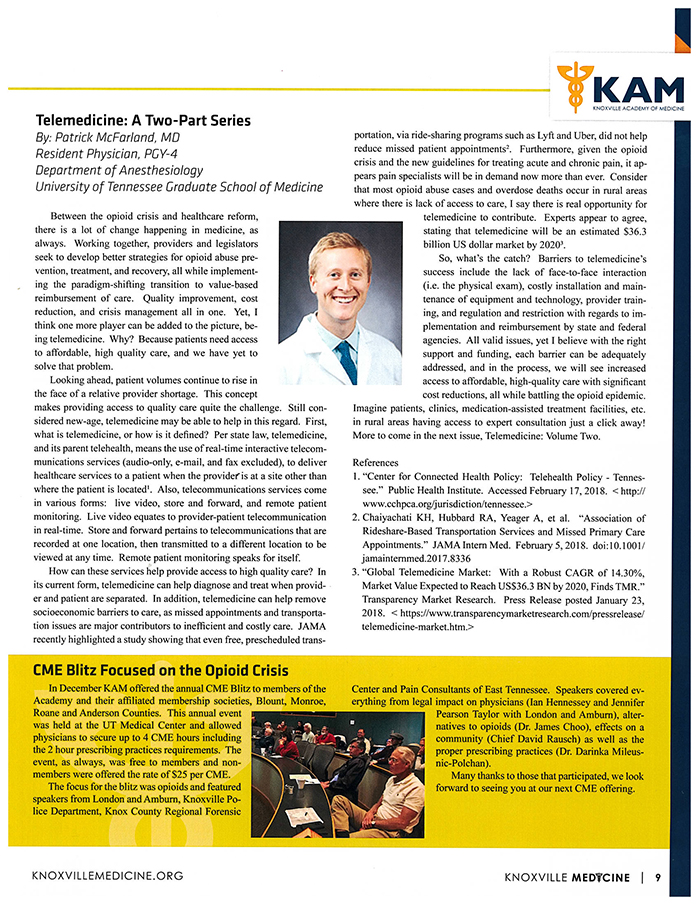 ---
Senators Corker and Alexander with Resident Patrick McFarland, MD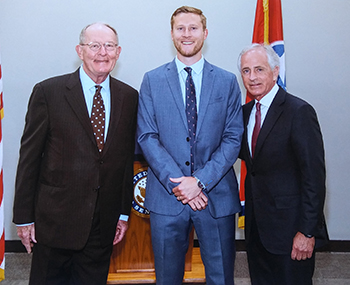 Dr. McFarland met with the Senators on "Tennessee Tuesday" at the Senate Building in D.C. during the ASA Legislative Conference. They briefly discussed the ongoing opioid epidemic with the need for efficient and sustainable solutions. Senators Corker and Alexander were appreciative for Dr. McFarland's input.
---