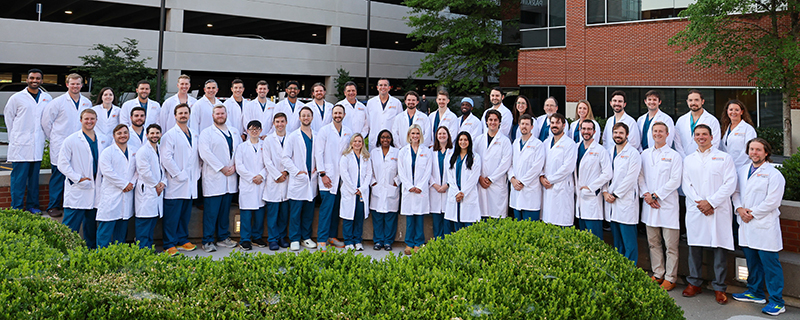 The Department of Anesthesiology
The members of the Department of Anesthesiology at The University of Tennessee Graduate School of Medicine (UTGSM) work together for a single purpose: to provide the best possible perioperative care for all patients. The anesthesia care teams provide services for approximately 45,000 procedures in the operating rooms and satellite anesthetizing locations such as the obstetrical suites, the gastroenterology outpatient center, radiology department, cardiovascular laboratory and the University of Tennessee Ambulatory Surgical Center.
The department has trained resident physicians in anesthesiology for over five decades. Our educational goal is to train physicians who, upon completion of the residency, are superb clinical anesthesiologists who easily achieve board certification in our specialty. Anesthesiology training is based on progressive clinical responsibility with careful supervision to maintain patient safety and resident support. The caseload of our Level 1 trauma center provides a broad-based clinical experience. The program received the highest possible accreditation cycles at the time of their last reviews.
---
Facilities
Anesthesia Pre-Op Clinic
As part of its role to provide peri-operative medical care, the Department of Anesthesiology directs the Anesthesia Pre-Op Clinic. A staff anesthesiologist and resident work with registered nurses to obtain a detailed electronic record of patients' past medical history, a directed physical examination, and appropriate laboratory and evaluative studies for approximately 800 patients per month.
The ultimate goal of the anesthesia pre-op clinic is to minimize surgical and anesthetic risk by assuring that patients are in a state of "best possible condition" in regard to their co-existing disease. By performing this assessment in the pre-op clinic, the additional goal of cost containment can be achieved by avoidance of unnecessary "blanket" pre-op testing, as well as minimizing delays and/or alteration of the Operating Room schedule. Thus, the Department of Anesthesiology strives to provide optimal peri-op patient care, cost containment, and optimization of OR scheduling and personnel utilization.
The Operating Rooms, Critical Care Units, and Obstetrics
The University of Tennessee Medical Center, Knoxville, performs about 22,000 operative procedures in 26 different operating rooms. Separate critical care areas include Cardiovascular, Coronary Care, Trauma, Neurological Intensive Care, Medical Intensive Care, Surgical Intensive Care, Pediatric Intensive Care and Neonatal Intensive Care. Almost 3000 deliveries were performed in 12 labor rooms and 3 Obstetrical Operating Rooms. Epidural analgesia is provided for about 70% of deliveries.
The University of Tennessee Ambulatory Surgery Center
About 3,000 operative procedures per year are performed in the four operating rooms at the University of Tennessee Day Surgery Center located adjacent to the main hospital. This is a separate facility from the ambulatory surgery unit found within the main hospital.
The Anesthesia Interventional Pain Clinic (AIPC)
The Anesthesia Interventional Pain Clinic (AIPC) located in the University of Tennessee Day Surgery Center is led by physicians trained in acute, chronic, and cancer-related pain management. Consultative services are available for those who are hospitalized as well those referred for evaluation in the ambulatory setting. The AIPC team members develop an individualized and comprehensive plan for optimal pain treatment that will allow each person to return to an optimal level of function in his or her work and personal life. More than 2,400 pain procedures are performed each year and include procedures such as: spinal cord stimulation trials, intrathecal pain pump trials, superior and inferior hypogastric nerve blocks, radiofrequency ablations, celiac plexus blocks, cervical, thoracic and lumbar medial branch blocks, lateral femoral cutaneous nerve blocks, sacro-iliac joint injections, epidural steroid injections, and lumbar discography. Referrals to the Pain Clinic can be made by calling 865-305-8684.
Other Department of Anesthesiology Facilities
The Department of Anesthesiology facilities consists of the Powell Memorial Electronic Library, department conference rooms, and the Advanced Center for Medical Simulation. Seven call rooms are assigned as follows: one for faculty, one for CRNAs, three for residents, and two for SRNAs. Separate lounges are available for both the residents and certified and student nurse anesthetists. A medical administrative specialist and four clerical staff members provide administrative support for the faculty, residents, CRNAs, and SRNAs. Clinical support in the operating rooms consists of three anesthesia technicians. The four divisions of Anesthesia Research aim to advance basic and clinical research to enhance understanding of anesthetic mechanisms and improve clinical care.