The Department of Radiology
R. Ian Gray, MD, MBA
Associate Professor
Residency Program Director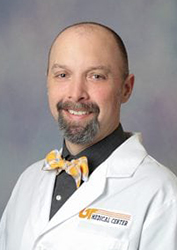 Clinical Focus
Neuroradiology
Education
Medical School
University of Tennessee, College of Medicine, Memphis, TN, 2005
Internship
Transitional, University of Tennessee, Methodist Healthcare, Memphis, TN, 2005
Residency
Diagnostic Radiology, University of Tennessee, Methodist Healthcare, Memphis, TN, 2010
Fellowship
Diagnostic Neuroradiology, Barrow Neurological Institute, Phoenix, AZ, 2011
Graduate School
University of Memphis, Fogelman College of Business and Economics, Memphis, TN, MBA, 2015
Certifications

American Board of Radiology, 2010
Certificate of Added Qualification in Neuroradiology, 2012
Honors and Awards
2018 Golden Apple Teaching Award UT/Methodist Residency, Memphis, TN
Elected secretary/treasurer of Regional One Hospital MSEC 2017-Present
Appointed Delegate Dean's Faculty Advisory Committee 2016-Present
RSNA EEC Committee Member, 2016-Present
Elected to UTHSC Faculty Senate 2013-2016
Chair Legislative Resources Committee 2014-2016
Radiology Peer Review Committee Chair, ROH 2013-present
MRI Safety Committee, ROH 2013-present
Trauma PI Committee, ROH 2014-present
Certificate of Merit RSNA Educational Exhibit, 2015
Professional Affiliations
American Society of Neuroradiology (ASNR) - Senior Member
American College of Radiology (ACR)
Radiological Society of North America (RSNA)
Current Publications
Shahan CP, Gray RI, Croce MA, Fabian TC.
Impact of circle of Willis anatomy in traumatic blunt cerebrovascular injury-related stroke. Trauma Surgery & Acute Care Open. 2017 Apr 27;2(1):e000086. eCollection 2017.
Current Presentations
Norton D, Oakley T, Peacock J, Heidel E, Gray R, Norwood D. Code stroke in the stroke belt: A cross-sectional stroke center. Presented at American Society of Emergency Radiology Meeting (Virtual); 2020 Sep 30 - Oct 3; Austin, TX.
Top