The Department of Pathology
Stuart E. Van Meter, MD
Associate Professor
email: SVanmete@utmck.edu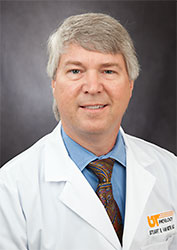 Clinical Focus
Surgical Pathology, Cytopathology, Clinical Chemistry
Education
Medical School
Medical University of South Carolina, Charleston, South Carolina, May 1986
Residency
Anatomic and Clinical Pathology, University of Tennessee Medical Center at Knoxville, July 1986-June 1991
Certifications
American Board of Pathology, Anatomic and Clinical Pathology, November 1991
American Board of Pathology, Cytopathology, 1995
Professional Affiliations
American Society of Clinical Pathologists
Fellow, College of American Pathologists
Diplomat, National Board of Medical Examiners
Current Publications
LePhong C, Hubbard EW, Van Meter S, Nodit L.
Squamous cell carcinoma in serous effusions: Avoiding pitfalls in this rare encounter. Diagnostic Cytopathology. 2017 Oct 11. [Epub ahead of print]
Hubbard EW, Nodit L, Van Meter S.
Undifferentiated malignant neoplasm involving parotid and thyroid: Sampling and PAX8 cross-reactivity can obscure the diagnosis of lymphoma. Case Reports in Pathology. 2016 Dec;2016:3291549.
McLoughlin J, Nodit L, Heidel RE, Van Meter S, Macy S, Kestler D.
The clinical correlation of PTEN, pAKT, and ODAM in gastrointestinal stromal tumors. Journal of Surgical Research. 2016 May 15;202(2):403-12. Epub 2016 Jan 22.
Current Presentations
Patel P, VanMeter SE, Goodman SA, Dao LN, Nodit L. An unusual soft tissue mass: Localized iatrogenic amyloidosis. Presented at College of American Pathologists, The Pathologists Meeting; 2017 Oct 8-11; National Harbor, MD.
Top