The Department of Pathology
George M. Sneed, DO
Assistant Professor
email: gsneed@utmck.edu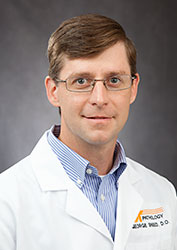 Clinical Focus
Surgical Pathology and Cytopathology
Education
Medical School
West Virginia School of Osteopathic Medicine, Lewisburg, West Virginia, July 2008–June 2012
Residency
University of Tennessee Graduate School of Medicine, July 2008–June 2012
Fellowship
University of Tennessee Graduate School of Medicine, July 2012–June 2013
Certifications
Certification American Board of Pathology, Anatomic and Clinical Pathology
Current Publications
Nodit PG, Sneed G, Hubbard EW.
Abundant small blue cells: Challenges in urine cytology interpretation. Diagnostic Cytopathology. 2021 Feb 6. [Epub ahead of print]
Current Presentations
Cochrane K, Sneed G. Neurocysticercosis presenting as a metastatic brain lesion. Presented at Society of General Internal Medicine Southern Regional Meeting; 2021 Feb 24-25; Virtual.
Cochrane K, Sneed G. Cribriform-morular variant of papillary thyroid carcinoma with associated familial adenomatous polyposis. Presented at College of American Pathologists Annual Meeting; 2019 Sep 21-25; Orlando, FL.
Baveja S, Turner JF, Hanna WH, Dudney TD, Sneed G, Huang H, Hohenforst-Schmidt W, Zarogoulidis P.. Multilobar metastatic adenocarcinoma: A case report and review of the literature of digital papillary eccrine adenocarcinoma presenting with hypoxic respiratory failure. Presented at International Association for the Study of Lung Cancer World Conference on Lung Cancer (Invited Lecture); 2018 Sep 26; Toronto, Canada.
McAdams C, Lewis J, Tan J. Rare presentation of squamous cell carcinoma in the setting of necrobiosis lipoidica diabeticorum. Presented at Southeastern Surgical Congress Annual Scientific Meeting; 2019 Feb 23-27; Charlotte, NC.
Patel PJ, Sneed GM, Van Meter S, Duncan LD. Acetic acid wash for thyroid fine needle aspiration ThinPrep preparation: Can improved cellularity be achieved. Presented at American Society of Cytopathology 66th Annual Scientific Meeting; 2018 Nov 10-13; Washington, DC.
Gage HM, Sneed GM. Central nervous system hemangiopericytoma metastatic to the liver. Presented at College of American Pathologists, The Pathologists Meeting; 2017 Oct 8-11; National Harbor, MD.
Top