The Department of Pathology
Elizabeth W. Hubbard, MD
Associate Professor
email: EHubbard@utmck.edu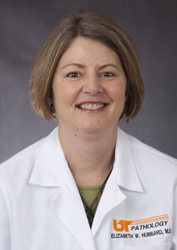 Clinical Focus
Surgical Pathology and Cytopathology
Education
Medical School
Medical University of South Carolina, Charleston, South Carolina, 1986
Internship
Anatomic Pathology, The University of Virginia Health Sciences Center, Charlottesville, Virginia, 22908, July 1986-June 1987
Residency
Pathology, The University of Virginia Health Sciences Center, Charlottesville, VA, July 1986-June 1989
Pathology, The University of Tennessee Medical Center, Knoxville, TN, July 1989-June 1991
Certifications
American Board of Pathology, Anatomic and Clinical Pathology, 1991
American Board of Pathology, Cytopathology, 1995
Professional Affiliations
American Society of Clinical Pathologists
Fellow, College of American Pathologists (Inspector)
United States and Canadian Academy of Pathology
American Society of Cytopathologists
Knoxville Academy of Medicine
Tennessee Medical Association
Tennessee Society for Pathology
Diplomate, National Board of Medical Examiners
Current Publications
Gage H, Hubbard E, Nodit L.
Multiple squamous cells in thyroid fine needle aspiration: Friends or foes? Diagnostic Cytopathology. 2016 Jun 6. [Epub ahead of print]
Hubbard EW, Winkler M, Davis T.
Amylase crystalloids in nonneoplastic salivary gland: A distinct finding. Diagnostic Cytopathology. 2015 Oct;43(10):835-7. Epub 2015 Jul 17.
Current Presentations
Gage HM, Hubbard E, Nodit L. Multiple squamous cells in thyroid fine needle aspiration: Friends or foes? Presented at The United States and Canadian Academy of Pathology Annual Meeting; 2016 Mar 12-18; Seattle, WA.
Top