The Department of Pathology
Alan D. Grindstaff, MD
Assistant Professor
Residency Program Director
email: AGrindst@utmck.edu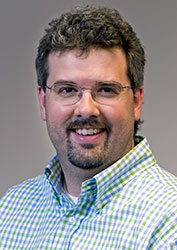 Clinical Focus
Surgical Pathology, GI Pathology, Nephropathology
Education
Medical School
East Tennessee State University James H. Quillen College of Medicine, Johnson City, Tennessee, August, 1990-May, 1994
Residency
Anatomic and Clinical Pathology, University of Tennessee Medical Center at Knoxville, July 1994-June 1999
Fellowship
Surgical Pathology, Washington University Medical Center, St. Louis, Missouri, July 1999-June 2000
Certifications
American Board of Pathology, Anatomic and Clinical Pathology, 2000
Current Publications
Dawane R, Grindstaff A, Parwani AV, Brock T, White WM, Nodit L.
Thyroid-like follicular carcinoma of the kidney: One case report and review of the literature. American Journal of Clinical Pathology. 2015 Nov;144(5):796-804.
Current Presentations
Johnson M, Gray KD, Hubbard E, Grindstaff AD, Nodit L. Pancreatic lymphangioma: A diagnostic and treatment dilemma. Presented at Southeastern Surgical Congress; 2017 Feb 25-28; Nashville, TN.
Hruska CJ, Vaughan JW, Grindstaff AD. Extramedullary hematopoiesis presenting as gastric nodules. Presented at College of American Pathologists The Pathologists' Meeting; 2015 Oct 4-7; Nashville, TN.
Top