News and Events
Advanced GI MIS Fellowship Receives Bariatrics Accreditation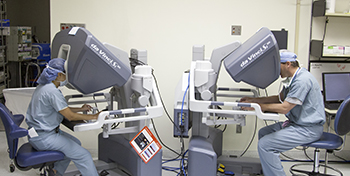 The Advanced GI MIS Fellowship in the Department of Surgery received continued three-year accreditation from the Fellowship Council with the additional designation for Bariatrics. This places an already unique program in "elite" status, according to Fellowship Program Director Greg Mancini, MD.
The University of Tennessee Graduate School of Medicine first launched the Advanced GI MIS fellowship in 2014 and received accreditation in 2015. The Fellowship Council oversees 150 non-ACGME (Accreditation Council for Graduate Medical Education) fellowship programs related to minimally invasive surgery and other gastrointestinal surgical specialties.
The fellowship is a one-year program that includes three months of bariatrics research, three months of simulated and hands-on robotics training, as well as three months in colon disease and robotics training and three months in gastroesophageal and robotics training. The 2018-2019 fellow is Dennis Van Dorp, MD. He attended medical school at Wayne State University School of Medicine and completed his general surgery residency at St. John Hospital and Medical Center in Detroit, Michigan in 2017, where he was Chief Resident.
Learn more about the Advanced GI MIS/Bariatrics Fellowship.

Posted July 6, 2018
Top
---
The University of Tennessee Graduate School of Medicine
1924 Alcoa Highway
Knoxville, Tennessee 37920 | 865-305-9290
Copyright © 2019