News and Events
Targeted Liver Cancer Treatment on the Horizon Through PET/CT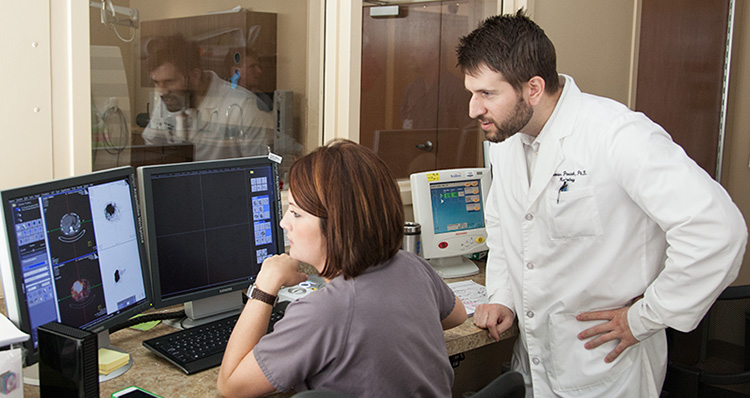 BY ALEXANDER PASCIAK, PHD - Investigators in the Department of Radiology at the University of Tennessee Graduate School of Medicine are testing a modification to an existing liver cancer treatment called yttrium-90 radioembolization, with the goal of providing more accurate treatment and greater success for liver cancer patients.
The treatment currently in use is an outpatient procedure that involves the delivery of microscopic radioactive particles directly to the liver, using a minimally invasive interventional- radiology approach.
The investigative team has modified the typical radioembolization treatment protocol by using advanced PET/CT imaging while the radioactive particles are being delivered to the liver. This imaging is important because without it, doctors can't be certain that enough radiation is reaching the tumor to kill it. Imaging the radioactive particles during the treatment allows the team, which includes Austin Bourgeois, MD, radiology resident; Ted Chang, MD, assistant professor of radiology; Yong Bradley, MD, associate professor of radiology and chief of nuclear medicine; and Shelley Wilson, CNMT, to optimize the treatment for each individual patient's physiology, ensuring that enough radiation reaches the tumor to achieve a therapeutic effect.
Alexander Pasciak, PhD, is a Clinical Assistant Professor in the Department of Radiology at UTGSM.
Posted December 17, 2013
Top
---
The University of Tennessee Graduate School of Medicine
1924 Alcoa Highway
Knoxville, Tennessee 37920 | 865-305-9290
Copyright © 2019