The Department of Anesthesiology
Patrick O. McConville, MD
Assistant Professor
Vice Chairman
Associate Program Director
Division of Obstetric Anesthesiology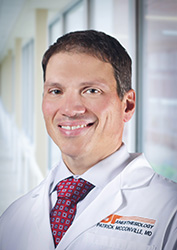 Clinical Focus
Obstetrical Anesthesiology
Education
Medical School
Tulane University School of Medicine

Residency
Transitional Year, University of Tennessee Medical Center, Knoxville, TN, 2005
Anesthesiology, University of Tennessee Medical Center, Knoxville, TN, 2009
Certification
Diplomate, American Board of Anesthesiology, April 2010
Book Chapter Published
McConville PO, Craft RM. Faust's anesthesiology review, 4th ed. St. Louis: W.B.Saunders Company; c2014. Chapter 231, Acute renal failure; p. 545-546.
Current Presentations
Smalley A, McConville P. Paradoxical fat embolism causing delayed awakening and encephalopathy during isolated femur fracture nailing. Presented at American Society of Anesthesiologists Annual Meeting; 2014 Oct 11-15; New Orleans, LA.
Adams B, McConville P. t-PA administration for pulmonary emboli after spinal anesthesia. Presented at Tennessee Society of Anesthesiologists; 2014 Feb 8; Nashville, TN.
Top
---