The Department of Urology
Edward D. Kim, MD
Professor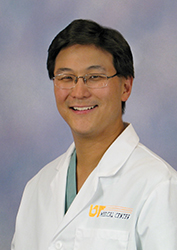 Clinical Focus
Prostate Cancer , Male Infertility, Erectile Dysfunction
Research Focus
Erectile Dysfunction, BPH, Overactive Bladder
Education
Medical School
Northwestern University, Chicago, IL
Internship
General Surgery, Northwestern University, Chicago, IL
Residency
Urology, Northwestern University, Chicago, IL
Fellowship
Male Reproductive Medicine and Surgery, Baylor College of Medicine, Houston, TX
Certification
American Board of Urology
Professional Affiliations
Knoxville of Academy of Medicine
Tennessee Medical Association
American Lithotripsy Society
Published Book Chapters
Hardin BM, Kim ED: Potential male etiologies of unexplained infertility. In: Schattman GL, Esteves S, Agarwal A (eds): Unexplained infertility: Pathophysiology, evaluation and treatment. New York: Springer, Chapter 7, p. 53-56, 2015.
Current Publications
Whitaker DL, Geyer-Kim G, Kim ED.
Anabolic steroid misuse and male infertility: Management and strategies to improve patient awareness. Expert Review of Endocrinology & Metabolism. 2021 May;16(3):109-122. Epub 2021 May 11.
Fisher JS, Kim ED.
Azoospermia: Vasal agenesis. Asian Journal of Andrology. 2019 Oct 15. [Epub ahead of print]
Top