The Department of Urology
Edward D. Kim, MD
Professor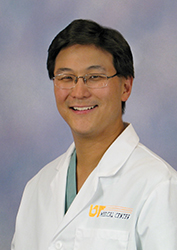 Clinical Focus
Prostate Cancer , Male Infertility, Erectile Dysfunction
Research Focus
Erectile Dysfunction, BPH, Overactive Bladder
Education
Medical School
Northwestern University, Chicago, IL
Internship
General Surgery, Northwestern University, Chicago, IL
Residency
Urology, Northwestern University, Chicago, IL
Fellowship
Male Reproductive Medicine and Surgery, Baylor College of Medicine, Houston, TX
Certification
American Board of Urology
Professional Affiliations
Knoxville of Academy of Medicine
Tennessee Medical Association
American Lithotripsy Society
Published Book Chapters
Hardin BM, Kim ED: Potential male etiologies of unexplained infertility. In: Schattman GL, Esteves S, Agarwal A (eds): Unexplained infertility: Pathophysiology, evaluation and treatment. New York: Springer, Chapter 7, p. 53-56, 2015.
Current Publications
Fisher JS, Kim ED.
Azoospermia: Vasal agenesis. Asian Journal of Andrology. 2019 Oct 15. [Epub ahead of print]
Earl JA, Kim ED.
Enclomiphene citrate: A treatment that maintains fertility in men with secondary hypogonadism. Expert Review of Endocrinology & Metabolism. 2019 May;14(3):157-165. Epub 2019 May 7.
Tague ED, Bourdon AK, MacDonald A, Lookadoo MS, Kim ED, White WM, Terry PD, Campagna SR, Voy BH, Whelan J.
Metabolomics approach in the study of the well-defined polyherbal preparation Zyflamend. Journal of Medicinal Food. 2018 Mar;21(3):306-316. Epub 2017 Dec 11.
Jennings MO, Owen RC, Keefe D, Kim ED.
Management and counseling of the male with advanced paternal age. Fertility and Sterility. 2017 Feb;107(2):324-328. Epub 2017 Jan 6.
Moss JL, F Keeter MK, Brannigan RE, Kim ED.
Erectile dysfunction and infertility in male cancer patients: Addressing unmet needs. Future Oncology (London, England). 2016 Oct;12(20):2293-6. Epub 2016 Sep 1.
Current Presentations
Kim ED. Use of SERMs for the treatment of male hypogonadism; Challenges and practical application. Presented at The 23rd Congress of the World Association for Sexual Health (Invited Lecture); 2017 May 28; Prague, Czech Republic.
Top